Modules of Interest
Single Page Website
Do you want to organize front page of your site as a single page website with navigation by anchors? Summary This module provide the ability to display the content of all menu items of the main-menu on the Single Page Website module.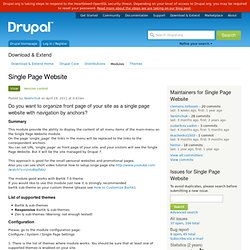 Flood control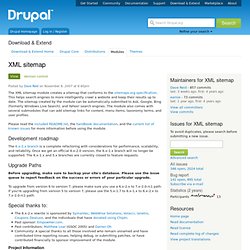 The XML sitemap module creates a sitemap that conforms to the sitemaps.org specification.
Drupal SEO Checklist - What is it?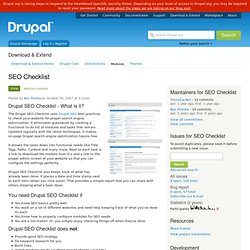 SEO Checklist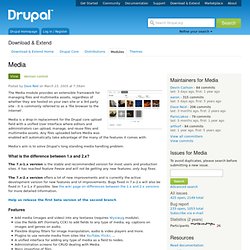 The Media module provides an extensible framework for managing files and multimedia assets, regardless of whether they are hosted on your own site or a 3rd party site - it is commonly referred to as a 'file browser to the internet'. Media is a drop-in replacement for the Drupal core upload field with a unified User Interface where editors and administrators can upload, manage, and reuse files and multimedia assets. Any files uploaded before Media was enabled will automatically take advantage of the many of the features it comes with.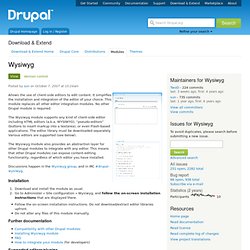 Allows the use of client-side editors to edit content.
The Pathauto module automatically generates URL/path aliases for various kinds of content (nodes, taxonomy terms, users) without requiring the user to manually specify the path alias. This allows you to have URL aliases like /category/my-node-title instead of /node/123 . The aliases are based upon a "pattern" system that uses tokens which the administrator can change. Requirements
Fusion Accelerator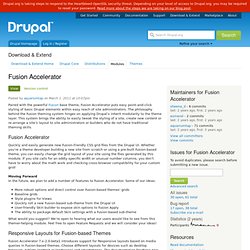 Paired with the powerful Fusion base theme, Fusion Accelerator puts easy point-and-click styling of basic Drupal elements within easy reach of site administrators. The philosophy behind the Fusion theming system hinges on applying Drupal's inherit modularity to the theme layer.
Workbench Moderation adds arbitrary moderation states to Drupal core's "unpublished" and "published" node states, and affects the behavior of node revisions when nodes are published.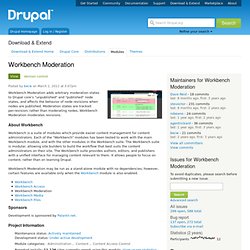 Workbench Moderation
Notify
The notify module allows users to subscribe to periodic emails which include all new or revised content and/or comments of specific content types, much like the daily news letters sent by some websites. Even if this feature is not configured for normal site users, it can be a useful feature for an administrator of a site to receive notification of new content submissions and comment posts. The notifications are sent out in batches (digest style) at a frequency determined by the administrator.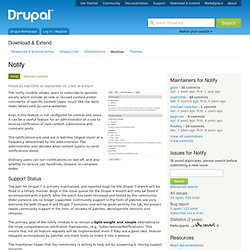 The Revision Moderation module allows you to leave existing revisions of a node published while new revisions go into moderation for an administrator to approve. There is now an alpha release for Drupal 6. It should be working pretty well, but it it is an alpha due to several factors:
Revision Moderation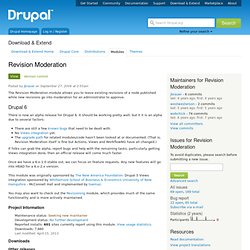 Next generation workflows for drupal Workflow-ng allows one to customize drupal's built in workflows in a very flexible way.
Workflow-ng