Modules of Interest
Single Page Website
Do you want to organize front page of your site as a single page website with navigation by anchors? Summary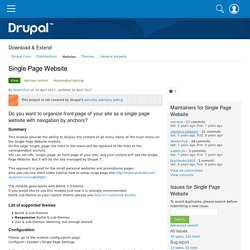 Flood control
The XML sitemap module creates a sitemap that conforms to the sitemaps.org specification . This helps search engines to more intelligently crawl a website and keep their results up to date. The sitemap created by the module can be automatically submitted to Ask, Google, Bing (formerly Windows Live Search), and Yahoo! search engines.
Drupal SEO Checklist - What is it? The Drupal SEO Checklist uses Drupal SEO best practices to check your website for proper search engine optimization. It eliminates guesswork by creating a functional to-do list of modules and tasks that remain. Updated regularly with the latest techniques, it makes on-page Drupal search engine optimization hassle-free. It breaks the tasks down into functional needs like Title Tags, Paths, Content and many more. Next to each task is a link to download the module from D.o and a link to the proper admin screen of your website so that you can configure the settings perfectly. SEO Checklist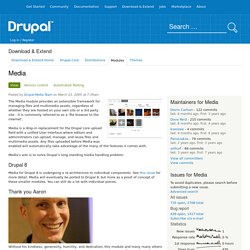 The Media module provides an extensible framework for managing files and multimedia assets, regardless of whether they are hosted on your own site or a 3rd party site - it is commonly referred to as a 'file browser to the internet'. Media is a drop-in replacement for the Drupal core upload field with a unified User Interface where editors and administrators can upload, manage, and reuse files and multimedia assets. Any files uploaded before Media was enabled will automatically take advantage of the many of the features it comes with. Media's aim is to solve Drupal's long standing media handling problem. What is the difference between 1.x and 2.x?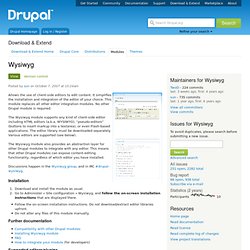 Allows to use client-side editors to edit content. It simplifies the installation and integration of the editor of your choice. This module replaces all other editor integration modules. No other Drupal module is required. Wysiwyg module is capable to support any kind of client-side editor. It can be a HTML-editor (a.k.a.
The Pathauto module automatically generates URL/path aliases for various kinds of content (nodes, taxonomy terms, users) without requiring the user to manually specify the path alias. This allows you to have URL aliases like /category/my-node-title instead of /node/123 . The aliases are based upon a "pattern" system that uses tokens which the administrator can change. Requirements
Fusion Accelerator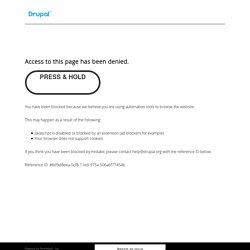 Paired with the powerful Fusion base theme, Fusion Accelerator puts easy point-and-click styling of basic Drupal elements within easy reach of site administrators.
Workbench Moderation adds arbitrary moderation states to Drupal core's "unpublished" and "published" node states, and affects the behavior of node revisions when nodes are published. Moderation states are tracked per-revision; rather than moderating nodes, Workbench Moderation moderates revisions.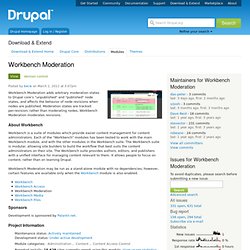 Workbench Moderation
Notify
The notify module allows users to subscribe to periodic emails which include all new or revised content and/or comments much like the daily news letters sent by some websites. Even if this feature is not configured for normal site users, it can be a useful feature for an administrator of a site to receive notification of new content submissions and comment posts.
The Revision Moderation module allows you to leave existing revisions of a node published while new revisions go into moderation for an administrator to approve. There is now an alpha release for Drupal 6.
Revision Moderation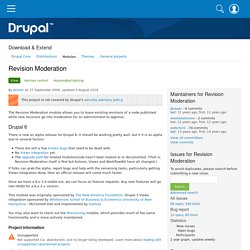 Next generation workflows for drupal Workflow-ng allows one to customize drupal's built in workflows in a very flexible way. In short, it's a rule-based event driven action evaluation system. ( more ) E.g. this is useful for • sending customized mails notifying your users about important changes • building flexible content publishing workflows • creating custom redirections • and a lot more.... Modules may use workflow-ng's API to provide defaults, which can be customized by users. Users can share their customizations by using the built-in import/export tool.
Workflow-ng