Drupal
Toxins-free for life Looking to increase your energy levels, to lose weight, get clearer skin, prevent premature ageing and to help preventing diseases? Then look no further! This 5 days step-by-step detox will help you implement long-lasting healthy habits that yields results.
25 E-Commerce Websites for Your Design Inspiration
So… have you ever used the Main and Secondary menu links feature on your theme and wondered "how the hell do I display any menu items deeper than that?" Well, that's what this module does. It provides configurable blocks of menu trees starting with any level of any menu. And more! So if you're only using your theme's Main menu links feature, you can add and configure a "Main menu (levels 2+)" block.
Menu block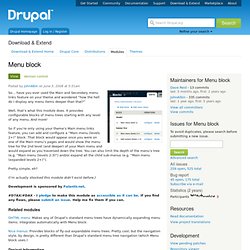 MediaFront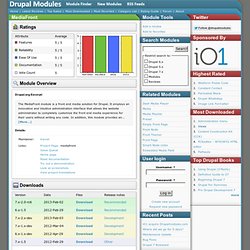 Depending on where you live This is important. Depending on where you live, there might be way too much demand for the supply of Drupal developers, so people might be eager to pass on potential clients to you. Probably the smaller or more demanding ones, but that's how you start. Review by coonanasking [info] on April 9, 2014 - 11:58
Media: Amazon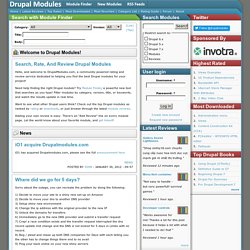 Hello, and welcome to DrupalModules.com, a community-powered rating and review service dedicated to helping you find the best Drupal modules for your project! Need help finding the right Drupal module? Try Module Finder, a powerful new tool that searches as you type! Filter modules by category, version, title, or keywords, and watch the results update in real time.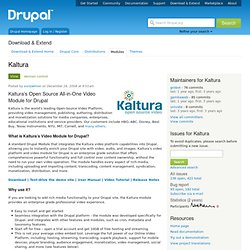 Kaltura is the world's leading Open-Source Video Platform, providing video management, publishing, authoring, distribution and monetization solutions for media companies, enterprises, educational institutions and service providers. Our customers include HBO, ABC, Disney, Best Buy, Texas Instruments, NYU, MIT, Cornell, and many others. What is Kaltura's Video Module for Drupal? A standard Drupal Module that integrates the Kaltura video platform capabilities into Drupal, allowing you to instantly enrich your Drupal site with video, audio, and images. Kaltura's video platform and video module for Drupal is an enterprise grade solution that offers comprehensive powerful functionality and full control over content ownership, without the need to run your own video operation.
Kaltura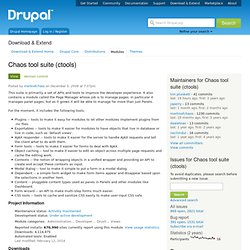 This suite is primarily a set of APIs and tools to improve the developer experience. It also contains a module called the Page Manager whose job is to manage pages. In particular it manages panel pages, but as it grows it will be able to manage far more than just Panels. For the moment, it includes the following tools: Plugins -- tools to make it easy for modules to let other modules implement plugins from .inc files.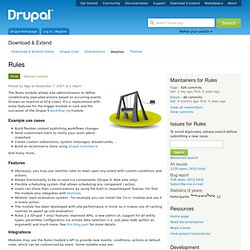 The Rules module allows site administrators to define conditionally executed actions based on occurring events (known as reactive or ECA rules). It's a replacement with more features for the trigger module in core and the successor of the Drupal 5 workflow-ng module. Example use cases Build flexible content publishing workflows changesSend customized mails to notify your users about importantCreate custom redirections, system messages, breadcrumbs, ...Build an eCommerce store using Drupal Commerce
Releases for Amazon S3 Stream Wrapper
Want to sell product downloads that are hosted on Amazon's Simple Storage Service (S3)? Now you can! This module allows you to associate Amazon S3 file downloads with your products using Ubercart product features, enabling you to take advantage of S3's amazingly cheap storage and bandwidth and take the load off of your server. An Amazon S3 account is required.
Amazon S3 File Downloads for Ubercart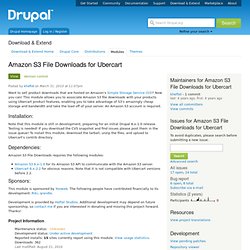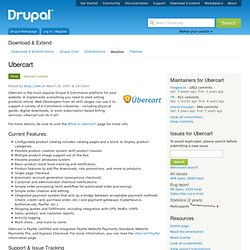 Ubercart is the most popular Drupal E-Commerce platform for your website. It implements everything you need to start selling products online. Web Developers from all skill ranges can use it to support a variety of E-Commerce industries-- including physical goods, digital downloads, or even subscription based billing services.
This module provides an administrative interface to browse, create, and delete files/buckets (buckets can be thought of as folders) from Amazon's servers. It also provides a drupal-style API for use by other applications. The API allows listing, creating, and deleting files/buckets. There is a config form located at admin/settings/amazon-s3 that allows admins to store their authentication keys for use by the API. The module relies heavily upon the S3 class located at http://undesigned.org.za/2007/10/22/amazon-s3-php-class. The API I provide is essentially a wrapper to this class.
Amazon S3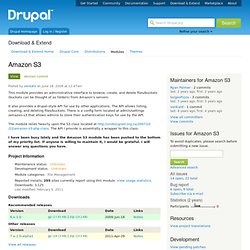 MimeDetect
Storage API is a low-level framework for managed file storage and serving. It has the following features: Pluggable architecture - it can be extended to work with any storage service. Redundancy - it can be configured to store your files in multiple services and instantaneously change which one is serving. This means your site will not be brought down by a service having problems.Access control API - can be used for e-commerce.Deduplication - when files that are identical are stored in the same container, only one instance will be created.
Storage API
AWS SDK for PHP
Provides integration with Libraries API (2.x) and a Drush Make script to download the AWS SDK for PHP (github) (support forum). The AWS SDK for PHP provides a library, code samples, and documentation for developers to build PHP applications that tap into the cost-effective, scalable, and reliable AWS cloud.With the AWS SDK for PHP, developers get started in minutes using AWS infrastructure services, including Amazon Simple Storage Service (Amazon S3), Amazon Elastic Compute Cloud (Amazon EC2), Amazon SimpleDB, and more. Configuration The AWSSDK can be configured by using Drupal variables with the same names as the constants found in config-sample.inc.php.
FlashVideo
FlashVideo is a complete turn-key video solution that expands Drupal's upload capabilities to allow web developers and users to upload video files, automatically convert those videos to the popular Flash format, and then embed their video in any node type using the simple [video] tag. This module allows more than one video to be attached to any node, and then referenced through the use of parameters passed to the tag [video]. It also includes an automatic conversion of video files to the Flash format using FFMPEG technology. Use this module if you... Would like a complete video solution for any user-generated-content video website.Wish to have the power to embed your video anywhere in the body of a node using a simple [video] tagWish to link as many videos as you like to a node.Would like a built in automatic Flash conversion. Features
Drupal video: fast, cheap, easy. Get video into your Drupal site easily. No need to configure transcoding software or mess with embed codes. CDN2 is a plug and play module and video management service for Drupal from WorkHabit. Just install the CDN2 module, and start uploading videos. Videos can be transcoded into one of many formats including FLV, Quicktime, DVD, Windows media, and JPEG thumbnail images.
CDN2 Video
Video Filter
Flowplayer API
IMCE Mkdir
Insert
VideoJS (HTML5 Video Player)
Cloud Zoom
Creative Commons
Drag'n'Drop Uploads
jPlayer
Framework 3 | Drupal 7 Development Build
Blueprint
Fast Gallery
jQuery Edit In Place (JEIP) | Joseph Scott
AudioField
mediafront/osmplayer - GitHub
Secure source code hosting and collaborative development - GitHub
MediaFront
Plupload integration
Textimage
Amazon Module
Styles
Site builder's toolkit
OpenPackage Video
Video Upload