Dreamweaver
Stop/start .gif animations. Bouncing Ball Gif. We will create a '.gif' bouncing ball, using Adobe Photoshop only.
This tutorial will guide you through detailed steps and high quality image illustrations are provided to ensure that you grasp the facts and procedures. Tools used throughout this tutorial: *Elliptical Marquee Tool As part of the 'Marquee Tool' family, the 'Elliptical Marquee Tool' serves its purpose well. You can create oval and circle shapes with this tool, and alternate them to suit your preferences. Free Dreamweaver Extensions. The following Dreamweaver extensions are available for free download.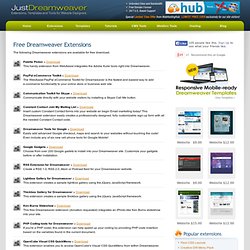 Palette Picker » Download This handy extension from WebAssist integrates the Adobe Kuler tools right into Dreamweaver. PayPal eCommerce Toolkit » Download The WebAssist PayPal eCommerce Toolkit for Dreamweaver is the fastest and easiest way to add e-commerce functionality to your online store or business web site. Dreamweaver Tutorial - 2 - Creating a Basic Webpage. Dreamweaver Web Widgets. Lightbox gallery This widget creates a sample lightbox gallery.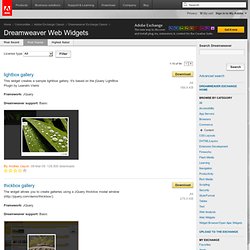 It's based on the jQuery LightBox Plugin by Leandro Vieira Framework: JQuery. Community Help | Publishing Your Website with Dreamwea... After building your website with Adobe Dreamweaver®, you can publish it to your hosting account.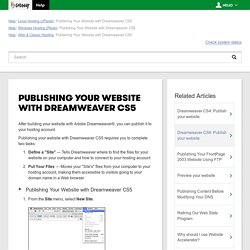 Publishing your website with Dreamweaver CS5 requires you to complete two tasks: Define a "Site" — Tells Dreamweaver where to find the files for your website on your computer and how to connect to your hosting account Put Your Files — Moves your "Site's" files from your computer to your hosting account, making them accessible to visitors going to your domain name in a Web browser Publishing Your Website with Dreamweaver CS5 From the Site menu, select New Site . How To Contact Facebook: A Directory of 120+ Forms. If you've ever had an issue, bug or situation you needed to contact Facebook about, chances are you may have felt frustrated at how difficult it is to a) find HOW to contact Facebook and b) actually get a response.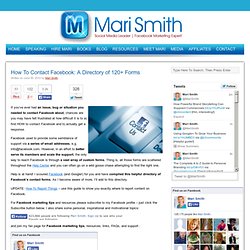 Facebook used to provide some semblance of support via a series of email addresses, e.g. info@facebook.com. However, in an effort to better serve its members and scale the support, the only way to reach Facebook is through a vast array of custom forms. Thing is, all those forms are scattered throughout the Help Center and you can often go on a wild goose chase attempting to find the right one.
Help is at hand! I scoured Facebook (and Google!) Improving the human experience one day at a time. Smoking Apples — Your premier source of Apple, Mac, and iPhone news, views, and reviews. CSS Cheat Sheet - StumbleUpon.
How to Use Dreamweaver CS4's Templates to Manage and Auto-Update Multiple Pages on Your Website (Chapter 7) Chapter 7: How to Use Dreamweaver's Site Manager by Christopher Heng, thesitewizard.com Dreamweaver CS4's template system not only allows the web designer to create multiple pages on your website using the same basic design, but it is also provides the webmaster an easy way to manage and update a multi-page site.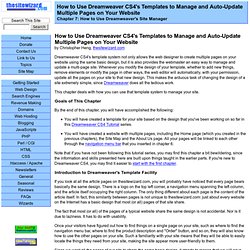 Whenever you modify the design of your template, whether to add new things, remove elements or modify the page in other ways, the web editor will automatically, with your permission, update all the pages on your site to that new design. This makes the arduous task of changing the design of a site extremely simple, since Dreamweaver does all the tedious work. This chapter deals with how you can use that template system to manage your site.
DreamweaverCS4_PC_Shortcuts.pdf (application/pdf Object) 15 sites web developers and designers should know - CatsWhoCode.com - StumbleUpon. ColorCombos When designing a website, one of the firsts (and most important) steps of the process is to choose a color scheme.
Color Combos allow you to browse thousand of different colors combinations for getting inspired for your upcomming design. Nice and Free CSS Templates - StumbleUpon. Free CSS templates - Download Free CSS Templates - StumbleUpon. Free Download: Adobe Creative Suite CS4 Keyboard Shortcuts Reference Software. Here's a nifty little Adobe Air application that allows you to look up keyboard shortcuts for any Adobe software.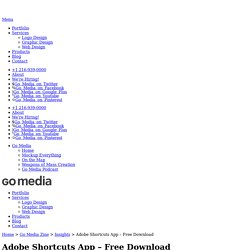 Well, at least Illustrator, Photoshop, InDesign, Flash, Dreamweaver, Soundbooth, Fireworks, Contribute, After Effects, Premiere Pro, Encore and Acrobat Pro. The shortcuts are only for the CS4 versions of these applications. Adobe Dreamweaver CS4 Tutorials for Beginner. Dreamweaver is most popular editor for HTML, CSS, PHP and other languages.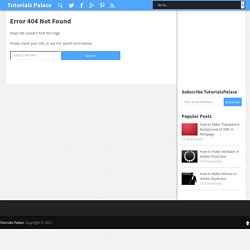 We found stuff from VTC which providing dreamweaver courses online. In this Interactive Dreamweaver Tutorial Tutorials (HTML & CSS) you will learn how to use for basic concepts, how to build a website and there are all new techniques which embed in this latest version, there are some very professional tips and tricks for your web development needs. 10 Useful Dreamweaver Tips For Beginners. A Dreamweaver user will definitely reckon what a powerhouse it is.
Packed with tonnes of features, options and debatably one among the most well known IDE (Integrated Development Environment) in today's market. It may not meet the criteria that some developers demanded however, Dreamweaver undeniably provides a decent range of development, collaborating and coding tools. These options and tools are hidden under layers of regrettable less intuitive menus, which is why we are providing tutorials in today's post. Dreamweaver Tutorials. Free Dreamweaver Tutorials & Dreamweaver Templates - Resource Center.
Get up to speed quickly with a focus on the advanced design features, templates, extensions, and behaviors in Dreamweaver 8. You'll learn three different design approaches using real-world Web sites as examples so you can find the best approach for your Web site projects. Polish your skills with tutorials on how to best work with tables, layers, and cascading style sheets. Download a Free Dreamweaver Template for Your CSS Website. Build websites with a little help from your friends Your friends over here at WebAssist! These Dreamweaver extensions will assist you in building unlimited, custom websites.
Build websites from already-built web applications. Learn Dreamweaver CS5 & CS5.5 - GS-06: Creating links in Dreamweaver. Share this Episode Autoplay End of Video. Free Website Templates | Free Professional Website Layouts - Template Kingdom.
---