Packing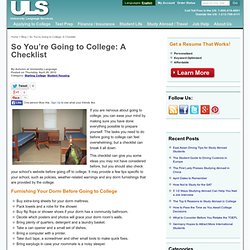 So You're Going to College: A Checklist
If you are nervous about going to college, you can ease your mind by making sure you have done everything possible to prepare yourself. The tasks you need to do before going to college can feel overwhelming, but a checklist can break it all down. This checklist can give you some ideas you may not have considered before, but you should also check your school's website before going off to college. It may provide a few tips specific to your school, such as policies, weather-related warnings and any dorm furnishings that are provided by the college. Furnishing Your Dorm Before Going to College
Preparing for College: Tech Essentials for Your First Year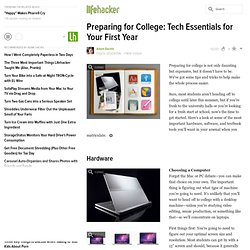 Preparing for college is not only daunting but expensive, but it doesn't have to be. We've got some tips and tricks to help make the whole process easier. Sure, most students aren't heading off to college until later this summer, but if you're fresh to the university halls or you're looking for a fresh start at school, now's the time to get started. Here's a look at some of the most important hardware, software, and textbook tools you'll want in your arsenal when you matriculate.
For an artistic reminder of the streets you traversed in a drunken stupor, these University Map Prints are a far better purchase than anything you'd find in the campus bookstore. Sure those streets are covered in the haze of bong hits and the dizziness of happy hour specials, but they'll always remind you of the good times when they're plastered on your wall. The prints take the selected school's colors and stylishly displays the college town in a simplistic grid. They make for a nice piece of art even if you never looked up from the late night slices of pizza you were making mouth-love to while walking along them.
University Map Prints
The College Nap-sack: What You Need for Spontaneous Naps Around Campus
If you're like most college students, you're probably on your way to becoming a napping genius. You can nap your way through class, punctuate all-nighters with cat naps, crash for hours in the middle of the day if necessary, and power nap before power hour on weekends (or, like, Tuesdays at 5p.m.) But have you ever thought about packing your own little napping kit so that it's easier for you to crash all around campus, even while students and professors keep buzzing on around you?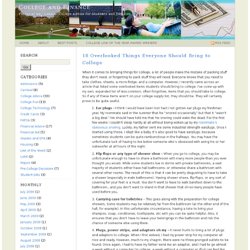 18 Overlooked Things Everyone Should Bring to College | College and Finance
When it comes to bringing things for college, a lot of people make the mistake of packing stuff they don't need, or forgetting to pack stuff they will need. Everyone knows that you need to take clothes, sheets, a micro-fridge, and a computer. However, I recently came across an article that listed some overlooked items students should bring to college. I've come up with my own, expanded list of less-common, often forgotten, items that you should take to college. So if any of these items aren't on your college supply list, they should be. They will certainly prove to be quite useful.