Domotique
Page d'accueil. Macintosh Home Automation. Macintosh Home Automation and Control Server. Indigo is an intelligent home automation server for Mac OS X that integrates an assortment of hardware modules to provide complex automation and control of your home in one easy to use environment.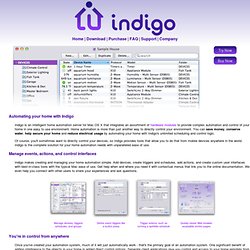 Home automation is more than just another way to directly control your environment. You can save money, conserve water, help secure your home and reduce electrical usage by automating your home with Indigo's unlimited scheduling and control logic. Of course, you'll sometimes want to directly control your devices, so Indigo provides tools that allow you to do that from mobile devices anywhere in the world. Indigo is the complete solution for your home automation needs with unparalleled ease of use. Indigo makes creating and managing your home automation simple. X10 Boutique Domotique - Accueil. MisterHouse.
Domotics | Immotique, Domotique, DS18B20, X10, RS232, RS485, Home Automation, IR, DS2405, Homeseer, ActiveHome, Wifi, MisterHouse, Fil pilote, Radiateur, Chauffage, Maison, Automatisme de portail, Alarme, Infrarouge, Videosurveillance. Domavenir.com - Site d'information du fabricant X'Dom et distributeur officiel X10 - Bienvenue sur le Site de Domavenir - Bienvenue sur le Site de Domavenir.
Bienvenue sur DomotiqueShop. Ma Domotique, domotique, X10, courants porteurs, chauffage, arrosage, maison automatisée. Domotique, X10, confort, automatisme, securite, image, son, videosurveillance, informatique, loisirs numerique. Evolution Domotique - Boutique en Ligne - Accueil.
---