Domotique
Page d'accueil
XTension serves 20 different controllers Any number of them, concurrently Supports Oregon Scientificand KaKu/HomeEasy wireless devicesZWave and the Barionet Don't miss our new WIKI site ! Be sure to see theFeatures and History pages.
Macintosh Home Automation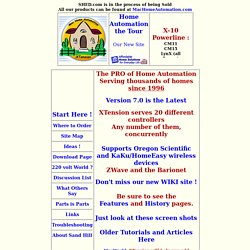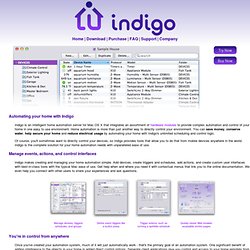 Indigo is an intelligent home automation server for Mac OS X that integrates an assortment of hardware modules to provide complex automation and control of your home in one easy to use environment. Home automation is more than just another way to directly control your environment. You can save money, conserve water, help secure your home and reduce electrical usage by automating your home with Indigo's unlimited scheduling and control logic. Of course, you'll sometimes want to directly control your devices, so Indigo provides tools that allow you to do that from mobile devices anywhere in the world. Indigo is the complete solution for your home automation needs with unparalleled ease of use. Indigo makes creating and managing your home automation simple.
Macintosh Home Automation and Control Server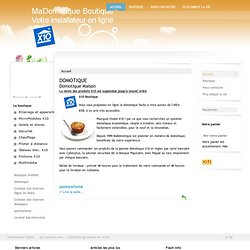 X10 Boutique Domotique - Accueil
La vente des produits X10 est suspendue jusqu'à nouvel ordre X10 Boutique Nous vous proposons en ligne la domotique facile à vivre autour de l'offre X10, à un prix très accessible. Pourquoi choisir X10 ?
Domavenir.com - Site d'information du fabricant X'Dom et distributeur officiel X10 - Bienvenue sur le Site de Domavenir - Bienvenue sur le Site de Domavenir
Bienvenue sur DomotiqueShop
La nouvelle version du site domotique est ici Maison domotique Domotique Iphone la version domotique Iphone du site est ici Maison Domotique sur Iphone Domomotique maison Sur MaDomotique.com, vous aller trouver principalement tous les détails du projet Anylto, c'est à dire tout ce qui concerne l'automatisation et la gestion de notre maison.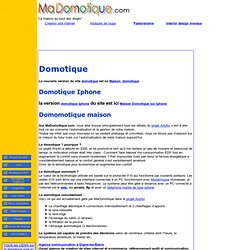 La maison devient « communicante et intelligente » alors … simplifiez-vous la vie avec la domotique ! Domadoo a décidé de mettre l'accent sur les avantages que peut apporter la domotique et la robotique dans la vie de tous les jours en proposant des solutions qui répondent aux besoins de chacun : sécurité des biens et des personnes, être plus autonome, faire des économies, avoir plus de temps libre, améliorer son confort. Domadoo vous guide et vous aide à choisir les solutions qui vous conviennent selon votre besoin ! La politique de l'entreprise : rendre la domotique accessible à tous !
Evolution Domotique - Boutique en Ligne - Accueil