Solar
Solar Panels | Solar Power | Solar Kits
Search The Renewable Energy site for Do-It-Yourselfers Like all the $1K style systems, this is a simple drain back system that keeps the component count down and provides freeze protection without the need for anti-freeze. it uses an easily made, non-pressurized heat storage tank with a high capacity.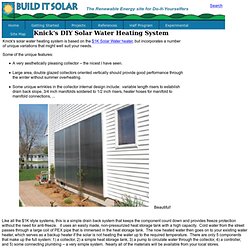 A $1K Solar Water Heating System that Looks Great
About Solar Panels. Free information on installation, and on choosing the right solar panels for your home.
Standard Glass & Mirror Works
ENO_net_metering_application
This article is the first in a series of what will be a beginner's course in solar electricty. Simultaneously we have instituted a Home Energy Information (www.homeenergy.info) section on our website where you can ask questions of Jeff Yago, the author of this series. Yago is a licensed professional engineer and certified energy manager who has writtten many energy articles for BHM. He has extensive solar thermal and solar photovoltaic system design experience, and is author of Achieving Energy Independence — One Step At A Time , which includes many solar system wiring examples. Those interested in solar electricity will want to save these articles for future review when planning your solar system. I am getting numerous requests from readers wanting very specific guidance on how to install their own solar electric systems.
Solar Power 101: Batteries by Jeffrey Yago, P.E., CEM Issue #87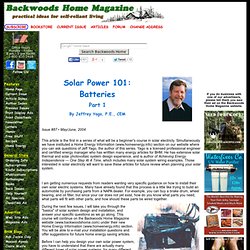 Making a Solar Panel - Pt. 1 - Soldering and Taping
Pt. 2 - Connecting Rows With Bus Wire
Pt. 3 - Encapsulating the Panel
Pt. 4
Pt. 5
Place bid Review and confirm your bid Bid confirmation d h
New & used electronics, cars, apparel, collectibles, sporting goods & more at low prices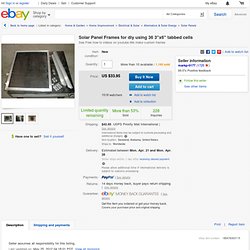 Wiring Configurations: Series vs. Parallel
Using 12v Car Batteries for Power
Solar Cell Efficiency Chart