DIY internet
DIY internet spreading through Middle East and Africa | The Thin Green Line. Did you know that people in Kenya, Afghanistan and Pakistan are building their own wireless networks out of found materials?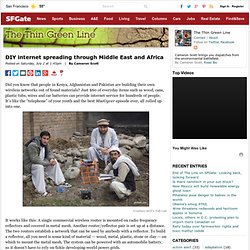 Just $60 of everyday items such as wood, cans, plastic tubs, wires and car batteries can provide internet service for hundreds of people. It's like the "telephone" of your youth and the best MacGyver episode ever, all rolled up into one. Courtesy MIT's Fab Lab It works like this: A single commercial wireless router is mounted on radio frequency reflectors and covered in metal mesh. Afghanistan's Amazing DIY Internet. The Afghan city of Jalalabad has a high-speed Internet network whose main components are built out of trash found locally.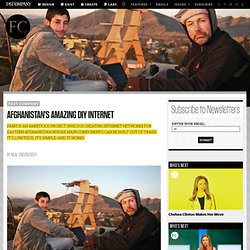 Aid workers, mostly from the United States, are using the provincial city in Afghanistan's far east as a pilot site for a project called FabFi. It's a broadband apart from the covert, subversive "Internet in a suitcase" and stealth broadband networks being sponspored by the U.S., aimed at empowering dissidents, but the goal isn't so different: bringing high-speed onilne access to the world's most remote places.
Residents can build a FabFi node out of approximately $60 worth of everyday items such as boards, wires, plastic tubs, and cans that will serve a whole community at once. While it sounds like science fiction, FabFi could have important ramifications for entire swaths of the world that lack conventional broadband. DIY remote area internet. They say that one of the many blessings of country life is that you appreciate the little things.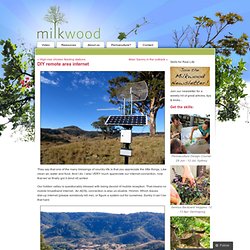 Like clean air, water and food. And I do. I also VERY much appreciate our internet connection, now that we've finally got it (kind of) sorted. Our hidden valley is questionably blessed with being devoid of mobile reception. That means no mobile broadband internet. How-To: Build a WiFi biquad dish antenna. Wireless enthusiasts have been repurposing satellite dishes for a couple years now.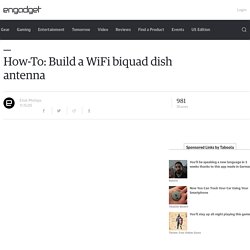 This summer the longest link ever was established over 125 miles using old 12 foot and 10 foot satellite dishes. A dish that big is usually overkill for most people and modern mini-dishes work just as well. The dish helps focus the radio waves onto a directional antenna feed. We're building a biquad antenna feed because it offers very good performance and is pretty forgiving when it comes to assembly errors. Follow along as we assemble the feed, attach it to a DirecTV dish and test out its performance. Long Range WiFi Distance Test New Mexico | TheInfoMine.
Unscientific Long Distance WiFi Record Attempt In New Mexico.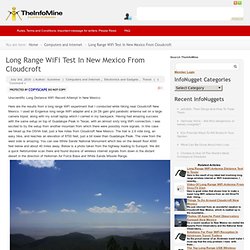 Here are the results from a long range WiFi experiment that I conducted while hiking near Cloudcroft New Mexico. I used an Engenius long range WiFi adapter and a 24 Db gain grid parabolic antenna set on a large camera tripod, along with my small laptop which I carried in my backpack. Having had amazing success with the same setup on top of Guadalupe Peak in Texas, with an almost sixty long WiFi connection, I was excited to try the setup from another mountain from which there were possibly more signals.
In this case we hiked up the OSHA trail, just a few miles from Cloudcroft New Mexico.
---