Disney Sites
Disney World tickets discount – Universal Orlando, Alamo Car Rental. Álbumes de fotos de insidethemagic en Flickr.
All.DISNEY. One bite, and all your dreams will come true.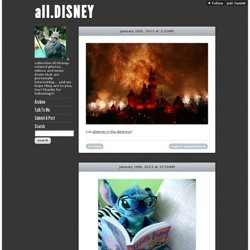 When you wish upon a star, your dreams come true. Musically and dramatically, we have here a picture of the struggle between the profane and the sacred. A Beautiful Evening on World Showcase Lagoon | Flickr: Intercambio de fotos. Your free Disney vacation countdown banner. Inside the Magic. Disney News from Walt Disney World, Disneyland and the Walt Disney Company - Stitch Kingdom. The Disney Blog | Disney News and Information — by fans, for fans. Disney Every Day | We'll Take You to Disney Every Day! Mouse Fan Travel Home Page. StudiosCentral.com. Disney World - The Largest Unofficial On-Line Guide to Disney World, Walt Disney World. It's A Disney World After All. Disneygeek. The Epcot Explorer's Encyclopedia | A Guide to the flora, fauna, and fun of the world's greatest theme park!
Destination EPCOT: First Impressions - Blogs - MiceChat. You only get one chance to make a great first impression and that is certainly the case with theme parks.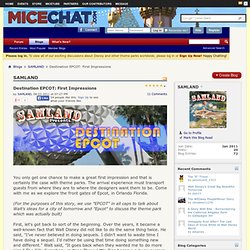 The arrival experience must transport guests from where they are to where the designers want them to be. Come with me as we explore the front gates of Epcot, in Orlando Florida. (For the purposes of this story, we use "EPCOT" in all caps to talk about Walt's ideas for a city of tomorrow and "Epcot" to discuss the theme park which was actually built) First, let's got back to sort of the beginning. Over the years, it became a well-known fact that Walt Disney did not like to do the same thing twice.
---