Data
Industry Market Research. Make better decisions, faster IBISWorld's Industry Research Reports are powerful business tools that provide strategic insight and analysis on over 700 U.S. industries.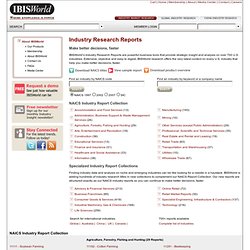 Extensive, objective and easy to digest, IBISWorld research offers the very latest content on every U.S. industry that help you make better decisions, faster. NAICS Industry Report Collection Specialized Industry Report Collections Finding industry data and analysis on niche and emerging industries can be like looking for a needle in a haystack. Data Marketplace : Find, buy and sell data online.
Market economy. Market economies can range from hypothetical laissez-faire and free market variants to regulated markets and interventionist variants.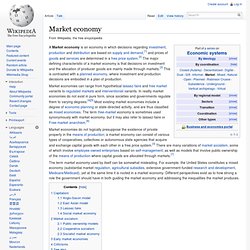 In reality market economies do not exist in pure form, since societies and governments regulate them to varying degrees.[4][5] Most existing market economies include a degree of economic planning or state-directed activity, and are thus classified as mixed economies. The term free-market economy is sometimes used synonymously with market economy, but it may also refer to laissez-faire or Free-market anarchism.[6]
---