Directories
Pointers to quality directories on the web. These can be generalised directories or subject-specific.
Beaucoup! 2,000+ Search Engines, Indices and Directories. Public Library of Science. Internet Public Library IPL2. The best Web resources for education and research. CyberStacks(sm) CyberStacks(sm) Welcome To CyberStacks(sm)!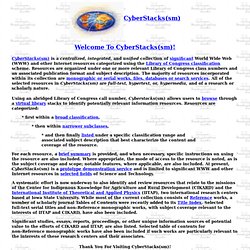 CyberStacks(sm) is a centralized, integrated, and unified collection of significant World Wide Web (WWW) and other Internet resources categorized using the Library of Congress classification scheme. TheBigProject - Links to the most useful websites. ODP - Open Directory Project. Internet Search Engines. Search Engines Directory Internet search engines are categorized by topic in our searchable directory of general and specialty search engines.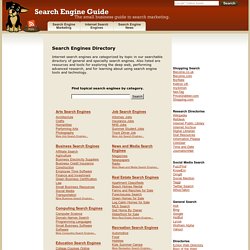 Also listed are resources and tools for exploring the deep web, performing advanced research, and for learning about using search engine tools and technology. Gigablast Directory. BUBL Information Service.
---