Directories
Pointers to quality directories on the web. These can be generalised directories or subject-specific. salimbol Apr 19
CyberStacks(sm) Welcome To CyberStacks(sm)! CyberStacks(sm) is a centralized, integrated, and unified collection of significant World Wide Web (WWW) and other Internet resources categorized using the Library of Congress classification scheme.
CyberStacks(sm)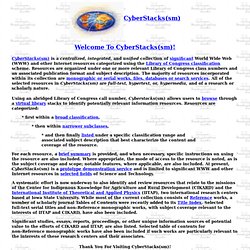 <a href="http://deluxe-menu.com">Javascript Menu by Deluxe-Menu.com</a> a m. the big project .co.uk / m. the big project .com
TheBigProject - Links to the most useful websites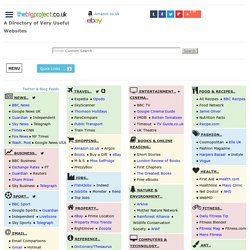 ArtsMovies, Television, Music...GamesVideo Games, RPGs, Gambling...Kids and TeensArts, School Time, Teen Life...ReferenceMaps, Education, Libraries...ShoppingClothing, Food, Gifts... BusinessJobs, Real Estate, Investing...HealthFitness, Medicine, Alternative...NewsMedia, Newspapers, Weather...RegionalUS, Canada, UK, Europe...SocietyPeople, Religion, Issues... ComputersInternet, Software, Hardware...HomeFamily, Consumers, Cooking...RecreationTravel, Food, Outdoors, Humor...ScienceBiology, Psychology, Physics...SportsBaseball, Soccer, Basketball... World Català, Dansk, Deutsch, Español, Français, Italiano, 日本語, Nederlands, Polski, Русский, Svenska...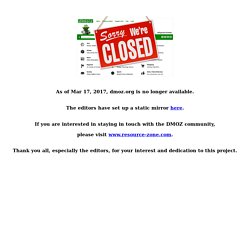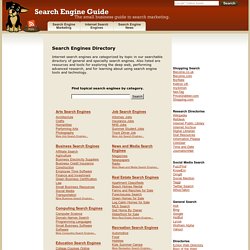 Search Engines Directory Internet search engines are categorized by topic in our searchable directory of general and specialty search engines. Also listed are resources and tools for exploring the deep web, performing advanced research, and for learning about using search engine tools and technology.
Gigablast Directory