Facebook
corporate/wp-content/uploads/case_studies/DZN-SYNTHESIO-Luxury_Brands_in_Social_Media-FR-whp.pdf
www.l2thinktank.com/luxury2010digitaliq/luxury2010digitaliq.pdf
Pour la deuxième fois, Luxury Lab a publié il y a quelques semaines un classement des marques de luxe les plus actives sur Internet. Il y a encore quelques années, peu de maisons de luxe se seraient lancées sur la toile. D'après Scott Galloway, fondateur de Luxury Lab, « la crise économique, l'émergence de la génération Y (1975-1995) tournée vers le monde digital et un investissement sur les produits numériques de plus en plus payant, ont incité les entreprises à investir aussi bien en terme de capital financier qu'humain dans le digital en 2010″. Les critères du classement Luxury Lab
e-luxe » Le top 10 des marques de luxe sur Internet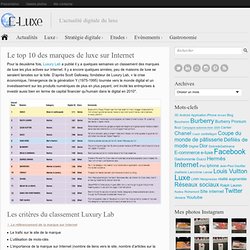 Annoncer ici Les marques de luxe sont de plus en plus présentes sur les réseaux sociaux et tout particulièrement sur Facebook. Toutefois, l'intelligence et l'efficacité de cette présence demeuraient jusqu'à présent difficiles à mesurer. A cet effet, la nouvelle étude L2 Prestige de Scott Galloway propose de calculer l'indice Facebook IQ (le Quotient Intellectuel Facebook) des marques de luxe. Un outil a été ainsi mis en place pour calculer ce Facebook IQ et quantifier l'expertise Facebook des 100 plus importantes maisons de luxe et marques de prestige.
Quelles marques de luxe ont les plus gros "QI Facebook"?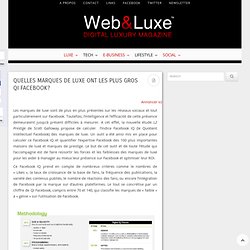 Memology 2011 : les sujets les plus populaires sur Facebook en 2011
4 Creative Ways To Reward Your Facebook Fans
A key part of your Facebook marketing strategy is figuring out how to build and engage your fan base—and one of the best ways to do this is by rewarding your Facebook audience for becoming and staying fans. "Fans have signaled a level of passion or connection with a brand, so rewarding that acknowledgement only further endears the brand to those fans," says Blake Cahill, principal and president of social media agency Banyan Branch.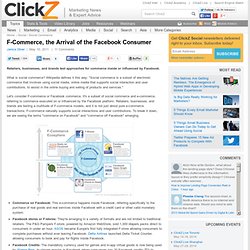 Janice Diner | May 10, 2011 | 11 Comments inShare0 What is social commerce?
F-Commerce, the Arrival of the Facebook Consumer
www.adgregate.com/press/Facebook-Commerce-White-Paper.pdf
The F-Commerce FAQ
2010 Memology: Top Status Trends of the Year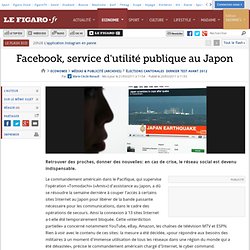 Médias & Publicité : Facebook, service d'utilité publique au Japon
Retrouver des proches, donner des nouvelles: en cas de crise, le réseau social est devenu indispensable. Le commandement américain dans le Pacifique, qui supervise l'opération «Tomodachi» («Amis») d'assistance au Japon, a dû se résoudre la semaine dernière à couper l'accès à certains sites Internet au Japon pour libérer de la bande passante nécessaire pour les communications, dans le cadre des opérations de secours. Ainsi la connexion à 13 sites Internet a-t-elle été temporairement bloquée.
Facebook Engagement Rate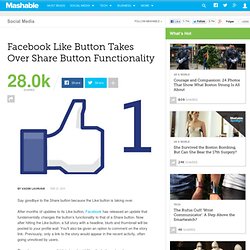 Facebook 'Like' Button Takes Over Share Button Functionality
Say goodbye to the Share button because the Like button is taking over. After months of updates to its Like button, Facebook has released an update that fundamentally changes the button's functionality to that of a Share button. Now after hitting the Like button, a full story with a headline, blurb and thumbnail will be posted to your profile wall. You'll also be given an option to comment on the story link. Previously, only a link to the story would appear in the recent activity, often going unnoticed by users. Though users may now think twice about hitting the button, given how prominently it will appear on their walls and in their networks' newsfeeds, it should ultimately increase traffic to publishers' websites.
Facebook brand page: How to manage them effectively?
homosemiotikus's posterous - Bloc-notes