Digital_storytelling
The New Digital Storytelling: Creating Narratives with New Media: Amazon.de: Bryan Alexander: Englische Bücher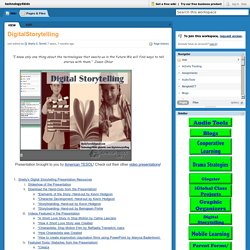 DigitalStorytelling
"I know only one thing about the technologies that awaits us in the future:We will find ways to tell stories with them." Jason Ohlar Presentation brought to you by American TESOL!
Kanal von SearchStories
SMITH Magazine (smithmag) on Twitter
Glimmer | Dreaming Methods | Digital Fiction | Andy Campbell
twistori
Storytelling
How many times have you sat down to read a student's writing and the first line is so boring that it's almost torturous to continue? As elementary school teachers, our job is take ordinary student writing and give our children the tools to spice up their papers, adding interest and excitement through word choice, suspense, and other literary devices.
Creative Writing - Ban Boring Words to Teach Better Creative Writing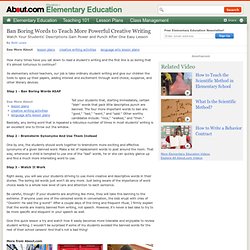 "We are our stories, we compress years of experience, thought and emotion into a few compact narratives that we convey to others and tell to ourselves" Daniel Pink, a Whole New Wind
100 Digital Storytelling Tools for Your Digital Selves + Natives (Part 1) | Ozge Karaoglu's Blog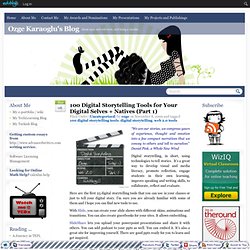 CDS: Stories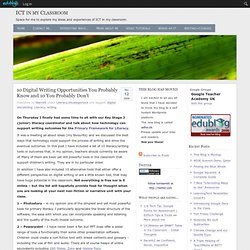 On Thursday I finally had some time to sit with our Key Stage 2 (junior) literacy coordinator and talk about how technology can support writing outcomes for the Primary Framework for Literacy.
10 Digital Writing Opportunities You Probably Know and 10 You Probably Don't | ICT in my Classroom
educationalsoftware » Digital Storytelling
Dr. Helen Barrett's Electronic Portfolios
GVK - Gemeinsamer Verbundkatalog - 2.1