Digital_storytelling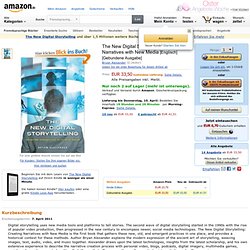 The New Digital Storytelling: Creating Narratives with New Media: Amazon.de: Bryan Alexander: Englische Bücher
This review is cross posted at: [...] Bryan Alexander's The New Digital Storytelling, Creating New Narratives With New Media is an excellent, highly readable, and comprehensive treatment of storytelling in our digital world. Dr. Alexander manages in 230 pages of text to capture the universe of available methods, processes, resources and tools available to storytellers, as of 2010.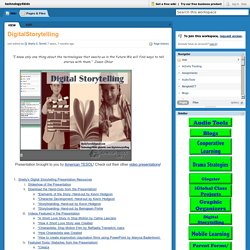 DigitalStorytelling
"I know only one thing about the technologies that awaits us in the future:We will find ways to tell stories with them." Jason Ohlar Presentation brought to you by American TESOL!
Kanal von SearchStories
Have an account? Sign in New to Twitter? Join Today » Forgot password? Already using Twitter via text message?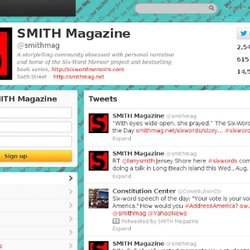 SMITH Magazine (smithmag) on Twitter
Glimmer | Dreaming Methods | Digital Fiction | Andy Campbell
twistori
Storytelling
How many times have you sat down to read a student's writing and the first line is so boring that it's almost torturous to continue? As elementary school teachers, our job is take ordinary student writing and give our children the tools to spice up their papers, adding interest and excitement through word choice, suspense, and other literary devices. Step 1 - Ban Boring Words ASAP Tell your students that, starting immediately, certain "blah" words that pack little descriptive punch are banned. The four more important words to ban are: "good," "bad," "went," and "said." Other worthy candidates include: "nice," "walked," and "then."
Creative Writing - Ban Boring Words to Teach Better Creative Writing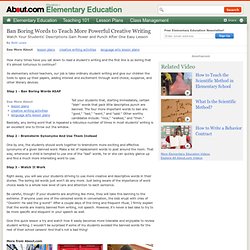 "We are our stories, we compress years of experience, thought and emotion into a few compact narratives that we convey to others and tell to ourselves" Daniel Pink, a Whole New Wind Digital storytelling, in short, using technologies to tell stories. It's a great way to develop visual and media literacy, promote reflection, engage students in their own learning, improve speaking and writing skills, to collaborate, reflect and evaluate. Here are the first 25 digital storytelling tools that you can use in your classes or just to tell your digital story.
100 Digital Storytelling Tools for Your Digital Selves + Natives (Part 1) | Ozge Karaoglu's Blog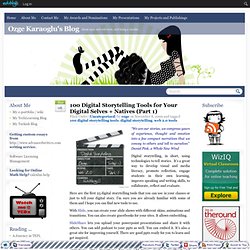 CDS: Stories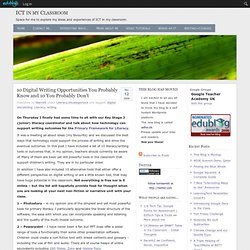 On Thursday I finally had some time to sit with our Key Stage 2 (junior) literacy coordinator and talk about how technology can support writing outcomes for the Primary Framework for Literacy. It was a meeting all about ideas (my favourite) and we discussed the best ways that technology could support the process of writing and drive the eventual outcomes. In this post I have included a list of 10 literacy/writing tools or outcomes that, in my opinion, teachers should currently be aware of. Many of them are basic yet still powerful tools in the classroom that support children's writing. They are in no particular order.
10 Digital Writing Opportunities You Probably Know and 10 You Probably Don't | ICT in my Classroom
educationalsoftware » Digital Storytelling
Dr. Helen Barrett's Electronic Portfolios
REAL* ePortfolio Academy for K-12 Teachers *REAL = Reflection, Engagement, and Assessment for Learning Introduction to K-12 ePortfolios Facilitated Course Registration Once a paid member of a REAL ePortfolio Academy course, participants may continue participating in discussions with subsequent cohorts.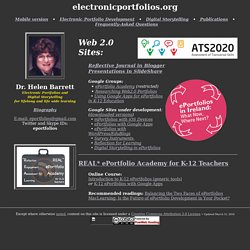 GVK - Gemeinsamer Verbundkatalog - 2.1