Digital media
Why No One Will Watch Your Crappy Corporate "Viral" Video, And How To Fix It. I get asked this question all the time: "How do we make our video/post/content go viral?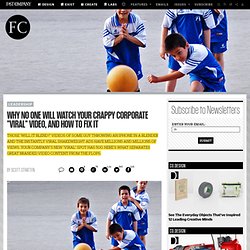 " The honest answer is that you can't. You can't make something go viral. You don't decide, I don't decide, the audience does. Privatization: The Big Joke That Isn't Funny. The privatization of public goods and services turns basic human needs into products to buy and sell.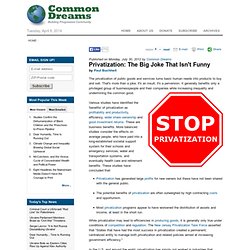 That's more than a joke, it's an insult, it's a perversion. It generally benefits only a privileged group of businesspeople and their companies while increasing inequality and undermining the common good. Various studies have identified the 'benefits' of privatization as profitability and productivity, efficiency, wider share ownership and good investment returns. These are business benefits. More balanced studies consider the effects on average people, who have paid into a long-established societal support system for their schools and emergency services, water and transportation systems, and eventually health care and retirement benefits.
This is how I feel about buying apps. How Do You Turn Pixels Into A Full-Blown Brand Experience? This article was written for 10x10, a series of essays written by Method, a design and innovation firm.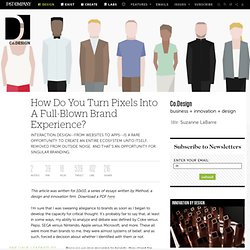 Download a PDF here. I'm sure that I was swearing allegiance to brands as soon as I began to develop the capacity for critical thought. It's probably fair to say that, at least in some ways, my ability to analyze and debate was defined by Coke versus Pepsi, SEGA versus Nintendo, Apple versus Microsoft, and more. These all were more than brands to me, they were almost systems of belief, and as such, forced a decision about whether I identified with them or not. How Social Media Is Taking Over the News Industry [INFOGRAPHIC] More than ever, people are using Twitter, Facebook and other social media sources to learn about what's happening in the world as traditional news outlets become increasingly less relevant to the digital generation.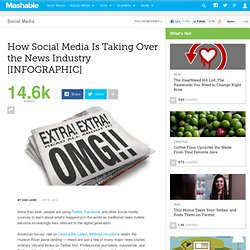 American forces' raid on Osama Bin Laden, Whitney Houston's death, the Hudson River plane landing — these are just a few of many major news stories ordinary citizens broke on Twitter first. Professional journalists, meanwhile, use Twitter all the time to break news quickly before writing up full articles. And the business side is going digital too. Online news now generates more revenue than print newspapers. But the trend toward Internet and social media-based news — and the accompanying rush to be first to report a story — also comes with pitfalls. 3 Reasons Why Online Advertising is the Worst Model for Your Startup. You might have noticed a lot of recent complaints about what's known as "page view journalism."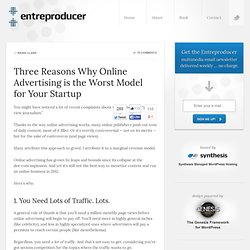 Thanks to the way online advertising works, many online publishers push out tons of daily content, most of it filler. Or it's overtly controversial — not on its merits — but for the sake of controversy (and page views). Many attribute this approach to greed. I attribute it to a marginal revenue model. Online advertising has grown by leaps and bounds since its collapse at the dot-com implosion. Andy Budd::Blogography. Over the years I've heard plenty of designers moan about their clients.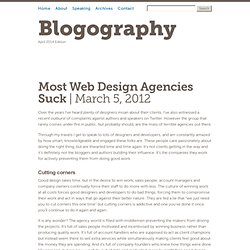 I've also witnessed a recent outburst of complaints against authors and speakers on Twitter. However the group that rarely comes under fire in public, but probably should, are the mass of terrible agencies out there. Through my travels I get to speak to lots of designers and developers, and am constantly amazed by how smart, knowledgeable and engaged these folks are. The Evolution of Animated GIFs. GIFs have become a bit of an enigma — they are one of the oldest image formats used on the Web, yet if you ask anyone familiar with the old format, they'd likely not associate it with a short clip of a cat in a Godzilla suit knocking over a tower.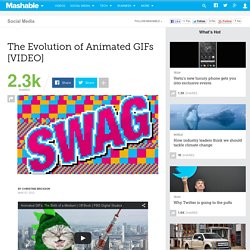 Throughout their 25 years of existence, GIFs have served a variety of purposes, from practicality to purely entertainment. How did such a vast, eclectic medium come to be? The answer is in the newest episode of PBS's web series , "Animated GIFs: The Birth of a Medium." As technology advanced, using GIFs became an outdated, less fashionable format. According to Patrick Davison of MemeFactory, the format began to increase in popularity again around 2007 or 2008. 13 'Pinteresting' Facts About Pinterest Users [INFOGRAPHIC]
It's no secret that the Internet loves Pinterest.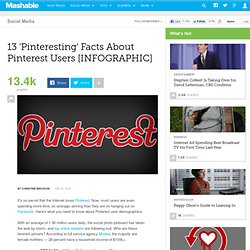 Now, most users are even spending more time, on average, pinning than they are on hanging out on Facebook. Here's what you need to know about Pinterest user demographics. SNL Spoofs Confusing Smartphone Marketing. When Saturday Night Live decides to make fun of Verizon, there's something deeply satisfying about it.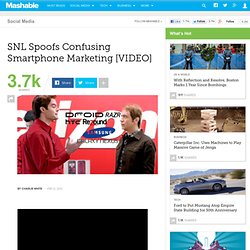 See if you agree when you watch this skit that aired Saturday night on SNL, poking fun at the alphabet soup and numerical nightmare that you'll find yourself embroiled within if you decide to buy a connected device. Unless you're an absolute expert about smartphones and 3G and 4G and all the various protocols and model numbers and powerful sounding names attached to such products, you might feel lost if you find yourself inside a store like this. Whew! Don't feel bad. Data Points: Social System. Social media has gone global.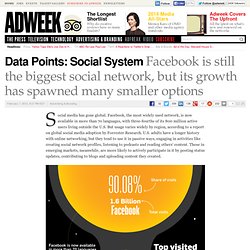 Facebook, the most widely used network, is now available in more than 70 languages, with three-fourths of its 800 million active users living outside the U.S. But usage varies widely by region, according to a report on global social media adoption by Forrester Research. U.S. adults have a longer history with online networking, but they tend to use it in passive ways, engaging in activities like creating social network profiles, listening to podcasts and reading others' content. Those in emerging markets, meanwhile, are more likely to actively participate in it by posting status updates, contributing to blogs and uploading content they created.
---