Issues and considerations
It's all about the conversation: Mark Zuckerberg speaks at the Facebook f8 Developer Conference at the San Francisco Design Center. Photograph: Kimihiro Hoshino/AFP/Getty Images The digital domain is a space for conversations based on shared values Within any university, faculties and departments tend to operate as silos. While students pursuing various degrees will develop specialist skills, they may also know how to apply them only in a certain way.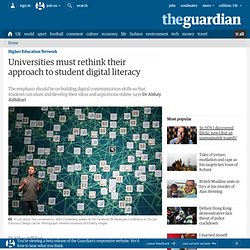 Universities must rethink their approach to student digital literacy | Higher Education Network | Guardian Professional
Josie Fraser , social and educational technologist, Leicester City Council First define what you mean by digital literacy: The definition I most frequently use is this one: digital literacy = digital tool knowledge + critical thinking + social engagement. Then it's worth knowing its main characteristics : • It supports and helps develop traditional literacies • It's a life-long practice • It's about skills, competencies and critical reflection on how these skills and competencies are applied • It's about social engagement Top tips for developing the digital literacy of non-traditional students: Begin by exploring the ways in which the group are already using mobile and web based technologies. Many of them will already be engaging with tech for personal use, for example Skyping relatives, keeping in touch on Facebook or using mobile phones.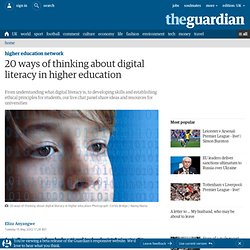 What is digital? - Definition from WhatIs.com
Digital describes electronic technology that generates, stores, and processes data in terms of two states: positive and non-positive. Positive is expressed or represented by the number 1 and non-positive by the number 0. Thus, data transmitted or stored with digital technology is expressed as a string of 0's and 1's.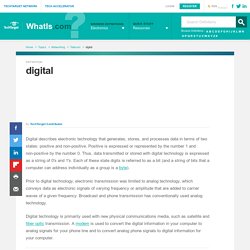 State-of-Online-Safety-Report-2011-Edition.pdf (application/pdf Object)
Leino paper: Learning with social technologies: Workplace learner experiences of wiki and blog and perceptions of PLE
Thanks for the dead link tip. I no longer have Springer access, but have found a version of it avail thru Springer (at a price).

http://link.springer.com/chapter/10.1007%2F978-3-642-37285-8_7 by krispaterson Sep 8
Picked this up via Simoes' THE_PLE Scoopit topic.
Useful observations of short vs longterm training participants, also the benefits of blogging vs wikis when outcomes/goals of blogging clearly articulated. by krispaterson Aug 5
Young People, Ethics, New Digital Media
ACMA What is digital media literacy and why is it important?
Promoting media literacy is a key to ensure that Australians are equipped with tools to make informed choices about media and communications services and to enable people to participate effectively in the digital economy. What is digital media literacy? Digital media literacy is often understood as the ability to access, understand and participate or create content using digital media. Developments in digital technology have had significant effects on the way individuals interact with communications and media services. An increasingly wide range of sources of information, ways of doing business, services (including government services) and entertainment are now commonly made available and accessed online and/or through digital media.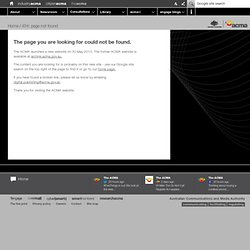 Digital literacy
Encourages us to consider the purpose of the use of digital tools by susie_mac Oct 12
Developing Dig Inf Literacy: obstacles + supports
ACMA govt media_literacy_report 2007