Digital fiction
The Jew's Daughter
The Z-machine preservation project - 9:05 (Adam Cadre)
J B Wock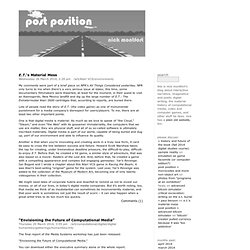 Nick Montfort & Páll Thayer At the Boston Cyberarts Gallery 141 Green Street, Jamaica Plain, MA 02130 Located in the Green Street T Station on the Orange Line Phone number: 617-522-6710 The exhibit runs March 6 through March 16.
Post Position » art
The Executor, by William Gillespie and Nick Montfort
Sea and Spar Between
Flight Paths, flightpaths.net
'The Breathing Wall' is told using text, image and sound. The piece you find here is a web-taster; make sure you turn on the sound on your computer before you look at it. To view the whole piece you need to order the CD.
The Breathing Wall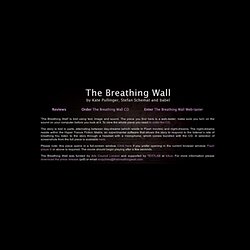 88 Constellations Preview
lossofgrasp.com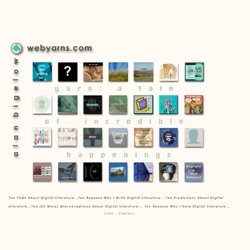 webyarns.com: stories for the web
Join the Mailing List Mythwatch.org - True myths from around the world...and your backyard (2010) He said, She said - a round for two voices (2010) This is not a Poem - A toy, a game, and a poem (2010)