Dictionaries
Collection of free WordNet based dictionaries for Kindle – ērmuārs™
WordNet 3 Easy & Infused WordNet 3 Easy English dictionary (14MB);English In order of popularity: WordNet 3 Infused ES English + Spanish (19MB);Español WordNet 3 Infused TR English + Turkish (17MB);Türkçe WordNet 3 Infused CN English + Chinese simplified (18MB);简体字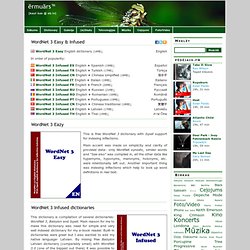 Visuwords™ online graphical dictionary — Look up words to find their meanings and associations with other words and concepts. Produce diagrams reminiscent of a neural net. Learn how words associate. Enter words into the search box to look them up or double-click a node to expand the tree.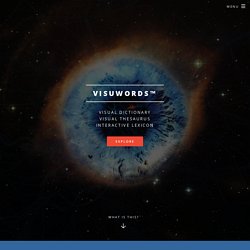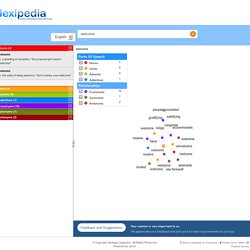 welcome n. the state of being welcome; "don't outstay your welcome" n. a greeting or reception; "the proposal got a warm welcome"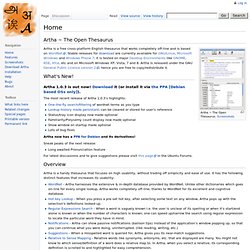 Artha ~ The Open Thesaurus
From Artha Artha ~ The Open Thesaurus Artha is a free cross-platform English thesaurus that works completely off-line and is based on WordNet. Stable releases for download are currently available for GNU/Linux, Microsoft Windows and Windows Phone 7; it is tested on major Desktop Environments like GNOME, KDE, Xfce, etc and on Microsoft Windows XP, Vista, 7 and 8. Artha is released under the GNU General Public Licence version 2; hence you are free to copy/redistribute it. What's New!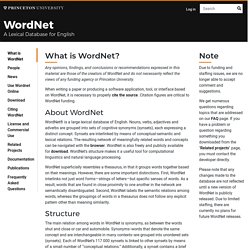 WordNet is supported by the National Science Foundation under Grant Number 0855157. Any opinions, findings, and conclusions or recommendations expressed in this material are those of the creators of WordNet and do not necessarily reflect the views of the National Science Foundation. About WordNet WordNet® is a large lexical database of English. Nouns, verbs, adjectives and adverbs are grouped into sets of cognitive synonyms (synsets), each expressing a distinct concept.