Dictionaries
PHONETICS. Collection of free WordNet based dictionaries for Kindle – ērmuārs™ WordNet 3 Easy & Infused WordNet 3 Easy English dictionary (14MB);English In order of popularity: WordNet 3 Infused ES English + Spanish (19MB);Español WordNet 3 Infused TR English + Turkish (17MB);Türkçe WordNet 3 Infused CN English + Chinese simplified (18MB);简体字.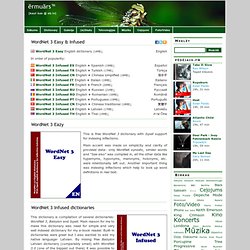 Thinkmap Visual Thesaurus - An online thesaurus and dictionary of over 145,000 words that you explore using an interactive map. Visuwords™ online graphical dictionary and thesaurus. Lexipedia - Where words have meaning. Artha ~ The Open Thesaurus. From Artha Artha ~ The Open Thesaurus Artha is a free cross-platform English thesaurus that works completely off-line and is based on WordNet.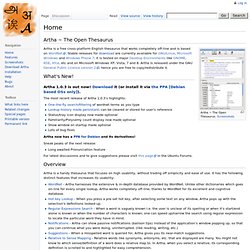 Stable releases for download are currently available for GNU/Linux, Microsoft Windows and Windows Phone 7; it is tested on major Desktop Environments like GNOME, KDE, Xfce, etc and on Microsoft Windows XP, Vista, 7 and 8. Artha is released under the GNU General Public Licence version 2; hence you are free to copy/redistribute it. What's New! About WordNet. Free English thesaurus.
---