Dictionaries
Welcome to Collinslanguage.com Here you can discover and buy anything from English dictionaries to language learning products in all digital and printed formats. If you want to discover more about the history of English words, are looking for word game tips, or want to learn key phrases for a holiday, then you've come to the right place. With almost 200 years of dictionary publishing experience, we are one of the world's most authoritative language publishers.
Online Dictionary - Free Collins Dictionaries Online - Collins Language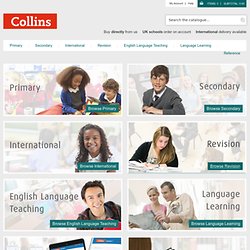 Collins Free Cobuild Online Dictionary for English Learners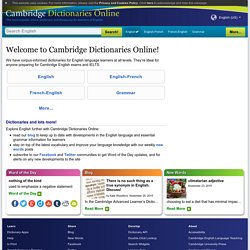 We have corpus-informed dictionaries for English language learners at all levels. They're ideal for anyone preparing for Cambridge English exams and IELTS. New Chinese, Polish and Russian dictionaries It's now easier than ever to find the meaning you want. For speakers of Chinese, Polish and Russian we've added three new bilingual dictionaries to Cambridge Dictionaries Online.
Search any word using the power of the Longman Dictionary of Contemporary English. The quickest and easiest way to look up any word while you are working on the web. Fully searchable contents of the A-Z text of the Longman Dictionary of Contemporary English Selected headwords pronounced in British and American English (Buy the full CD-ROM version for pronunciation of ALL headwords, including names of people and places) Selected example sentences pronounced, to help you improve your intonation (Buy the full CD-ROM version to hear 88,000 example sentences pronounced)