Javascript
Ressources jQuery/CSS pour vos sites web | Webd...
Pinterest : Créer une grille modulable a...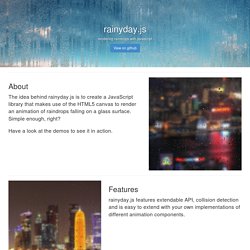 source You can find the source on github. previews
rainyday.js
spin.js | web development
The art of creating a website these days is learning how to create an online experience.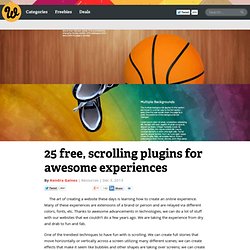 25 free, scrolling plugins for awesome experiences
Parallax effects are interactive by nature and still relatively new in web design. That's why they are a great way to make your visitors curious, draw them in, and engage them with your website. On the web, as much as in the real world, we are quite cautious and like to be in control. At times, we are uncertain and appreciate instant feedback on our actions. We are curious and love to experience new things.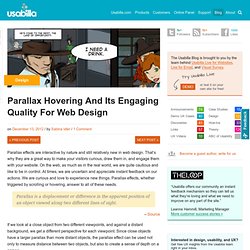 Parallax Hovering And Its Engaging Quality For Web Design
Javascript : 9 Scripts de Notification - ressources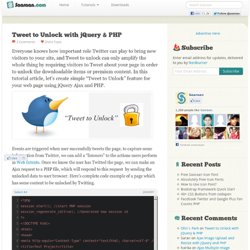 Tweet to Unlock with jQuery & PHP
Everyone knows how important role Twitter can play to bring new visitors to your site, and Tweet to unlock can only amplify the whole thing by requiring visitors to Tweet about your page in order to unlock the downloadable items or premium content. In this tutorial article, let's create simple "Tweet to Unlock" feature for your web page using jQuery Ajax and PHP. Events are triggered when user successfully tweets the page, to capture some information from Twitter, we can add a "listeners" to the actions users perform in Web Intents . Once we know the user has Twitted the page, we can make an Ajax request to a PHP file, which will respond to this request by sending the unlocked data to user browser. Here's complete code example of a page which has some content to be unlocked by Twitting.
Jeditable Edit In Place Demo
Sliding Boxes and Captions with JQuery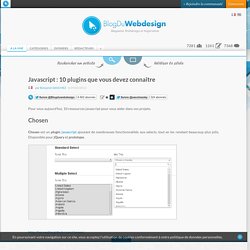 Pour vous aujourd'hui, 10 ressources javascript pour vous aider dans vos projets. Chosen est un plugin javascript ajoutant de nombreuses fonctionnalités aux selects, tout en les rendant beaucoup plus jolis. Disponible pour jQuery et prototype . http://harvesthq.github.com/chosen/ TypedJS est un outil de test pour javascript .
Javascript : 10 plugins que vous devez connaître - ressource-javascript
Javascript Mistakes You Must Avoid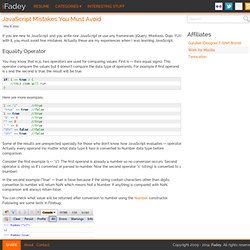 If you are new to JavaScript and you write raw JavaScript or use any framework (jQuery, Mootools, Dojo, YUI) with it, you must avoid few mistakes. Actually these are my experiences when I was learning JavaScript. Equality Operator You may know that in js, two operators are used for comparing values.
Menu en accordéon horizontal et glissant en 1kb !
Voici un excellent menu en accordéon horizontal animé qui tient en seulement 1 kb ! Le tout sans faire appel à une quelconque librairie javascript extérieure ! C'est Michael Leigeber qui en est à l'origine, de plus son script est compatible IE6 , IE7, Firefox, Opera, et Safari ! Chapeau ! Allez, voici la demo ! Mise en place
Design web, applications, jQuery, Wordpress | Webinventif
15 Carrousels d'images en Javascript | bertrandkeller
Iframe loading techniques and performance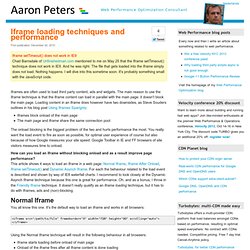 First publication: December 20, 2010 Iframe setTimeout() does not work in IE9 Chad Barnsdale of Unfinishedman.com mentioned to me on May 25 that the Iframe setTimeout() technique does not work in IE9. And he was right.
Sliding JavaScript Menu Highlight 1kb
Naked Password - jQuery Plugin to Encourage Stronger Passwords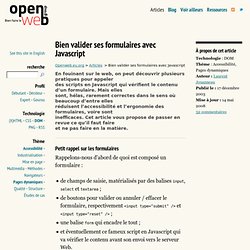 Bien valider ses formulaires avec Javascript
Petit rappel sur les formulaires Rappelons-nous d'abord de quoi est composé un formulaire : de champs de saisie, matérialisés par des balises input , select et textarea ; de boutons pour valider ou annuler / effacer le formulaire, respectivement <input type="submit" /> et <input type="reset" /> ; une balise form qui encadre le tout ; et éventuellement ce fameux script en Javascript qui va vérifier le contenu avant son envoi vers le serveur Web.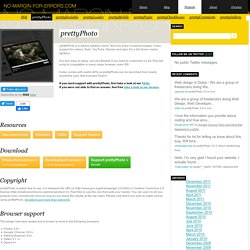 To open inline content, simply: Create a link (<a href="#">). Add the rel attribute "prettyPhoto" to it (rel="prettyPhoto"). Change the href of your link so it is the ID of the inline content you want to open with the ID CSS selector (#).
20 Top Script.aculo.us Scripts you can't live without-Speckyboy Design Magazine | Speckyboy Design Magazine
20 Top Script.aculo.us Scripts you can't live without. 1. Sexy Sliding Menu for script.aculo.us
| Adrien RUIZ » devblog
Evolution du CSS et les vieux navigateurs, quelle méthode choisir ? Durant la phase d'intégration d'un projet, il arrive très souvent que l'on soit tenté d'utiliser toutes les nouvelles propriétés CSS(3), c'est plus pratique, c'est plus beau et surtout c'est plus efficace qu'utiliser des images qui feront indéniablement augmenter le temps de chargement de nos pages web. Mais pour un grand nombre d'entres-nous, se pose directement la question: « Oui mais, ça donnerait quoi sur les vieux navigateurs ? » … pour ne pas citer Internet Explorer et ses nombreuses tentatives de réajustement (c'est tellement vrai)! Ceci-dit, il faut tout de même avouer qu'ils ont fait de très gros progrès depuis IE9, on en serait presque tout émoustillé. Malheureusement, ces vieux navigateurs occupent une petite part du marché qui titillent encore notre conscience professionnelle pour finalement nous pousser à réaliser l'effort ultime (ok … j'exagère un peu)!