Javascript
Ressources jQuery/CSS pour vos sites web | Webd...
Pinterest : Créer une grille modulable a...
rainyday.js
spin.js | web development
The art of creating a website these days is learning how to create an online experience.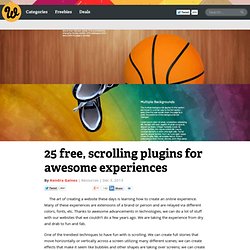 25 free, scrolling plugins for awesome experiences
Parallax effects are interactive by nature and still relatively new in web design. That's why they are a great way to make your visitors curious, draw them in, and engage them with your website. On the web, as much as in the real world, we are quite cautious and like to be in control. At times, we are uncertain and appreciate instant feedback on our actions. We are curious and love to experience new things.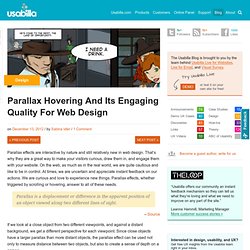 Parallax Hovering And Its Engaging Quality For Web Design
Javascript : 9 Scripts de Notification - ressources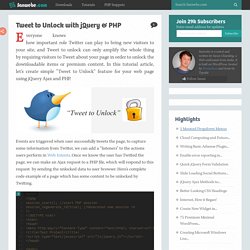 Tweet to Unlock with jQuery & PHP
Everyone knows how important role Twitter can play to bring new visitors to your site, and Tweet to unlock can only amplify the whole thing by requiring visitors to Tweet about your page in order to unlock the downloadable items or premium content.
Jeditable Edit In Place Demo
Sliding Boxes and Captions with JQuery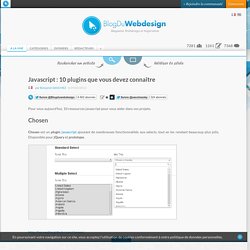 Chosen est un plugin javascript ajoutant de nombreuses fonctionnalités aux selects, tout en les rendant beaucoup plus jolis. Disponible pour jQuery et prototype. http://harvesthq.github.com/chosen/ TypedJS est un outil de test pour javascript. Mettez le typage de vos fonctions en javascript, lancez le test, et évitez les mauvaises surprises.
Javascript : 10 plugins que vous devez connaître - ressource-javascript
Javascript Mistakes You Must Avoid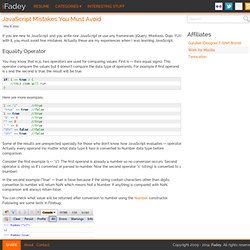 If you are new to JavaScript and you write raw JavaScript or use any framework (jQuery, Mootools, Dojo, YUI) with it, you must avoid few mistakes. Actually these are my experiences when I was learning JavaScript. Equality Operator You may know that in js, two operators are used for comparing values.
15 Carrousels d'images en Javascript | bertrandkeller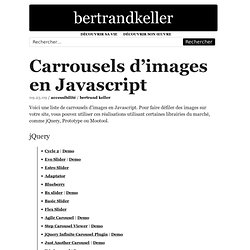 bertrandkeller Carrousels d'images en Javascript 09.25.09 / accessibilité / bertrand keller Voici une liste de carrousels d'images en Javascript.
Iframe loading techniques and performance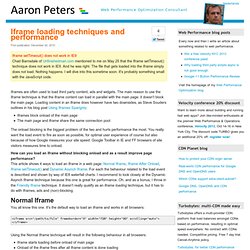 First publication: December 20, 2010 Iframe setTimeout() does not work in IE9 Chad Barnsdale of Unfinishedman.com mentioned to me on May 25 that the Iframe setTimeout() technique does not work in IE9. And he was right.
Naked Password - jQuery Plugin to Encourage Stronger Passwords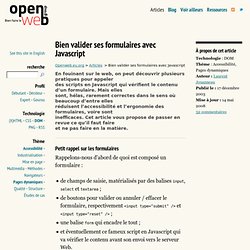 Bien valider ses formulaires avec Javascript
Petit rappel sur les formulaires Rappelons-nous d'abord de quoi est composé un formulaire : de champs de saisie, matérialisés par des balises input, select et textarea ; de boutons pour valider ou annuler / effacer le formulaire, respectivement <input type="submit" /> et <input type="reset" /> ; une balise form qui encadre le tout ; et éventuellement ce fameux script en Javascript qui va vérifier le contenu avant son envoi vers le serveur Web.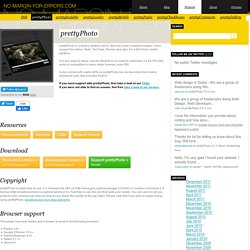 To open inline content, simply: Create a link (<a href="#">). Add the rel attribute "prettyPhoto" to it (rel="prettyPhoto"). Change the href of your link so it is the ID of the inline content you want to open with the ID CSS selector (#).
20 Top Script.aculo.us Scripts you can't live without-Speckyboy Design Magazine | Speckyboy Design Magazine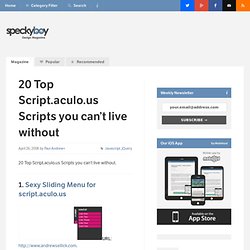 by Written by Paul Andrew Javascript, jQuery 20 Top Script.aculo.us Scripts you can't live without.
| Adrien RUIZ » devblog