Web Services
Developing Web Services with J2EE 1.4. Articles Index Qusay H.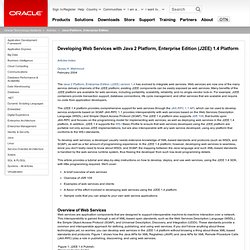 Mahmoud February 2004. Creating Web Services with Apache Axis. By Dion Almaer 05/22/2002 Web services have been a buzzword for a while.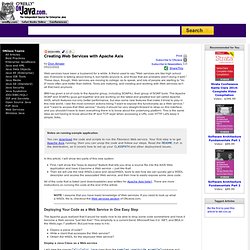 A friend used to say "Web services are like high school sex. Everyone is talking about doing it, but hardly anyone is, and those that are probably aren't doing it well. " Three Minutes to a Web Service. Leading-Edge JavaThree Minutes to a Web ServiceWrite a Web service in 15 lines of code with JAX-RPC 2.0 Early Accessby Frank SommersMay 23, 2005 Page 1 of 3 >> Summary A key aim of JAX-RPC 2.0 (JSR 224) is to simplify Java Web service development.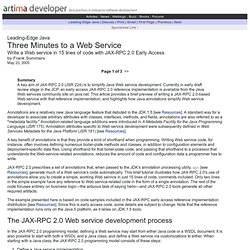 Currently in early draft review stage in the JCP, an early access JAX-RPC 2.0 reference implementation is available from the Java Web services community site on java.net. WebServices - Axis. Introduction Welcome to Axis, the third generation of Apache SOAP!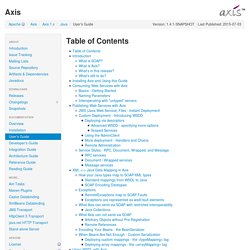 What is SOAP? SOAP is an XML-based communication protocol and encoding format for inter-application communication. Originally conceived by Microsoft and Userland software, it has evolved through several generations; the current spec is version, SOAP 1.2, though version 1.1 is more widespread. The W3C's XML Protocol working group is in charge of the specification.
---