Web Services
Developing Web Services with J2EE 1.4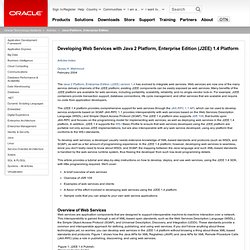 Articles Index Qusay H. Mahmoud February 2004
by Dion Almaer 05/22/2002 Web services have been a buzzword for a while. A friend used to say "Web services are like high school sex. Everyone is talking about doing it, but hardly anyone is, and those that are probably aren't doing it well."
Creating Web Services with Apache Axis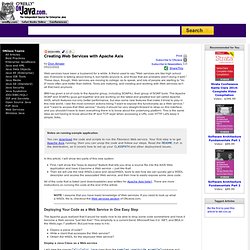 Leading-Edge JavaThree Minutes to a Web ServiceWrite a Web service in 15 lines of code with JAX-RPC 2.0 Early Accessby Frank SommersMay 23, 2005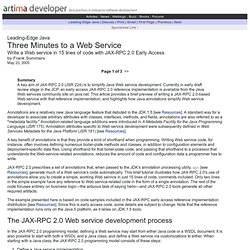 Three Minutes to a Web Service
WebServices - Axis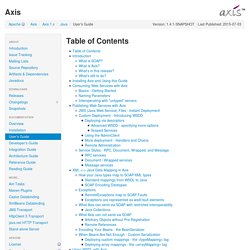 Introduction Welcome to Axis, the third generation of Apache SOAP! What is SOAP? SOAP is an XML-based communication protocol and encoding format for inter-application communication. Originally conceived by Microsoft and Userland software, it has evolved through several generations; the current spec is version, SOAP 1.2, though version 1.1 is more widespread. The W3C's XML Protocol working group is in charge of the specification.