BUSINESS AFRICA
Get flash to fully experience Pearltrees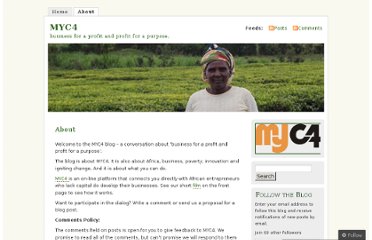 Welcome to the MYC4 blog – a conversation about 'business for a profit and profit for a purpose'.
When I started my first blog on ending poverty in South Asia, my good friend Dani Rodrik, while announcing the blog , added " it does begin to feel awfully crowded in here …". So why am I starting yet another economist's blog?
We are a non-profit tech company that specializes in developing free and open source software for information collection , visualization and interactive mapping .