Development Education
Resources about EU policy and practice in the field of Development Education
EP Declaration on DevEd. EU Consensus in development education. One of the challenges of development education is this: how to bring together European Union (EU) member states, the European Parliament, the European Commission, non-governmental organisations (NGOs) and all the other actors that are taking on the important role of encouraging and educating people to understand the world around us?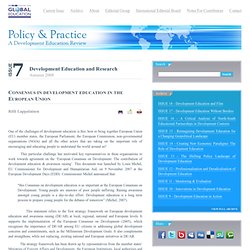 This particular challenge has motivated key representatives in these organisations to work towards agreement on the 'European Consensus on Development: The contribution of development education & awareness raising'. This document was launched by Louis Michel, EU Commissioner for Development and Humanitarian Aid, on 9 November 2007 at the European Development Days (EDD). Commissioner Michel announced that: DE_Watch. DEEEP welcomes EP Declaration. "Development education and active global citizenship can provide the skills, knowledge, values and competences to face today's challenges and to make a positive contribution to the future of Europe and the world.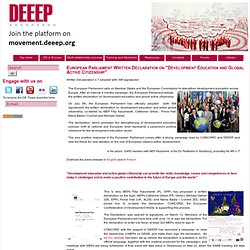 " This is why MEPs Filip Kaczmarek (PL, EPP) has proposed a written declaration on the topic. MEPs Catherine Grèze (FR, Green), Michael Gahler (DE, EPP), Fiona Hall (UK, ALDE) and Maria Badia I Cutchet (ES, S&D) joined him to co-table the declaration. EU Development Education Policy gaining momentum in the European Parliament. 'I believe our work in educating people to development issues is fundamental [...]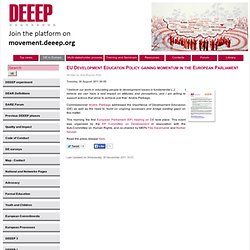 I believe we can have a real impact on attitudes and perceptions, and I am willing to support actions that strive to achieve just that.' Andris Pielbags. Commissionner Andris Pielbags addressed the importance of Development Educacion (DE) as well as the need to 'build on ongoing successes and bridge existing gaps' on this matter. This morning the first European Parliament (EP) hearing on DE took place. Dóchas on Development Education. Development Education - resources. What is Development Education?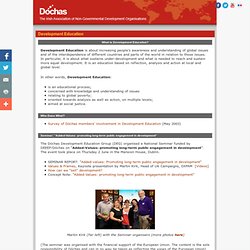 Development Education is about increasing people's awareness and understanding of global issues and of the interdependence of different countries and parts of the world in relation to those issues. In particular, it is about what sustains under-development and what is needed to reach and sustain more equal development. It is an education based on reflection, analysis and action at local and global level. In other words, Development Education: is an educational process; concerned with knowledge and understanding of issues relating to global poverty; oriented towards analysis as well as action, on multiple levels; aimed at social justice. Funding Opportunities. Irish Aid - Grants - Development Education. What is Development Education funding?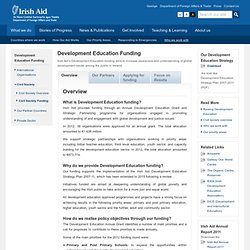 Irish Aid provides funding through an Annual Development Education Grant and Strategic Partnership programme for organisations engaged in promoting understanding of and engagement with global development and justice issues. In 2012, 38 organisations were approved for an annual grant. The total allocation amounted to €1.638 million. We support strategic partnerships with organisations working in priority areas including Initial teacher education, third level education, youth sector, and capacity building for the development education sector. In 2012, the total allocation amounted to €873,774. IDEA. GENE - Global Education Network Europe. Development Education.ie. DevEd & The EU Consensus on Development. Higher Education for Dev. How do we communicate global poverty? 11/03/2012 at 3:51 pm By Hans Zomer One of the easiest ways of getting people in the "Development" sector to agree, is to start a conversation blaming "the media" for their misrepresentation of global development issues.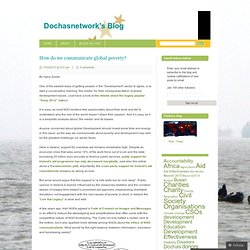 (Just have a look at the debate about the hugely popular "Kony 2012" video.) Critical Thinking. Communicating Complexity. Do aid agencies skew the debate? NGO Communications.
Public attitudes to Development (Irl & abroad) Measuring the Impact of DevEd.
---