Dev
Mon site. WebRTC Code and API. Beyond HTML5 - Audio Capture in Web Browsers. HTML5 - the next generation standard for web browsers is in last call in WHATWG and is currently being implemented by browser vendors.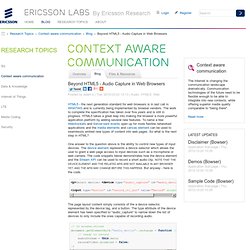 The work to complete the specification has taken over five years and is still in progress. HTML5 takes a great leap into making the browser a more powerful application platform by adding several new features. Tutoriel sur l'URL Rewriting (réécriture d'URL) Par Olivier Duffez, Vendredi 4 juin 2004 Le référencement de sites web dynamiques est l'une des principales sources d'interrogations des webmasters actuels.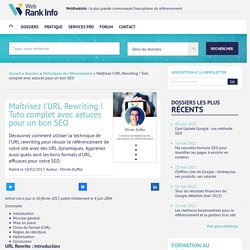 Après avoir longtemps été un facteur totalement bloquant pour les moteurs de recherche, lsia situation s'est assouplie depuis quelques temps. Cet article aborde la technique de l'URL rewriting qui constitue certainement la meilleure solution pour obtenir un bon référencement des sites web dynamiques. Un guide en ligne, c'est bien, mais des explications en direct, c'est mieux !
Media serveur. Ressource. MySQL. Php. jQuery. Le Site du Zéro, site communautaire de tutoriels gratuits pour d. Test sur les templates. Convertir un site en UTF-8 - NeoBlog. W3Schools Online Web Tutorials. CSS Tutorial. Grafikart.
---