Cookies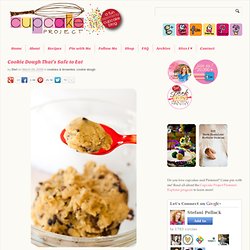 Cookie dough makes me feel like a messy girl with pigtails, beaters, and a big grin – all over again! I love cupcake batter, but cookie dough is in a class of its own. Sadly, it's probably not the safest idea for me to down gobs of raw cookie dough containing raw egg in my pregnant state (although – there is some debate about the dangers of raw egg). The good news is that making cookie dough that is egg-free and totally safe to eat is incredibly easy. Because you aren't going to be baking the cookie dough, you don't need to worry at all about getting proportions just right, sifting, or the order of incorporating ingredients into the dough. You just dump all the ingredients in a bowl, mix, and you're done.
This weeks girls night (plus 1 boy) was all about comfort food. I made a New York Times recipe for Creamy Macaroni & Cheese (found via Smitten Kitchen). Thank you Deb! Did I ever tell you how much I love the crunchy bits of Mac & Cheese?? I used to fight with my two older brothers over the crunchy parts when we were growing up.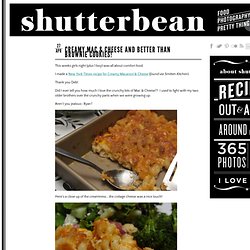 Creamy Mac & Cheese and Better than Brownie Cookies! › shutterbean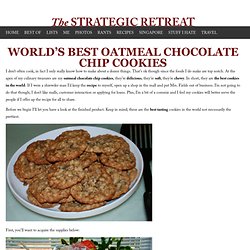 World's Best Oatmeal Chocolate Chip Cookies - The Strategic Retreat
I don't often cook, in fact I only really know how to make about a dozen things. That's ok though since the foods I do make are top notch. At the apex of my culinary treasures are my oatmeal chocolate chip cookies, they're delicious, they're soft, they're chewy. In short, they are the best cookies in the world. If I were a shrewder man I'd keep the recipe to myself, open up a shop in the mall and put Mrs. Fields out of business.
Pacman Sugar Cookies (Snack or Die - Video Game Cookies)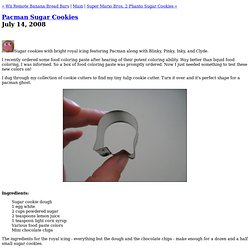 Sugar cookies with bright royal icing featuring Pacman along with Blinky, Pinky, Inky, and Clyde. I recently ordered some food coloring paste after hearing of their potent coloring ability. Way better than liquid food coloring, I was informed. So a box of food coloring paste was promptly ordered.
Vanilla Pudding Chocolate Chip Cookies
Vanilla Pudding Chocolate Chip Cookies I've baked a lot of cookies in my days, but one of the first cookie recipes I remember baking is Vanilla Pudding Chocolate Chip Cookies. They are so easy and everyone loves them, including me.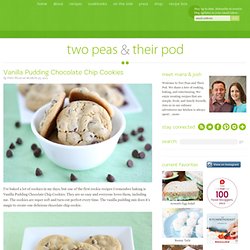 Need I say more? Just yum! Go make a couple of these! Made a batch of chocolate chip cookie dough.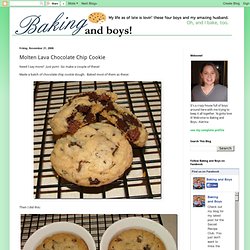 Cinnamon Pinwheels Recipe
Watermelon Cookies
If you need a fun and colorful dessert for a picnic or cookout, try these delicious watermelon cookies! This is a simple sugar cookie dough that's been dotted with miniature chocolate chips, then rolled in a colored glaze to finish them off. I've actually made these many times and published them on Familycorner.com, a website I used to own, several years ago. I did adapt the recipe a little bit over the years though. I made them again just the other day and they were polished off in no time. Here's the step by step instructions.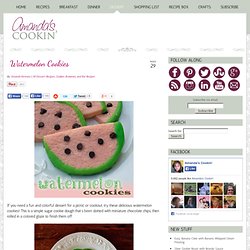 Homemade Girl Scout Cookies: Thin Mints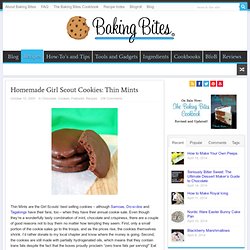 Thin Mints are the Girl Scouts' best selling cookies – although Samoas, Do-si-dos and Tagalongs have their fans, too – when they have their annual cookie sale. Even though they're a wonderfully tasty combination of mint, chocolate and crispiness, there are a couple of good reasons not to buy them no matter how tempting they seem. First, only a small portion of the cookie sales go to the troops, and as the prices rise, the cookies themselves shrink. I'd rather donate to my local chapter and know where the money is going. Second, the cookies are still made with partially hydrogenated oils, which means that they contain trans fats despite the fact that the boxes proudly proclaim "zero trans fats per serving!" Eat two servings, and those trans fats will start to add up.
Chocolate Lovers' Triple-Chocolate Brownie Cookies These chewy fudgy chocolate cookies from Cook's Country will satisfy any chocolate lover who craves a brownie in cookie form. I use Callebaut chocolate, but Ghirardelli is also a fine choice.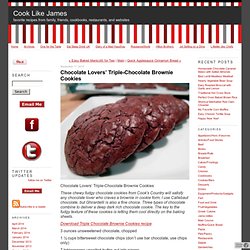 Chocolate Lovers' Triple-Chocolate Brownie Cookies - Cook Like James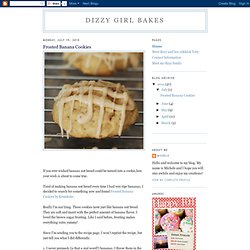 Dizzy Girl Bakes
I've had my fair share of Key lime pie and some of them I have loved and others I could have done without. This one falls in the category of love. I love, love, love this pie. It has the perfect amount of tartness without making you pucker (who can enjoy a pie that makes you wince from the tartness with each bite?). This is the kind of pie that makes you say oh my when you take the first bite. I bought a bag of limes thinking it would yield the 1 1/4 cups of lime juice, but I only got 1/2 cup.
Chocolate-Malt Sandwiches
Old Time Soft Sugar Cookies Recipe
Gingerbread-Whoopie-Pies-with-Lemon-Creme
Cookie Balls Recipe
Peppermint Patties"
Dinner & Dessert
Every year I get excited when I see strawberries in the grocery store. I'm not really big on fruit desserts, but I do love strawberry shortcake, cupcakes, and ice cream. I saw these cupcakes at the perfect time and decided to make them to celebrate this beautiful warmer weather that we've been blessed with! These cupcakes were a pretty standard white cupcake with lemon flavoring, but it was the frosting that made them stand out.
Red Velvet Cookie Sandwiches « Stephanies Kitchen
If you are looking for a quick and sweet Valentines Day treat, look no further. These are amazingly perfect. Every now and then, I commit the ultimate food bloggers sin and I use a boxed cake mix. What can I say? They are are quite handy every now and then.
Strawberry-Shortcake Cookies
the decorated cookie: plaid cookies for St. Patrick's Day
Stained Glass Trees
Homemade Girl Scout Cookies: Tagalongs