Designers
BEAUTY HAS NO COLOR
3D Illustrations Come Alive on the Page!
Figures come alive and jump off the pages in these illustrations by Japanese artist Nagai Hideyuki. By displaying simple pads of paper at special vantage points, the artist's amazing charcoal and pencil drawings form playful 3D optical illusions. The 21-year-old artist has quite a knack for perspective and each new drawing is more surprising than the next. Hideyuki identifies himself as an anamorphic artist, which is a style of art that stems from the early Renaissance. The style features techniques based on perspective, where an artist creates distorted images or drawings that are recognizable only when viewed in a certain way.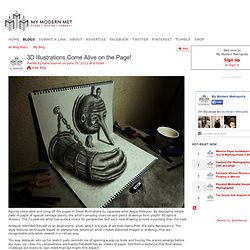 Willy Chyr
Johan Thörnqvist » Pictures from my phone
Artist Creates Superheroes Silhouette Posters
Featured - Ayaka Ito
Text Particles
Photorealistic Graffiti by El Mac
Coffee Cup Art By Cheeming Boey
The Creators Project | Amon Tobin
Exercises in Style
Typographic work by James Windsor
Super Creative Infographics by Column Five
Isaac G. Salazar on Etsy
Galleries / Print / Book Art - Love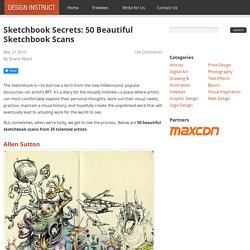 Sketchbook Secrets: 50 Beautiful Sketchbook Scans
The sketchbook is—to borrow a term from the new millenniums' popular discourse—an artist's BFF. It's a diary for the visually inclined—a place where artists can most comfortably explore their personal thoughts, work out their visual needs, practice, maintain a visual history, and hopefully create the unpolished work that will eventually lead to amazing work for the world to see. But, sometimes, when we're lucky, we get to see the process.
Awesome stuff by Diego Fernandez
Mind-Blowing Illustrations by Loopy Dave
The Art of Negative Space. on the Behance Network
+ [ desktopimage.com // version3.0 ] +
a selection of graphic projects - Nanette Wallace
a book of drawings or literary sketches on Illustration Served
2008 - 2007 : Nimit Malavia
Top 20 Talented Logo Designers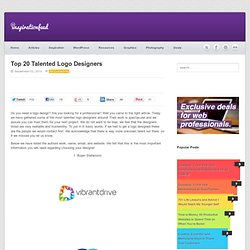 Do you need a logo design?
Extraordinary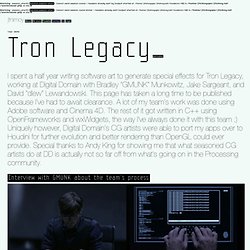 Year: 2010 Tron Legacy permalink
Tron Legacy (2010)
s Curiosities
Big Doodle
Conclave Obscurum
We Made This Ltd
Jooze (Student Work
Art Department Illustration Division 2011
Design Blog :: SPGRA | Fascinating Shadow Art by Kumi YAMASHITA
Christoph Niemann
Phillip Toledano - Days with My Father
Pop-Up Books Get the Magical Movie Treatment [Video] | Co.Design
Font Generator - Graphic Design Portfolio
Papercut Projects By Peter Callesen
Graphic Designer | Simon C Page