Graphics
Get flash to fully experience Pearltrees
Whap! Like a flash of satori, your company letterhead should be a slap in the face of consciousness. The whole point is to grab your readers' attention by the throat on first contact, then make them beg for more in the long run.
With the power of the Web, and more eyes watching than ever, it's important for a business to communicate its unique message clearly. The easiest way to recognize a company and distinguish it from others is by its logo. Below, we go through 10 common logo design mistakes that you should avoid if you want to create a successful and professional logo. 1. Designed By An Amateur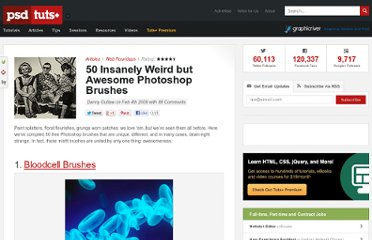 Paint splatters, floral flourishes, grunge worn patches: we love 'em, but we've seen them all before. Here we've compiled 50 free Photoshop brushes that are unique, different, and in many cases, down-right strange. In fact, these misfit brushes are united by only one thing: awesomeness. 1. Bloodcell Brushes 2.