Mobile First
Smartphone Shipments Surpass PCs for First Time. What's Next?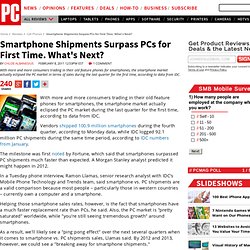 With more and more consumers trading in their old feature phones for smartphones, the smartphone market actually eclipsed the PC market during the last quarter for the first time, according to data from IDC. Vendors shipped 100.9 million smartphones during the fourth quarter, according to Monday data, while IDC logged 92.1 million PC shipments during the same time period, according to IDC numbers from January. The milestone was first noted by Fortune, which said that smartphones surpassed PC shipments much faster than expected.
Mobile Data Traffic To Increase Tenfold By 2016 - mobility Blog
Mobile phone users keep downloading more data, and carriers respond by ending unlimited plans. Mobile data consumption, driven by video, has been steadily increasing since 2007 when the iPhone came out and revolutionized how people use smartphones. As speeds have increased from 2G to 3G and now to 4G, the amount of data users are consuming has continued to grow. For the first few years on AT&T's network, the iPhone was blamed for often bringing cell towers to their knees, giving AT&T a bad reputation for network reliability.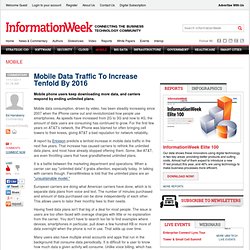 Anyone who thinks that the Internet revolution is in anything but its early phase had better take a look at Cisco's latest Global Mobile Data Traffic Forecast (PDF). There are so many startling predictions and observations in the report that we'll just begin with these headlines: There will be 788 million mobile-only Internet users by 2015.Global mobile data traffic will increase by a factor of 26 by 2015.World mobile data grew by a factor of 2.6 in 2010 from 2009. Average smartphone usage doubled: 79 MB per month, up from 35 MB per month in 2009.Android operating system data use is rapidly catching up to the iPhone.In 2010 almost a third of smartphone traffic was offloaded onto fixed networks via dual-mode or Femtocells.Millions of people around the world have cell phones but no electricity, and by 2015 a majority in the Middle East and Southeast Asia will live "off-grid, on-net."
World mobile data traffic to explode by factor of 26 by 2015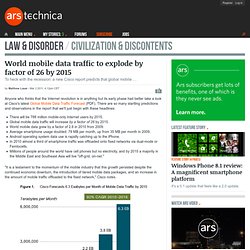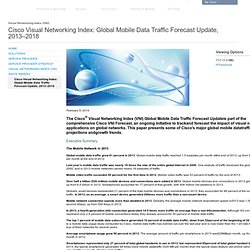 February 5, 2014 The Cisco® Visual Networking Index (VNI) Global Mobile Data Traffic Forecast Updateis part of the comprehensive Cisco VNI Forecast, an ongoing initiative to trackand forecast the impact of visual networking applications on global networks. This paper presents some of Cisco's major global mobile datatraffic projections andgrowth trends. Executive Summary The Mobile Network in 2013 Global mobile data traffic grew 81 percent in 2013.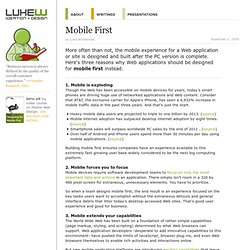 More often than not, the mobile experience for a Web application or site is designed and built after the PC version is complete. Here's three reasons why Web applications should be designed for mobile first instead. 1. Mobile is exploding
Mobile First
Flexible, Mobile-First Layouts with CSS3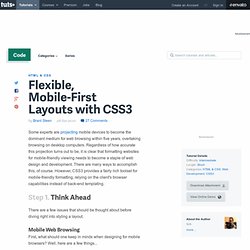 Some experts are projecting mobile devices to become the dominant medium for web browsing within five years, overtaking browsing on desktop computers. Regardless of how accurate this projection turns out to be, it is clear that formatting websites for mobile-friendly viewing needs to become a staple of web design and development. There are many ways to accomplish this, of course. However, CSS3 provides a fairly rich toolset for mobile-friendly formatting, relying on the client's browser capabilities instead of back-end templating. Step 1. Think Ahead
foreword by Jeffrey Zeldman Our industry's long wait for the complete, strategic guide to mobile web design is finally over. Former Yahoo! design architect and co-creator of Bagcheck Luke Wroblewski knows more about mobile experience than the rest of us, and packs all he knows into this entertaining, to-the-point guidebook. Its data-driven strategies and battle tested techniques will make you a master of mobile—and improve your non-mobile design, too! Contents