Infinite scroll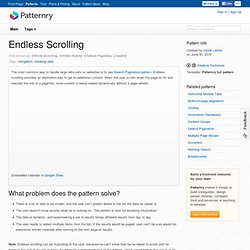 Also known as: Infinite Scrolling, Infinite History, Endless Pageless, LiveGrid Tags: navigation, showing data
Endless Scrolling
When working my way through a web gallery, I find it annoying when I must change pages; so in today's tutorial, we will learn how to create an auto-generating, one-page, infinite scrolling gallery with PHP and AJAX.
How to Create an Infinite Scrolling Web Gallery
Infinite Scrolling Best Practices
by anthony on 12/23/10 at 1:06 am Infinite scrolling is a new interface technique you'll find popping up on various websites. It allows users to browse through content without clicking on pagination links.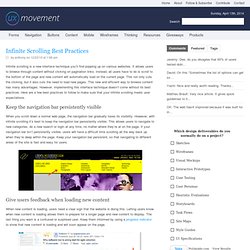 You don't have to be a big fan of the scrolling bar, you just have to like an endless stream of cool stuff.
Web Design Trend Hunting - 15 Amazing Infinite Scrolling Websites