Usb key
Spectrus : sublime hub USB prisme by Art Lebedev | NextBuzz
15 Unique and Creative USB Flash Drives
Collection of unusual and creative USB flash drives that will help you transfer your files in style. Mechanical USB Flash Drive When in use, this handmade 16GB USB flash drive glows green from underneath the gears giving the key a good sense of movement. [ link ] Canon 5D Mark II USB Flash Drive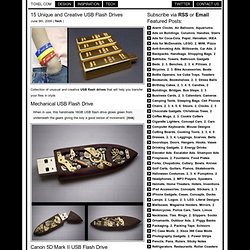 Swim Army Usb Flash Drives
If you live in or around New York City, you could try participating in 'Dead Drops'. Taking your laptop to USB sticks that have been hidden around the city, plug in, and upload or download to your heart's content. Aram Bartholl writes: "I am pleased to preview 'Dead Drops' a new project which I started off as part of my ongoing EYEBEAM residency in NYC the last couple weeks.
Dead Drops – Digital Glory Holes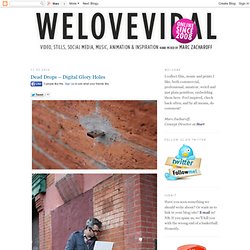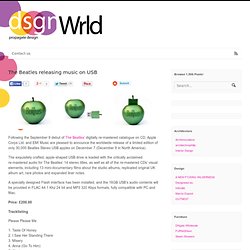 Following the September 9 debut of The Beatles ' digitally re-mastered catalogue on CD, Apple Corps Ltd. and EMI Music are pleased to announce the worldwide release of a limited edition of only 30,000 Beatles Stereo USB apples on December 7 (December 8 in North America). The exquisitely crafted, apple-shaped USB drive is loaded with the critically acclaimed re-mastered audio for The Beatles' 14 stereo titles, as well as all of the re-mastered CDs' visual elements, including 13 mini-documentary films about the studio albums, replicated original UK album art, rare photos and expanded liner notes. A specially designed Flash interface has been installed, and the 16GB USB's audio contents will be provided in FLAC 44.1 Khz 24 bit and MP3 320 Kbps formats, fully compatible with PC and Mac. Price: £200.00 Tracklisting Please Please Me
The Beatles releasing music on USB
Hand USB Sticks - OrSériE - Le journal du Beau & du Bien-être
click on the images for a full-size view USB sticks are always nice to have around when transferring files from computer to computer. These Wooden USB Sticks from OOOMS are made to stand out from their natural environment of computers and offices. The sticks are picked from the woods and are individually selected for their natural beauty, and then professionally handmade into unique and personal Wooden USB sticks.
dutch design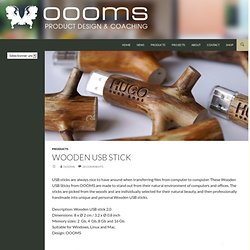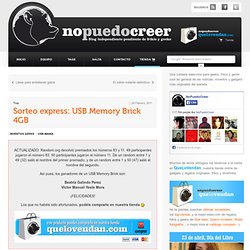 ACTUALIZADO: Random.org devolvió premiados los números 83 y 11. 49 participantes jugaron el número 83. 50 participantes jugaron el número 11. De un random entre 1 y 49 (32) salió el nombre del primer premiado, y de un random entre 1 y 50 (47) salió el nombre del segundo. Así pues, los ganadores de un USB Memory Brick son: Beatriz Galindo Perez Victor Manuel Yeste Mora
Sorteo express: USB Memory Brick 4GB (Resultado del sorteo) « No puedo creer que lo hayan inventado…
Data Stream : www.researchandobject.com
Brando Edible USB Flash Drives