Table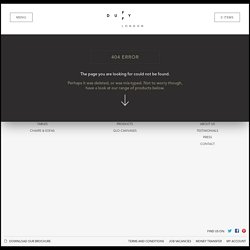 Duffy London - Swing Table
Swing Table Duffy London design studio are pleased to introduce the swing table, designed by Christopher Duffy. This table is ideal for putting a little extra fun into dinner times and boardroom meetings. This four poster table uses its structure to suspend a central GEO lampshade and eight hanging chairs that sway playfully. This design creates an exceptionally fun experience and aesthetic, creating a room within a room, with chairs that float around the table, which also make vacuuming a breeze.
'Inflow' Table by Animi Causa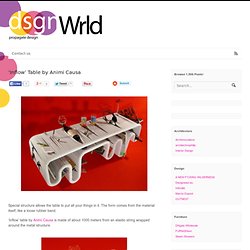 Special structure allows the table to put all your things in it. The form comes from the material itself, like a loose rubber band. 'Inflow' table by Animi Causa is made of about 1000 meters from an elastic string wrapped around the metal structure. "This table conveys our personality.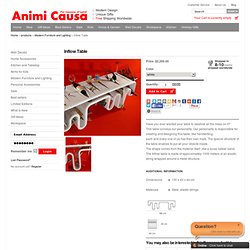 Have you ever wanted your table to swallow all the mess on it? This table conveys our personality. Our personality is responsible for creating and designing this table, like handwriting, each and every one of us has their own mark. The special structure of the table enables to put all your objects inside. The shape comes from the material itself ,like a loose rubber band. The Inflow table is made of approximately 1000 meters of an elastic string wrapped around a metal structure.
Gifts | Gift | Inflow Table | Modern Furniture and Lighting | Animi Causa Boutique
Panic Opera, une table à café de Dima Loginoff - OrSériE - Le journal du Beau & du Bien-être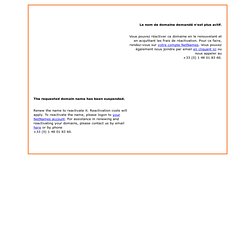 Dima Loginoff aime la fantaisie. Elle l'avait démontré précédemment en 2008 avec son sofa « Bone Lounge » et en 2009 avec son luminaire « Bless You Lamp ». La designer russe récidive aujourd'hui avec cette table à café très sensuelle nommée « Panic Opéra ». Comme son nom l'indique, la table est inspirée de l'univers théâtral, de la magie qui se prépare derrière les rideaux ondulés que vous retrouvez sur son site web .
Lego Tables
Quand une pièce de mobilier devient aussi un support de communication. C'est le souhait qu'a réalisé Tianyu Xiao avec sa table basse, The Writable. En bois, elle comporte sur sa surface trois panneaux pivotants.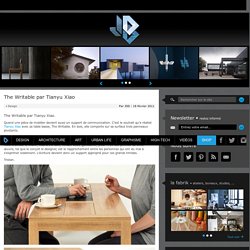 The Writable par Tianyu Xiao
Thomas Schnur Product Design
Puppies and Flowers » Table prototypes by Florent Degourc