Outputs
The blueprint is an operational tool that describes the nature and the characteristics of the service interaction in enough detail to verify, implement and maintain it. It is based on a graphical technique that displays the process functions above and below the line of visibility to the customer: all the touchpoints and the back-stage processes are documented and aligned to the user experience. References: (1977) Lynn G. Shostack, Breaking Free from Product Marketing, in Journal of Marketing n° 41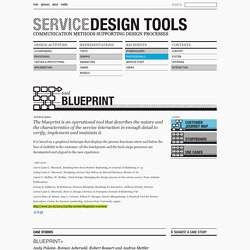 Blueprint
Errata — Shi* happens... Here is a list of typos and mistakes we found so far in the book. Please help us to continously develop this list, so we can correct them for the next print run. After all, it's still about iterations and co-creation.. ;) Hardcover, 1st print run (December 2010)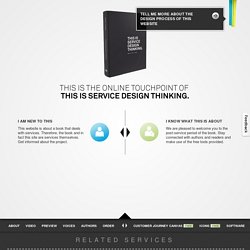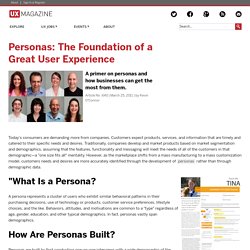 Personas: The Foundation of a Great User Experience
Today's consumers are demanding more from companies. Customers expect products, services, and information that are timely and catered to their specific needs and desires. Traditionally, companies develop and market products based on market segmentation and demographics, assuming that the features, functionality and messaging will meet the needs of all of the customers in that demographic—a "one size fits all" mentality. However, as the marketplace shifts from a mass manufacturing to a mass customization model, customers needs and desires are more accurately identified through the development of personas rather than through demographic data. "What Is a Persona?
25 illustrated brainstorm tips
Why use Tiki-Toki? There are loads of timeline makers out there.What's so special about Tiki-Toki? Nothing to download Tiki-Toki works in your browser. Sign up for our freeaccount and you can start creating a timeline now Stunning 3d timelines No other online timeline makerallows you to view your timelines in 3d Include images and videos Tiki-Toki provides integration withYouTube and Vimeo for videos Share timelines with anyone Each timeline you create has its own unique urlthat you can send to friends or colleagues Colours and categories Tiki-Toki allows you to create different categoriesfor stories (events) and colour code them Group edit* Get your friends or colleaguesto contribute to your timelines Embed timelines on your site* Timelines created using Tiki-Toki can beembedded on your own website or blog *Active premium accounts only What can I do with Tiki-Toki?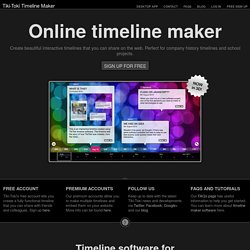 Meaningful Brands, our new index and approach challenges traditional marketing definitions of brand value ..and provides us with new ways to create strong brands in these challenging times We found that only 20% of brands have a notable positive impact on our sense of wellbeing and quality of life. Furthermore, for the second year running, we also found that most people would not care if 70% of brands ceased to exist. Meaningful Brands demonstrates that, in many cases, the connection between brands and consumers is either weak or broken.
Meaningful Brands Research | Havas Media Labs - Havas Media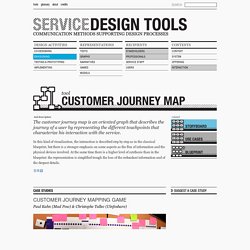 The customer journey map is an oriented graph that describes the journey of a user by representing the different touchpoints that characterize his interaction with the service. In this kind of visualization, the interaction is described step by step as in the classical blueprint, but there is a stronger emphasis on some aspects as the flux of information and the physical devices involved. At the same time there is a higher level of synthesis than in the blueprint: the representation is simplified trough the loss of the redundant information and of the deepest details.
Best Global Brands 2011 Interactive Charts
Service Design Outputs Tailored For Our Customers - Huddle Design
Close Photoshop and Grab a Pencil: The Lost Art of Thumbnail Sketches
Long before web UI mockups came along, print designers would hone their ideas using a tried and true method called thumbnail sketching. This practice seems to be somewhat of a lost art so we're going to shed some light on it! Today we'll briefly discuss what thumbnail sketches are, some tips for creating them and how to effectively implement them into your already busy workflow. Before Wireframing, Thumbnail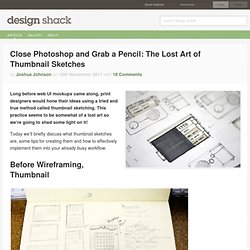 D3.js is a small, free JavaScript library for manipulating documents based on data. D3 allows you to bind arbitrary data to a Document Object Model (DOM), and then apply data-driven transformations to the document. As a trivial example, you can use D3 to generate a basic HTML table from an array of numbers. Or, use the same data to create an interactive SVG bar chart with smooth transitions and interaction. D3 is not a traditional visualization framework.
Simple, Smart, Impactful | Small and Medium Size Businesses with charting and visualization dynamics for business success. A trusted advisor to America's best businesses for more than 25 years, Insperity provides an array of human resources and business solutions to help improve business performance. View, model, and analyze your workforce with the world's leading organizational charting and planning software. Insperity OrgPlus blends at-a-glance insight with powerful planning tools, equipping Business Leaders and HR Professionals to understand their organization and effectively manage change. HumanConcepts give you a better view.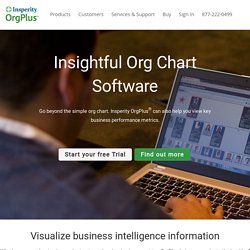 Organizational Chart. Org Chart Software and Organizational Planning.
Ready-made thinking guides Map your ideas Blank template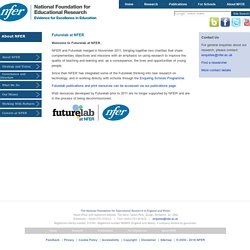 What is Dipity? Dipity is a free digital timeline website. Our mission is to organize the web's content by date and time.
strategy n. the branch of military science dealing with military command and the planning and conduct of a war There are no items for this category campaign, military campaign n. several related operations aimed at achieving a particular goal (usually within geographical and temporal constraints)
strategy
Il canale di impuremotion
Welcome to YouTube! The location filter shows you popular videos from the selected country or region on lists like Most Viewed and in search results.To change your location filter, please use the links in the footer at the bottom of the page. Click "OK" to accept this setting, or click "Cancel" to set your location filter to "Worldwide". The location filter shows you popular videos from the selected country or region on lists like Most Viewed and in search results.
Chuck Blakeman / Why Words Matter
Jvetrau's "workflow" favorite pictures on VisualizeUs
Classifying Experiences
Animated Infographic: The Power of Data Visualization
process.png (Immagine PNG, 1409x962 pixel) - Riscalata (72%)
Digital Digressions: Running Creative Brainstorms: A Collection of 'Non-method' Methods