Outputs
Blueprint. The blueprint is an operational tool that describes the nature and the characteristics of the service interaction in enough detail to verify, implement and maintain it.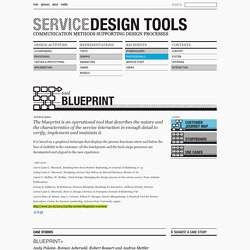 It is based on a graphical technique that displays the process functions above and below the line of visibility to the customer: all the touchpoints and the back-stage processes are documented and aligned to the user experience. References: (1977) Lynn G. Shostack, Breaking Free from Product Marketing, in Journal of Marketing n° 41. This is Service Design Thinking. Personas: The Foundation of a Great User Experience. Today's consumers are demanding more from companies.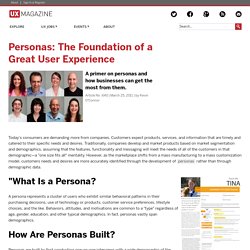 Customers expect products, services, and information that are timely and catered to their specific needs and desires. Traditionally, companies develop and market products based on market segmentation and demographics, assuming that the features, functionality and messaging will meet the needs of all of the customers in that demographic—a "one size fits all" mentality. However, as the marketplace shifts from a mass manufacturing to a mass customization model, customers needs and desires are more accurately identified through the development of personas rather than through demographic data.
"What Is a Persona? 25 illustrated brainstorm tips. Beautiful web-based timeline software. Meaningful Brands Research | Havas Media Labs - Havas Media. Meaningful Brands, our new index and approach challenges traditional marketing definitions of brand value ..and provides us with new ways to create strong brands in these challenging times We found that only 20% of brands have a notable positive impact on our sense of wellbeing and quality of life.
Furthermore, for the second year running, we also found that most people would not care if 70% of brands ceased to exist. Meaningful Brands demonstrates that, in many cases, the connection between brands and consumers is either weak or broken. Customer Journey Map. The customer journey map is an oriented graph that describes the journey of a user by representing the different touchpoints that characterize his interaction with the service.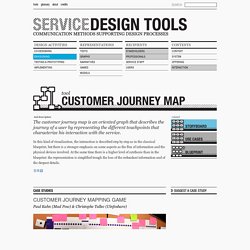 In this kind of visualization, the interaction is described step by step as in the classical blueprint, but there is a stronger emphasis on some aspects as the flux of information and the physical devices involved. At the same time there is a higher level of synthesis than in the blueprint: the representation is simplified trough the loss of the redundant information and of the deepest details. Best Global Brands 2011 Interactive Charts.
Service Design Outputs Tailored For Our Customers - Huddle Design. Service Design Tools | Communication methods supporting design processes. Close Photoshop and Grab a Pencil: The Lost Art of Thumbnail Sketches. Long before web UI mockups came along, print designers would hone their ideas using a tried and true method called thumbnail sketching.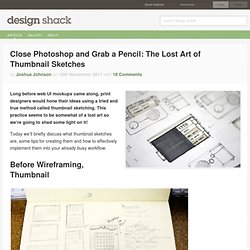 This practice seems to be somewhat of a lost art so we're going to shed some light on it! Today we'll briefly discuss what thumbnail sketches are, some tips for creating them and how to effectively implement them into your already busy workflow. Before Wireframing, Thumbnail. d3.js. Organizational Chart. Org Chart Software and Organizational Planning. Exploratree - Exploratree by FutureLab. Dipity - Find, Create, and Embed Interactive Timelines.
Vizster | visualizing online social networks. Strategy. Strategy n. the branch of military science dealing with military command and the planning and conduct of a war There are no items for this category military campaign, campaign n. several related operations aimed at achieving a particular goal (usually within geographical and temporal constraints)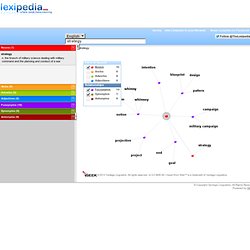 Il canale di impuremotion. Upload impure.com Subscription preferences Loading...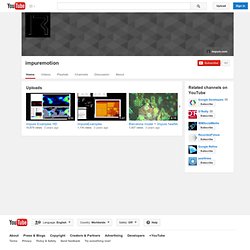 Working... impuremotion. Chuck Blakeman / Why Words Matter. Words represent powerful ideas, whether we mean for them to or not.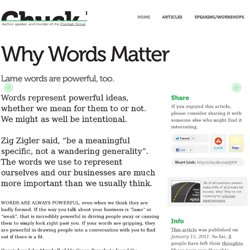 We might as well be intentional. Zig Zigler said, "be a meaningful specific, not a wandering generality". Jvetrau's "workflow" favorite pictures on VisualizeUs. Classifying Experiences. Wednesday February 22, 2006 / 8 Comments I'm excited to announce that I'll be presenting at the 2006 IA Summit in Vancouver Canada.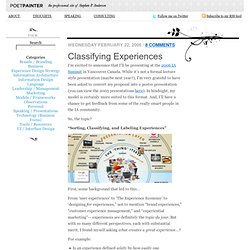 While it's not a formal lecture style presentation (maybe next year?) , I'm very grateful to have been asked to convert my proposal into a poster presentation (you can view the 2005 presentations here). In hindsight, my model is certainly more suited to this format. And, I'll have a chance to get feedback from some of the really smart people in the IA community. Animated Infographic: The Power of Data Visualization. Process.png (Immagine PNG, 1409x962 pixel) - Riscalata (72%) Digital Digressions: Running Creative Brainstorms: A Collection of 'Non-method' Methods.
Recently I was yet again faced with the prospect of running a series of brainstorms to generate new product concepts.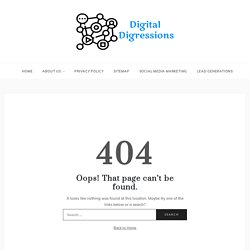 This time, with a team of people I had never met before. Aside from being a slightly daunting prospect, it got me thinking about the role of the catalyst in such situations - what is it that brings out the best in us and stimulates parts of our accumulated knowledge and insights and turns it into great ideas we felt we had all along, but struggled to articulate. At the start of the day I was asked what methods I was intending to use and must say I struggled to name specific methods. Six Thinking Hats. Six Thinking Hats is a book by Edward de Bono which describes a tool for group discussion and individual thinking involving six colored hats.
"Six Thinking Hats" and the associated idea parallel thinking provide a means for groups to plan thinking processes in a detailed and cohesive way, and in doing so to think together more effectively.[2] Underlying principles[edit] The premise of the method is that the human brain thinks in a number of distinct ways which can be deliberately challenged, and hence planned for use in a structured way allowing one to develop tactics for thinking about particular issues. CreatingMinds - tools, techniques, methods, quotes and quotation. Service Design Toolkit – Improve the quality of your service with this hands-on toolkit.
Engine Service Design | Service Design. Engine explore the challenges and opportunities for your current or future services. From interpreting existing research, to revealing qualitative customer understanding, our insights are grounded in the market context and are actionable - ready to be directly translated to the improvement and innovation of services. We encourage internal teams to join us in key activities, such as: Ethnographic studies and in-home interviewsExpert panels and stakeholder interviews Service auditsService trends forecasting. Engine Service Design | Service Design. 3 Trends That Will Define The Future Of Infographics | Co. Design. Now that everyone loves them, early adopters and forward thinkers want to know what is next for the infographic. Is this just the beginning of a visual revolution, or have they already jumped the shark?
This is an important question, especially for those who are making large investments in the medium, such as publishers and marketers. Is the Infographic Dead? My cofounder, Jason Lankow, says it well when people ask about the fate of infographics in the face of increasing web saturation. As he describes it, we are seeing the death of the novelty of infographics, not a decline in their value.
---