Pictoplasma
DPpentopaper.pdf (Objet application/pdf)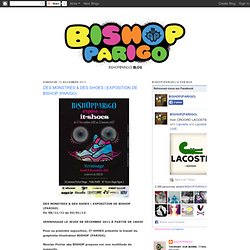 DES MONSTRES & DES SHOES | EXPOSITION DE BISHOP (PARIGO)Du 08/11/11 au 03/01/12 Pour sa première exposition, IT-SHOES présente le travail du graphiste-illustrateur BISHOP (PARIGO). Nicolas Poirier aka BISHOP propose sur une multitude de supports,un univers coloré, décalé et imprégné de l'atmosphère urbaine.Ses personnages déjantés et monstres aux couleurs acidulés se retrouvent sur toiles, accessoires, coussins ou peluches. IT-SHOES vous invite à venir découvrir l'univers fantasque et teinté d'humour de cet artiste, jeudi 8 Décembre pour le vernissage à partir de 18h30. IT-SHOES122, avenue Victor Hugo75116 ParisMétro (Victor hugo)Ligne 2
BISHOPPARIGO
Peter Archive | Pictoplasma Publishing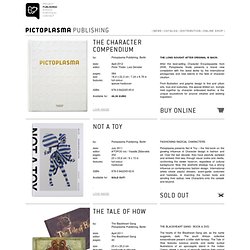 through the character populated worlds of over 40 forwardlooking, stylistically outstanding studios, animators and designers. The successful series is back, exploring freshly hatched characters that live in our brave new mixed-up post digital world. With work by Fluorescent Hill, David OReilly, W+K Tokyo Lab, Saiman Chow, McBess, SoandSau, Marc Craste, Nagi Noda, Satoru Ohno, Yves Geylen, Takafumi Tsuchiya, Asterokid, Anima Boutique, Studio AKA, Squeak E. Clean, Ian Stevenson, Kristofer Ström, Gangpol & Mit and many more…
Ilustration for Tresor (Issue December 2012), the magazine for the employees. Client: ZKB, CH. More Information -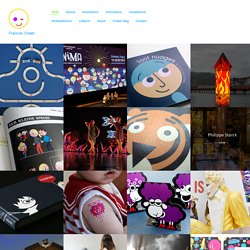 News : francois chalet
conférences, installations, spectacles, projections, jeux vidéo LA GAÎTÉ LYRIQUE 3 bis rue Papin 75003 Paris The Berlin based Pictoplasma project is acclaimed for its unique focus on contemporary character design and figurative art. The annual festivals in Berlin and NYC have evolved to be the meeting points for an international audience of illustrators, graphic designers, animation filmmakers as well as producers and fine and urban artists. Now, the world's leading Festival of contemporary character culture celebrates its premiere in Paris!
Pictoplasma | Paris 2011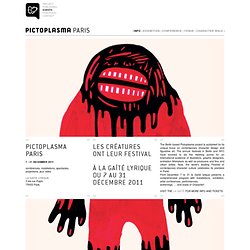 Pictoplasma, les Créatures ont enfin leur festival à la Gaîté lyrique ! La Gaîté lyrique invite le festival berlinois Pictoplasma à explorer les diverse facettes de la scène internationale du character design et de l'art figuratif. Pictoplasma sélectionne - à chaque édition du festival - des créations innovantes des studios à la pointe de la recherche et de réalisateurs indépendants qui se consacrent à la conception de créatures.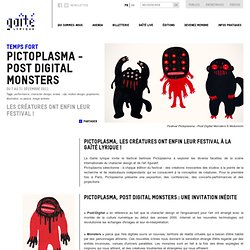 Pictoplasma - Post Digital Monsters
BenJulia-Benoit-Creacch-et-Julia-Gaudard-3-moments-dans-la-vie-de-Kaluk-Pictoplasma-exposition-Gaité-Lyrique.jpg (Image JPEG, 1333x1000 pixels) - Redimensionnée (86%)
Patricio_Oliver_Pictoplasma.jpg (Image JPEG, 955x537 pixels)
pictoplasma-gaite-lyrique-L-f8FOxQ.jpeg (Image JPEG, 500x729 pixels)
pictoplasma.jpg (Image JPEG, 705x1014 pixels) - Redimensionnée (85%)
conejito.jpg (Image JPEG, 300x350 pixels)
pictoplasma.jpg (Image JPEG, 398x286 pixels)
blog-main23.jpg (Image JPEG, 773x386 pixels)
pictoplasma-festival-2011-v2.jpg (Image JPEG, 600x600 pixels)
Pictoplasma- Character Encyclopedia | Luke Ramsey
picto-2007-2.jpg (Image JPEG, 628x760 pixels)
Festival Pictoplasma
Par Fabienne Tous les monstres farfelus et décalés de l'univers « Pictoplasma » -célèbre agence berlinoise spécialiste du Character design- se réunissent à la gaité lyrique jusqu'à la fin du mois. Un rendez-vous à ne pas rater !
Pictoplasma : Monstrueuses créatures à la Gaité Lyrique | Art'ilt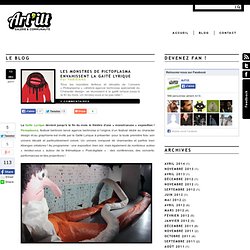 Pictoplasma
10th PICTOPLASMA BERLIN CONFERENCE & FESTIVAL Coming April 30 - May 4, the Pictoplasma Festival and Conference on Contemporary Character Design and Art celebrates its 10 year anniversary, with a specially immersive program of more than 20 awe-inducing artist presentations and back-to-back conference lectures, 100+ freshly hatched animations illuminating the big screen, endless exhibition fun, a special portrait gallery group-show, immeasurable inspiration and loads of confetti. Join the festivities and meet the avantgard of today's image creation, mingle with like-minded spirits and dive head-on into an insightful and inspiring week full of exhibitions, creativity, knowledge, networking, and – of course – a big birthday party!
Créatures déployées en bois, métal ou laine tricotée, galerie de portraits d'ancêtres imaginaires, installation vidéo explorant le mystère du Yéti... la créature digitale est explorée sous toutes ses formes. Dans une exposition surprenante, la Gaîté lyrique juxtapose la version numérique et l'œuvre physique des créatures pour jouer sur le passage du dessin à plat, à l'existence corporelle. L'exposition se présente en trois parties :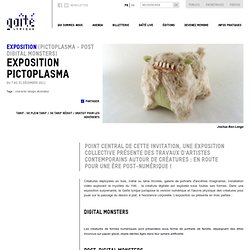 Exposition Pictoplasma | Exposition | Mercredi 7 Décembre 2011