Web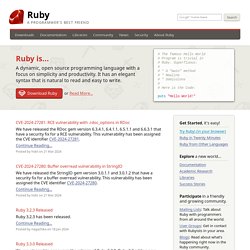 Support for Ruby version 1.9.3 will end on February 23, 2015 Today we are announcing our plans for the future of Ruby version 1.9.3. Continue Reading...
We're always looking for new ways to help educate our fellow webmasters. While you may already be familiar with Webmaster Tools, Webmaster Help Discussion Groups, this blog, and our Help Center, we've added another tutorial to help you understand how Google works. Hence we've made this video of a soon-to-come presentation titled "Google for Webmasters."
Video Tutorial: Google for Webmasters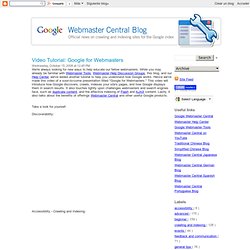 Swish-e :: Home Page
What a bloody fantastic tool. I went from seeing it mentioned in a link on the hypermail website, to downloading, installing, configuring, integrating the PHP, setting up the cron jobs and having it all working within the hour. Now that's how good software is meant to integrate. - Holon.net Web Team Swish-e is a fast, flexible, and free open source system for indexing collections of Web pages or other files. Swish-e is ideally suited for collections of a million documents or smaller.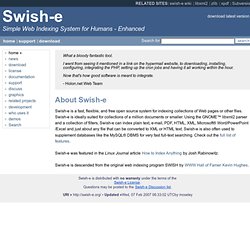 Lynx Viewer This service allows web authors to see what their pages will look like (sort of) when viewed with Lynx, a text-mode web browser. Note: for best results, you should download a copy of Lynx itself and run it locally on your own machine, rather than use this service, if you can.