Derives financières
Matt Taibbi: "Is the SEC Covering Up Wall Street Crimes?" (Democracy Now! Interview)
Who came up with the model for excessive pay? No, it wasn't the bankers – it was academics | Aditya Chakrabortty | Comment is free
Take a big step back. Ignore those sterile debates about how Dave screwed up over Stephen Hester's pay and where this leaves Ed. Instead, ask this: which profession has done most to justify the millions handed over to the boss of RBS, his colleagues and counterparts?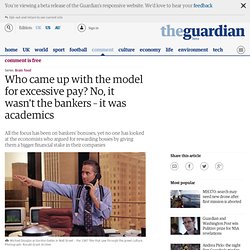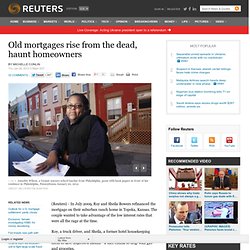 Old mortgages rise from the dead, haunt homeowners
(Reuters) - In July 2009, Roy and Sheila Bowers refinanced the mortgage on their suburban ranch home in Topeka, Kansas. The couple wanted to take advantage of the low interest rates that were all the rage at the time. Roy, a truck driver, and Sheila, a former hotel housekeeping supervisor, knew their new loan from Wells Fargo would enable them to save $198.86 a month - a nice chunk to help with gas and groceries. But what the Bowers never imagined was that their old loan, the one Wells Fargo told them was paid off, would resurrect itself, trashing their credit report, scotching their son's student loans and throwing the whole family into foreclosure. All, they say, even though they didn't miss a single mortgage payment.
How banks get away with inventing profits | Gordon Kerr | Comment is free
Both sides of the political divide are in agreement that bailing out the UK's failed banks in 2008 (and Northern Rock in 2007) was the right decision. Taxpayers were told that the worst of all possible worlds would have occurred had banks been allowed to fail. By bailing them out, and by encouraging them to continue to reward executives on pre-crisis pay scales and incentives, politicians prophesied that things would be fine, and management were incentivised to hope that things were fine. The cream of banking talent would remain at the helm of each bank, steadying the ship, ensuring that liquidity would flow through the national economy, which would soon be back on its feet. Both sides are wrong.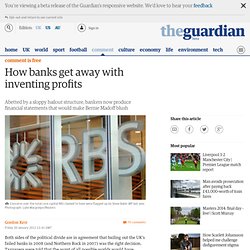 Two weeks ago, yet another case of rogue trading shocked the financial world when UBS trader Kweku Adoboli was arrested for allegedly squandering some $2.3 billion with a risky and unauthorized investment scheme. The 31-year-old, who had been based in London for the Swiss bank, remains in jail. The bank's chief executive Oswald Grübel, meanwhile, has resigned over the scandal -- the third major embarrassment to rattle the institution in just a few years. The situation mirrors a similar scandal at French bank Société Générale, where another young "rogue trader," Jérôme Kerviel, gambled away billions in 2007 and 2008. But why do these situations keep arising in the financial world?
Going Rogue: Share Traders More Reckless Than Psychopaths, Study Shows - SPIEGEL ONLINE - News - International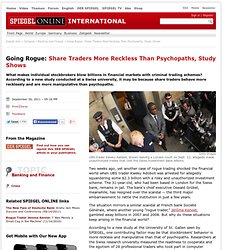 «En seize ans de salle de marché à la Société générale, je n'ai jamais vu une telle situation, totalement délirante, surtout au vu de la communication de la banque sur les valeurs d'éthique, de rigueur et de professionnalisme.» En adressant ce mail à Michel Péretié, patron de la branche trading et investissement de la Société générale (SGCIB), Ghislain Le Mintier, alias «GLM», signe son arrêt de mort en avril. Un mois plus tard, ce trader est licencié pour insuffisance professionnelle.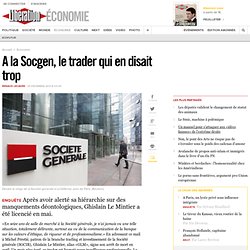 A la Socgen, le trader qui en disait trop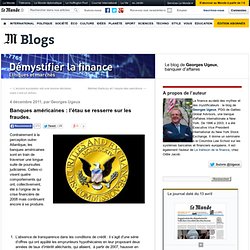 Contrairement à la perception outre-Atlantique, les banques américaines sont en train de traverser une longue suite de poursuites judiciaires. Celles-ci visent quatre comportements qui ont, collectivement, été à l'origine de la crise financière de 2008 mais continuent encore à se produire. L'absence de transparence dans les conditions de crédit : il s'agit d'une série d'offres qui ont appâté les emprunteurs hypothécaires en leur proposant deux années de taux d'intérêt alléchants, qui allaient, à partir de 2007, hausser en fonction de conditions de marché sur lesquelles l'emprunteur n'avait aucun éclairage ou visibilité.
Banques américaines : l'étau se resserre sur les fraudes
City's influence over Conservatives laid bare by research into donations | Politics
The influence of the City over the Conservatives has been laid bare by new research showing that more than half of the Tory party's donations since the general election have come from individuals and businesses working in finance. Hedge funds, financiers and private equity firms contributed more than a quarter of all the Tories' private donations – which this year poured in at a rate equal to £1m a month – the study by the Bureau of Investigative Journalism has found. The figures show an increase in the proportion of party funds coming from the financial sector, raising fears that the City's financial influence over the Tories is on the rise as key pieces of legislation are discussed by the coalition government. They come amid growing concerns that some parts of the financial sector, described by Labour leader Ed Miliband this week as "asset strippers" or "predator financiers", are profiting from financial instability.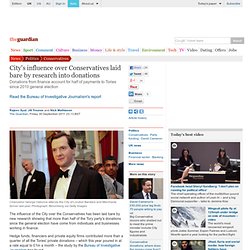 Big Bank Chart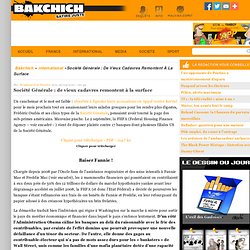 Un cauchemar et le mot est faible : absorbés à fignoler leurs accusations en Appel contre Kerviel pour le mois prochain tout en assaisonnant leurs salades grecques pour les rendre plus digestes, Frédéric Oudéa et ses chics types de la Société Générale, pensaient avoir tourné la page des sub-primes américains. Mauvaise pioche. Le 2 septembre, la FHFA (Federal Housing Finance Agency – voir encadré - ) vient de déposer plainte contre 17 banques dont plusieurs filiales US de la Société Générale.
Les détails de la plainte des Etats Unis contre 17 banques dont la Société Générale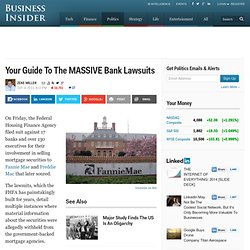 Common Law Fraud: Alleges the banks knew, or should have known that its representations and omissions were false and/or misleading at the time they were made. Only seven of the banks are alleged to have committed fraud: Goldman SachsDeutsche BankMorgan StanleyJP MorganCountrywide (now a Bank of America subsidiary)Merrill Lynch (now a Bank of America subsidiary)GMAC (now Ally Financial) This count comes with the addition of punitive damages to "punish, deter them from future misconduct, and protect the public."
Your Guide To The MASSIVE FHFA Bank Lawsuits
Here It Is: Presenting Goldman's "The World Is Ending So Let's All Profit" Report
A few days ago the WSJ made waves by disclosing that Goldman was in the process of recreating another "Abacus", by pitching to clients a global "pain trade" presentation created by Goldman's Alan Brazil, which, among others, speculated that funding needs for European banks would be far, far greater than the IMF-proposed $200 billion, and would in fact be closer to $1 trillion. This emphasis is actually odd, because Goldman focuses as much if not more attention on the end of the Chinese bubble as it does on the end of the European ponzi. It of course also did the usual Goldman thing, which is to allow select clients to piggyback with its prop, pardon flow, desk, in recreating the same fiasco for which it already had to pay a half a billion settlement to the SEC last year. Yet to date, nobody had actually seen a public version of this report....That is, nobody, until now - presenting Goldman's top secret "State of the Markets - Long and Short Risk Strategies"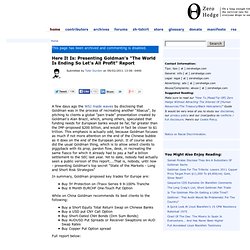 Eight Schwab mutual funds and related entities are the latest plaintiffs to sue a number of global banking institutions over alleged manipulation of the London interbank offered rate. In a suit filed August 23 in U.S. district court in San Francisco, the funds allege that from the beginning of 2007 through about March of this year the banks' manipulation of Libor allowed them to pay lower interest rates on short-term paper that the funds purchased from the banks as well as from other entities. About a dozen similar suits have reportedly been filed by investment funds in recent months as global regulators have launched investigations into the alleged rate manipulation. The banks "reaped hundreds of millions, if not billions, of dollars in ill-gotten gains," Schwab said in its claim. The Schwab suit seeks unspecified damages, which may be tripled under antitrust law. It also includes claims for racketeering and securities fraud.
Schwab sues banks for manipulating Libor rates
Bonnet d'âne pour le FMI, par Pierre Rimbert
« Recherche institutionnellement orientée », « biais idéologiques », « autocensure », « conclusions préconçues », « faible diversité d'approches théoriques et, plus encore, empiriques », « étroitesse de vues », « cadre analytique inapproprié aux réalités des pays étudiés », « incapacité répétée à citer des travaux de chercheurs locaux »… A tout prendre, il valait mieux pour les têtes pensantes du Fonds monétaire international (FMI) que les feux de l'actualité fussent braqués sur leur directeur général, arrêté à New York le 14 mai 2011, plutôt que sur le dernier rapport de son Bureau indépendant d'évaluation, publié la semaine suivante dans l'indifférence générale.
Warren Buffet investit 5 milliards dans Bank of America
Bank of America, actuellement confrontée à une crise de confiance à Wall Street, a reçu jeudi le soutien du milliardaire américain et icône des marchés boursiers Warren Buffett, qui va investir cinq milliards de dollars dans l'établissement. "Bank of America est une entreprise solide, bien gérée", a justifié l'homme d'affaires. Selon les termes de l'accord, sa holding Bershire Hathaway va acquérir 50.000 actions préférentielles émises pour l'occasion, à 100.000 dollars chacune, portant un intérêt annuel de 6%.
Early life[edit] Leeson was born in Watford, where he attended Parmiter's School. After finishing school in 1985 his first job was as a clerk with a private bank, Coutts.
Nick Leeson
Ten years ago this week, the rogue trader Nick Leeson fled Singapore after realising he could no longer hide his trading losses of more than $1bn. Leeson had already been racking up huge losses for over a year, but by the morning of 23 February 1995 the pressure had reached boiling point. In a final effort to recover the losses, the Barings trader had bet on the Nikkei index of leading Japanese shares to rise. But his gamble didn't pay off.
Business | Leeson's legacy lives on in Singapore
Inside Story - Jerome Kerviel: Villain or victim?
High-Frequency Firms Triple Trades in Rout
Federal Reserve Directors: A Study of Corporate and Banking Influence. Staff Report,Committee on Banking,Currency and Housing, House of Representatives, 94th Congress, 2nd Session, August 1976.
The World's Biggest Central Bank Has Private Shareholders
11 La double arnaque
Les banques détournent l'argent du livret A
Quand les cours boursiers sont ouvertement manipulés
Pendant la crise, une banque US sauvée par l'argent de la drogue
La finance, facteur d'inégalités
Campaign via social media networks blocks Dutch bankers' bonuses | Business | The Observer
Too Big To Fail | Contrepoints
Do We Need Big Banks?
Ted Kaufman's Friday Hearing Explains Everything That Is Broken With The US Financial System | zero hedge
Et si on fermait la Bourse..., par Frédéric Lordon
Frédéric Lordon : «il faut fermer la Bourse!»
Observatoire des inégalités
Goldman Now 3 Out Of 5 In World Monetary Domination: Goldmanite To Replace Andrew Sentance At Bank Of England | zero hedge
Le pouvoir de Wall Street
François Pérol, ex-conseiller de Sarkozy, pilote du lobby bancaire | Rue89
A Secretive Banking Elite Rules Trading in Derivatives | Asymptotix
This Goldman Partner Told Her Subordinates To Package And Hide The Crap They Couldn't Sell In CDOs
The Rising Power of Financial Blog Zero Hedge - Money 2009
Here Comes Executive Order 6102 For The QE Generation: Dutch Central Bank Orders Pension Fund To Sell Its Gold | zero hedge
Why Isn't Wall Street in Jail? | Rolling Stone Politics
24 Mars 2006 : M3 n'est plus publié par la Réserve fédérale US
UK's £80 Billion Pension Blunder? | zero hedge
Primary dealer
H.6 Release--Discontinuance of M3
Livret A: 30 milliards pour les banques, qui en redemandent
Garantie des dépôts bancaires
Fonds de garantie des dépôts
Les banques britanniques sauvegardent leurs bonus en promettant de prêter davantage
Banques : des comptes courants qui polluent plus que les 4×4 » Article » OWNI, Digital Journalism
Les crédits carbone: nouveau joujou toxique de la finance » Article » OWNI, Digital Journalism
Fausses notes : Le blog de Stéphane Montabert