Definitions
Der Begriff Marketing oder (veraltet) Absatzwirtschaft bezeichnet zum einen den Unternehmensbereich, dessen Aufgabe (Funktion) es ist, Waren und Dienstleistungen zu vermarkten; zum anderen beschreibt dieser Begriff ein Konzept der ganzheitlichen, marktorientierten Unternehmensführung zur Befriedigung der Bedürfnisse und Erwartungen der Kunden und anderer Interessengruppen ( Stakeholder ). Damit entwickelt sich das Marketingverständnis von einer operativen Beeinflussungstechnik ( Marketing-Mix -Instrumente) hin zu einer Führungskonzeption, die andere Funktionen wie zum Beispiel Beschaffung, Produktion, Verwaltung und Personal mit einschließt. [1] Marketing als Unternehmensfunktion [ Bearbeiten ] In der Betriebswirtschaftslehre ist das Marketing ein Teil des unternehmerischen Gesamtprozesses.
Marketing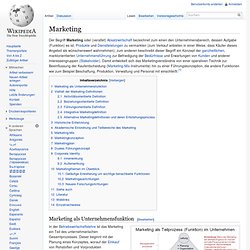 by Tim O'Reilly 09/30/2005 Oct. 2009: Tim O'Reilly and John Battelle answer the question of "What's next for Web 2.0?" in Web Squared: Web 2.0 Five Years On . The bursting of the dot-com bubble in the fall of 2001 marked a turning point for the web. Many people concluded that the web was overhyped, when in fact bubbles and consequent shakeouts appear to be a common feature of all technological revolutions . Shakeouts typically mark the point at which an ascendant technology is ready to take its place at center stage.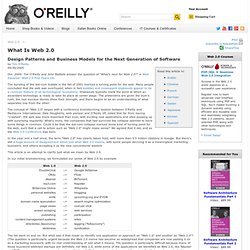 What is Buzz Marketing? - Definition from Whatis.com
Social media refers to the means of interactions among people in which they create, share, and exchange information and ideas in virtual communities and networks. [ 1 ] Andreas Kaplan and Michael Haenlein define social media as "a group of Internet-based applications that build on the ideological and technological foundations of Web 2.0 , and that allow the creation and exchange of user-generated content . [ 2 ] Furthermore, social media depend on mobile and web-based technologies to create highly interactive platforms through which individuals and communities share, cocreate, discuss, and modify user-generated content. It introduces substantial and pervasive changes to communication between organizations, communities and individuals. [ 3 ] Social media differentiates from traditional/industrial media in many aspects such as quality, [ 4 ] reach, frequency, usability, immediacy and permanence. [ 5 ] There are many effects that stem from internet usage.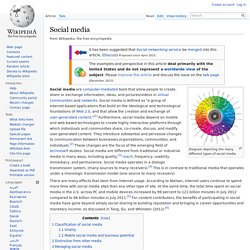 Virales Marketing (auch Viralmarketing oder manchmal Virusmarketing ) ist eine Marketingform , die soziale Netzwerke und Medien nutzt, um mit einer meist ungewöhnlichen oder hintergründigen Nachricht auf eine Marke, ein Produkt oder eine Kampagne aufmerksam zu machen. [1] Wenngleich die epidemische Verbreitung der einer Mundpropaganda ähnelt, ist virales Marketing nicht mit dieser gleichzusetzen, da bei der Mundpropaganda die Initiierung der Verbreitung für gewöhnlich von neutralen Teilnehmern ausgeht. Der Term "viral" besagt, dass Informationen über ein Produkt oder eine Dienstleistung innerhalb kürzester Zeit, ähnlich einem biologischen Virus, von Mensch zu Mensch weitergetragen werden. [2] Das virale Marketing bedient sich dabei verschiedener Methoden, um die Nachricht zu publizieren, z. B. Postkarten, Filmclips oder einfacher Beiträge in Internetforen und Blogs.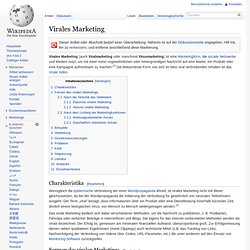 Virales Marketing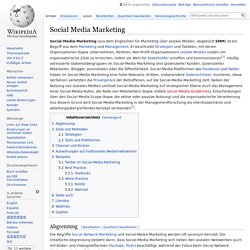 Social Media Marketing
Social Media Marketing (SMM) beschreibt die strategische und operative, bzw. aktive und passive Nutzung sozialer Medien für Marketingzwecke, wobei prinzipiell alle Instrumente des 4P-Marketing-Mixes berücksichtigt werden können [1] Fallweise wird die Interaktion bekannter Marken mit ihren Fans und Kritikern auch als Netzwerk- oder Mitmach-Marketing bezeichnet. [2] Mit dieser neuen Form des Online-Marketing wird versucht, die Branding - und Marketingkommunikations-Ziele von Unternehmen durch die Beteiligung in verschiedenen Social Media -Angeboten zu erreichen. Zudem ist es eine Komponente der integrierten Marketingkommunikation eines Unternehmens. Integrierte Marketingkommunikation ist ein Prinzip, nach dem ein Unternehmen innerhalb seines Zielmarktes mit der Zielgruppe in Kontakt tritt. Es koordiniert die Elemente des Promotions-Mixes — Werbung , Direktvertrieb , Direktmarketing , Public Relations und Verkaufsförderung — mit der Zielsetzung kundenorientiert zu kommunizieren. [3]
Social Media
Social Media (auch Soziale Medien [1] ) bezeichnen digitale Medien und Technologien (vgl. Social Software ), die es Nutzern ermöglichen, sich untereinander auszutauschen und mediale Inhalte einzeln oder in Gemeinschaft zu gestalten. Soziale Interaktionen und Zusammenarbeit (manchmal in Anlehnung an den englischen Begriff auch 'Kollaboration' genannt) in sozialen Medien gewinnen zunehmend an Bedeutung und wandeln mediale Monologe (one to many) in sozial-mediale Dialoge (many to many) [2] .