Des Connexions
BUG BROTHER - Journalistes : protégez vos sources ! C'est fou ce que les ordinateurs et les téléphones portables des journalistes qui enquêtent sur le scandale Woerth-Bettencourt semblent intéresser voleurs, politiques et magistrats, ces derniers temps.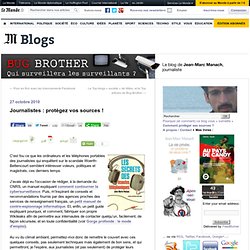 J'avais déjà eu l'occasion de rédiger, à la demande du CNRS, un manuel expliquant comment contourner la cybersurveillance. Puis, m'inspirant de conseils et recommandations fournis par des agences proches des services de renseignement français, un petit manuel de contre-espionnage informatique. Et, enfin, un petit guide expliquant pourquoi, et comment, fabriquer son propre Wikileaks afin de permettre aux internautes de contacter quelqu'un, facilement, de façon sécurisée, et en toute confidentialité (voir Gorge profonde : le mode d'emploi).
Electronic Frontier Foundation | Defending Freedom in the Digital World. The Freenet Project - /download. Important note for first time users For best performance, Freenet will run continually.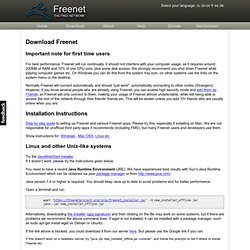 It should not interfere with your computer usage, as it requires around 200MB of RAM and 10% of one CPU core, plus some disk access. We strongly recommend you shut down Freenet while playing computer games etc. On Windows you can do this from the system tray icon, on other systems use the links on the system menu or the desktop. Freenet Doc.
Le WI FI. Inscription à LogMeIn Hamachi²
---