January 2012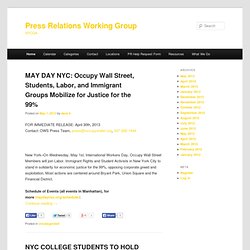 Press Relations Working Group | NYCGA
CONTACT: Occupy Wall Street Press Relations Team, 347-292-1444, press@occupywallst.org For Rockaways action only: Virginia Deer 347-733-8887, Gayle Grantham 917-701-5337 For Staten Island action only: Amin Husain 917-407-1226, Sandy Nurse 917-678-5395 For Manhattan action only: Bill Dobbs 917-822-5422 New York—With winter closing in and anger rising at Mayor Bloomberg's foot-dragging, New Yorkers hard hit by Hurricane Sandy will be on the streets on Saturday, Dec. 15 in the Rockaways and Staten Island, with many converging Saturday PM outside the mayor's Manhattan home. Thousands of New Yorkers are still without power or heat and are fighting for survival against black mold and bureaucracy. Saturday will be a first – New Yorkers taking collective action to protest the government's glaringly inadequate response to the storm, and to demand: emergency local housing, immediate mold remediation and an end to red tape and delays in deploying critical resources.
The PR Working Group is here to help make your events and actions a success by: building stories and messaging into your eventwriting and disseminating press releasespitching stories to the mediaresponding to press queries In the future we hope to offer PR media trainings for working groups. Please fill out our PR Request form if you would like help with your action.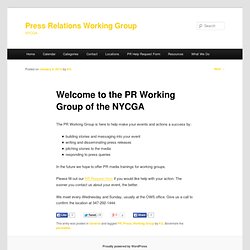 Welcome to the PR Working Group of the NYCGA | Press Relations Working Group
#whilewewatch
#whilewewatch is the gripping portrait of the #OccupyWallSt media revolution. Citizens came together at Zuccotti Park with energy, intelligence and guts to impassion their message, "We are the 99%."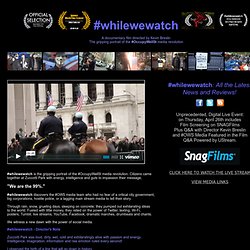 Twitter
Have an account? Sign in New to Twitter? Join Today » Forgot password? Already using Twitter via text message? Language: English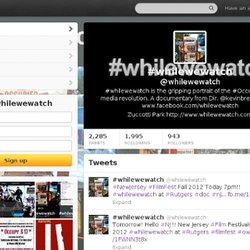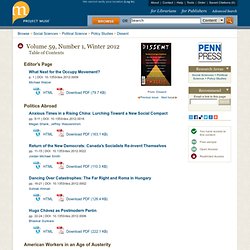 Editor's Page What Next for the Occupy Movement? p. 1 | DOI: 10.1353/dss.2012.0009 Politics Abroad Hugo Chávez as Postmodern Perón pp. 22-24 | DOI: 10.1353/dss.2012.0006
Dissent-Vol59,1, Winter 2012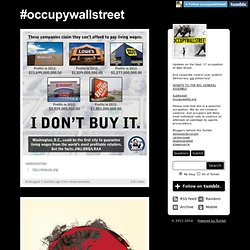 Austerity measures are eroding America's public school system. With massive increases in school closures and class cancellations, advocates say educational opportunities for students of all ages are increasingly being diminished. This is not a new problem, per se. It is, however, an escalating one, and one that is being resisted. Currently in Chicago—under the auspices of Mayor Rahm Emmanuel, the former chief of staff for President Obama—it was announced in March that 54 public schools will be closed, with 61 schools scheduled to be closed before the 2013–2014 school year begins. Emmanuel says that the closings are a "done deal."
#occupywallstreet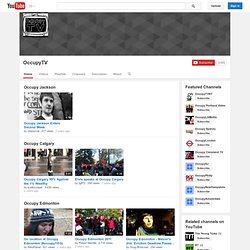 Welcome to YouTube! The location filter shows you popular videos from the selected country or region on lists like Most Viewed and in search results.To change your location filter, please use the links in the footer at the bottom of the page. Click "OK" to accept this setting, or click "Cancel" to set your location filter to "Worldwide". The location filter shows you popular videos from the selected country or region on lists like Most Viewed and in search results.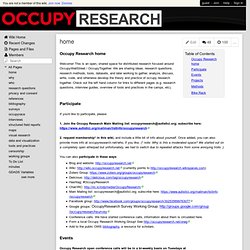 occupyresearch - home
Occupy Research home Welcome! This is an open, shared space for distributed research focused around OccupyWallStreet / OccupyTogether. We are sharing ideas, research questions, research methods, tools, datasets, and later working to gather, analyze, discuss, write, code, and otherwise develop the theory and practice of occupy research together.