29 / 10 / 2011
Capitalism and Environmental Catastrophe by John Bellamy Foster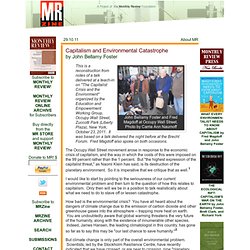 John Bellamy Foster, "Capitalism and Environmental Catastrophe"
Update on San Francisco Bay Area Occupations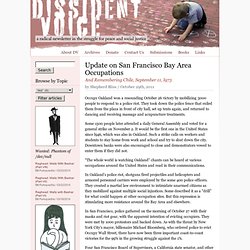 Occupy Oakland won a resounding October 26 victory by mobilizing 3000 people to respond to a police riot. They took down the police fence that exiled them from the plaza in front of city hall, set up tents again, and returned to dancing and receiving massage and acupuncture treatments.
Les manifestants occupent de nouveau la Paradeplatz à Zurich
Sinistre Cinq enfants de 2 à 10 ans périssent dans un incendie Cinq enfants âgés de 2 à 10 ans sont décédés dans la nuit de samedi à dimanche dans l'incendie d'une maison à Saint-Quentin, dans le nord de la France.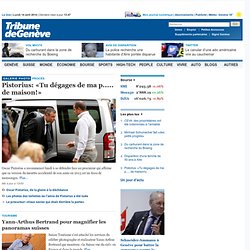 Les indignés de Londres
Le samedi 15 octobre, un groupe d'indignés se réunit à Londres pour manifester Place Paternoster, devant la bourse de Londres, dans la City de Londres contre notamment la dérégulation des services financiers.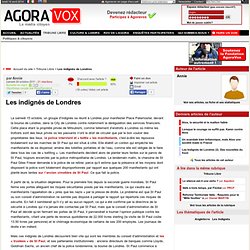 Des indignés occupent le centre de Rio
Mikis Theodorakis : Si les peuples d'Europe ne se lèvent pas, les banques ramèneront le fascisme - Hémisphère Gauche
OCCUPONS LA DEFENSE - Hémisphère Gauche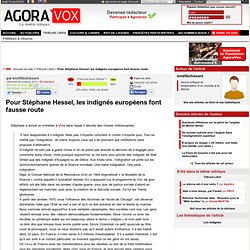 Pour Stéphane Hessel, les indignés européens font fausse route
@ Ulysse C'est bien de poser des tas de questions, ca montre que tu t'intéresse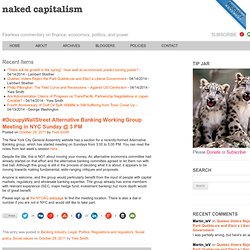 #OccupyWallStreet Alternative Banking Working Group Meeting in NYC Sunday @ 3 PM
#OccupyWallStreet Alternative Banking Working Group Meeting in NYC Sunday @ 3 PM
Occupons Montréal - Les réfugiés du système financier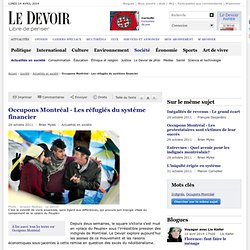 Depuis deux semaines, le square Victoria s'est mué en «place du Peuple» sous l'irrésistible pression des indignés de Montréal. Le Devoir explore aujourd'hui les assises de ce mouvement et les raisons économiques sous-jacentes à cette remise en question des excès du néolibéralisme. La statue de Victoria, une reine réputée pour son puritanisme, a subi des transformations radicales.
Indignés > Pékin censure l'internet pour prévenir toute contagion
Au printemps déjà, Pékin avait fait la chasse à tout rassemblement inspiré de la révolution du Jasmin tunisienne.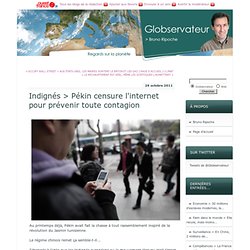 Des Indignés aux fortunes diverses
Des dizaines de milliers de manifestants ont défilé samedi soir à Tel-Aviv, selon les organisateurs de la vague de contestation sociale qui a déferlé cet été sur Israël.
Ils manifestent par dizaines de milliers à Tel-Aviv - Politique intérieure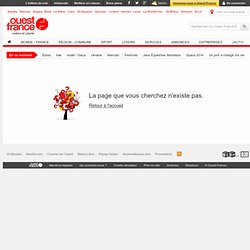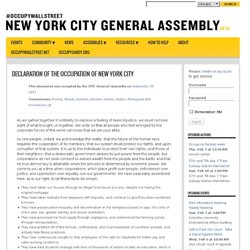 This document was accepted by the NYC General Assembly on September 29, 2011 Translations: French , Slovak , Spanish , German , Italian , Arabic , Portuguese [ all translations »] As we gather together in solidarity to express a feeling of mass injustice, we must not lose sight of what brought us together. We write so that all people who feel wronged by the corporate forces of the world can know that we are your allies.
AnonMedics
Par: rédaction 29/10/11 - 01h15
Occupy Wall Street: une soixantaine de manifestants arrêtés - Monde
Occupy Wall Street: la guerre fait rage entre les indignés et la mairie de New York
Le caméraman est penché sur les toilettes. La caméra s'approche de la lunette. Derrière, une voix. Celle de la patronne de Panini & Co, qui explique qu'elle n'en peut plus d'Occupy Wall Street (OWS) et de ses manifestants indélogeables devant chez elle, qu'elle a encore dû réparer les chiottes de son café. "Et encore, je ne vous parle pas de l'odeur ni de ceux qui restent enfermés des heures pour se laver."