27 / 10 / 2011
Occupy Love - From Egypt to Wall Street. Cannes, le jeu. 3 novembre 2011. Le Groupe des 20 plus riches pays se réunit aujourd'hui à Cannes pour tenter laborieusement de décider de l'avenir des peuples du monde en réalité difficilement regroupés dans 194 pays.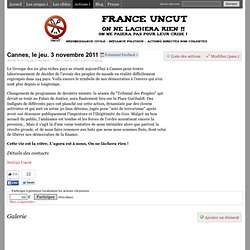 Voilà encore le symbole de nos démocraties à l'envers qui n'en sont plus depuis si longtemps. Changement de programme de dernière minute: la séance du "Tribunal des Peuples" qui devait se tenir au Palais de Justice, aura finalement lieu sur la Place Garibaldi. Des Indignés de différents pays ont planché sur cette action, dynamisée par des clowns activistes et qui met en scène 30 faux détenus, jugés pour "acte de terrorisme" après avoir osé dénoncer publiquement l'imposture et l'illégitimité du G20. Malgré un bon accueil du public, l'ambiance est tendue et les forces de l'ordre accentuent encore la pression... Occupied New Orleans: A Brief History. New Orleans is no stranger to occupation.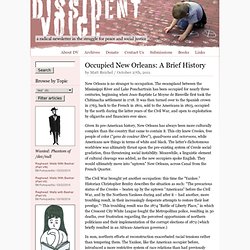 The swampland between the Mississippi River and Lake Ponchartrain has been occupied for nearly three centuries, beginning when Jean-Baptiste Le Moyne de Bienville first took the Chitimacha settlement in 1718. It was then turned over to the Spanish crown in 1763, back to the French in 1801, sold to the Americans in 1803, occupied by the north during the latter years of the Civil War, and open to exploitation by oligarchs and financiers ever since. Given its pre-American history, New Orleans has always been more culturally complex than the country that came to contain it.
This city knew Creoles, free people of color ("gens de couleur libre"), quadroons and octoroons, while Americans saw things in terms of white and black. The latter's dichotomous worldview was ultimately thrust upon the pre-existing system of Creole social gradation, thus threatening social instability. CIMI - Conselho Indigenista Missionário. Renato SantanaDe Brasília O canteiro de obras da Usina Hidrelétrica de Belo Monte, na região de Altamira (PA), está ocupado por mais de 600 indígenas, pescadores, ribeirinhos e populações ameaçadas pelos impactos sociais e ambientais do grande empreendimento.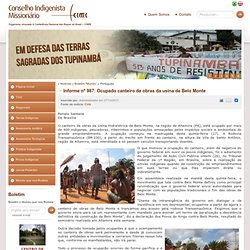 A ocupação começou na madrugada desta quinta-feira (27). A Rodovia Transamazônica (BR-230), a partir do trecho em frente ao canteiro, na altura da Vila de Santo Antônio, região de Altamira, está interditada e só passam veículos transportando doentes. O que motivou a ocupação do canteiro, além da negativa do governo federal em ouvir os povos indígenas, foi o adiamento do julgamento de Ação Civil Pública ontem (26), no Tribunal Federal da 1ª Região, em Brasília, sobre a realização de oitivas indígenas quando da construção de empreendimentos em suas terras ou que lhes impactem direta ou indiretamente. Occupy Colleges | In Solidarity with Occupy Wall Street.
Before & After: Occupy Oakland. Occupy Wall Street > Aux Etats-Unis, les maires sortent le bâton et les gaz. Homs en Syrie?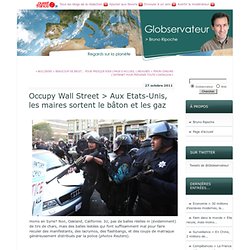 Non, Oakland, Californie. Ici, pas de balles réelles ni (évidemment) de tirs de chars, mais des balles lestées qui font suffisamment mal pour faire reculer des manifestants, des lacrymos, des flashbangs, et des coups de matraque généreusement distribués par la police (photos Reuters). Dans plusieurs villes américaines, les maires perdent patience face aux manifestants d'Occupy Wall Street (Occupons Wall Street), ce mouvement de contestation né à New York il y a un peu plus d'un mois et qui, inspiré du Printemps arabe, prend pour cible le pouvoir de la finance. (ici, la carte des protestation aux USA et dans le monde).
---