16 / 11 / 2011
Eviction Reinforces OWS Determination. Occupy Wall Street supporters will attempt to shut down Wall Street and New York subways - Transcript JAISAL NOOR, JOURNALIST: Early Tuesday morning, New York City police officers raided the Occupy Wall Street encampment, arresting 200 protesters and clearing their camp.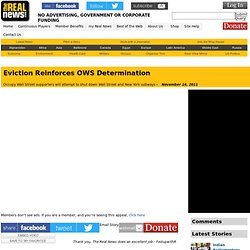 Demonstrators initially secured a court order protecting their right to sleep in Zuccotti Park with tents, but another judge later reversed that ruling. Protestors have returned to the park, but many questions remain for the future of the movement. Occupy London: St Paul's protesters face eviction – live | UK news. 9.47am: The Corporation of London has told the protesters outside St Paul's Cathedral they have until 6pm today to pack up their tents or they will be taken to the high court.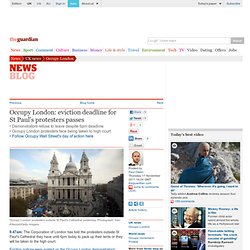 Eviction notices were posted on the Occupy London demonstrators' tents yesterday. Demonstrators tore them down as soon as they were put up, saying they would stay where they were and fight what may become a lengthy legal battle. #frenchrevolution, #OccupyFrance. Ed Thompson photography - London Documentary Photographer. On the 15th of October 2011 a number of people from diverse backgrounds came together to dispute the culture of greed that exists in the current financial system.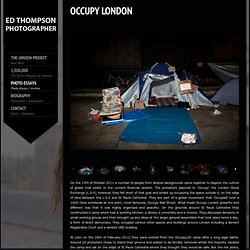 The protestors planned to 'Occupy' the London Stock Exchange (L.S.X), however, they fell short of that goal and ended up occupying the space outside it, on the edge of land between the L.S.X and St Pauls Cathedral. They are part of a global movement that 'Occupied' over a 1000 cities worldwide at one point, most famously, Occupy Wall Street. What made Occupy London powerful and different was that it was highly organised and peaceful. On the grounds around St Pauls Cathedral they constructed a camp which had a working kitchen, a library, a university and a cinema. Pregnant woman pepper sprayed at Occupy Seattle. Dozens of Occupy Seattle protesters were doused with pepper spray by police officers Tuesday, Nov. 15, 2011.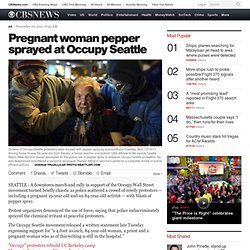 Among those hit was 84-year-old Dorli Rainey, a former teacher and activist. CBS Affiliate KOIN reports Seattle Mayor Mike McGinn issued apologies for the police use of pepper spray to disperse Occupy Seattle protesters. He also telephoned and offered a personal apology to Rainey. McGinn said he's called for a complete review of police officers' actions. Joshua Trujillo,AP Photo/seattlepi.com. OccupyDefense. La Défense : la police évacue le campement des Indignés : Occupy Defense. Sarkozy ou les « Indignés », qui sont les héritiers de la Résistance ? Le Président s'est à nouveau réclamé du Conseil national de la résistance, dont le programme, mis en place après guerre, fait pourtant partie des valeurs de la gauche.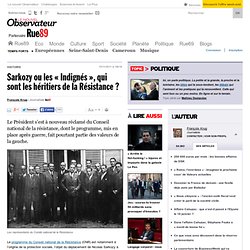 Les représentants du Comité national de la Résistance Le programme du Conseil national de la Résistance (CNR) est notamment à l'origine de la protection sociale, l'objet du déplacement de Nicolas Sarkozy à Bordeaux. Les indignés. Un temps de Pauchon. Communiqué de presse des citoyens occupant le parvis de la Défense. 2011-11-15 | paris.reelledemocratie.com. Les indignés expulsés par les CRS sur MopNantes. MOP Nantes | 0marine.pichon0 | Moppé le 16/11/2011 à 10:11 | Mis à jour le 15/12/2011 à 10:36 Intérêts : Depuis vendredi 10, des dizaines « d'Indignés » campent sur la Place Royale à Nantes rebaptisée pour l'occasion « Place du Peuple ».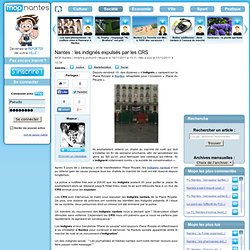 Ils souhaitaient obtenir un chalet du marché de noël qui doit s'installer en fin de semaine prochaine, afin de sensibiliser les gens au fait qu'on peut fabriquer ses cadeaux soi-même. Quand les Indignés campent à la Défense (Web reportage) - Société. Paroles d'indignés Les hautes tours du quartier d'affaire s'élancent dans le ciel.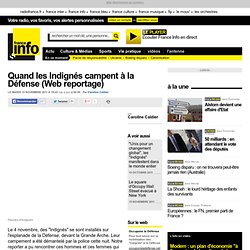 Pendant plus de dix jours des "indignés" ont tenu leur camp sur cette esplanade, symbole de la finance parisienne. Cette nuit, la police est intervenue pour le démanteler. A la Défense, le campement des Indignés démantelé. La police est intervenue mardi soir pour démanteler le campement des Indignés installés depuis une dizaine de jours sous la Grande Arche du quartier d'affaires de La Défense, près de Paris.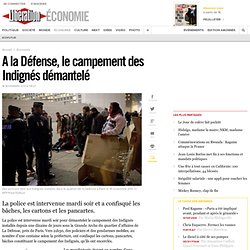 Vers 21h50, des policiers et des gendarmes mobiles, au nombre d'une centaine selon la préfecture, ont confisqué les cartons, pancartes, bâches constituant le campement des Indignés, qu'ils ont encerclés. Les manifestants étaient au nombre d'une centaine, selon l'AFP. "L'intervention des forces de l'ordre visait à nettoyer l'esplanade des cartons et des meubles amassés par les Indignés, mais elle ne vise pas à évacuer les personnes, ni à procéder à des interpellations", a affirmé une source préfectorale. Peu après l'intervention, les forces de l'ordre gardaient un amas de pancartes.
---