08 / 11 / 2011
Indignes de France
Occupy-Adelaide-Vision-Statement.pdf (Objet application/pdf)
Occupons la Défense (J+4)
Quand l'hypocrisie n'a plus d'égal - Occupy Wall street - Hémisphère Gauche
Les indignés à la défense - jour 5 (mathieu) | occupyfrance
Les indignés à la Défense, Jour 6 | occupyfrance
Les indignés à la défense - jour 4 | occupyfrance
Latest developments in the Occupy protests - KTUL.com - Tulsa, Oklahoma - Coverage You Can Count On
"Occupy" Protesters Raise Heavy Duty Tents, Prepare For Crosby And Nash
Legendary rockers David Crosby and Graham Nash, who often devoted their music to the antiwar and anti-establishment movement of the 1960s, gave an acoustic performance for enthusiastic Occupy Wall Street protesters at Zuccotti Park Tuesday afternoon. To view our videos, you need to enable JavaScript.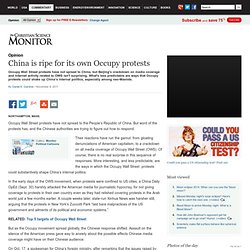 Occupy Wall Street protests have not spread to the People's Republic of China. But word of the protests has, and the Chinese authorities are trying to figure out how to respond. Skip to next paragraph
China is ripe for its own Occupy protests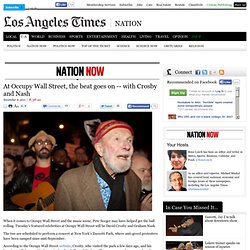 At Occupy Wall Street, the beat goes on -- with Crosby and Nash
When it comes to Occupy Wall Street and the music scene, Pete Seeger may have helped get the ball rolling. Tuesday's featured celebrities at Occupy Wall Street will be David Crosby and Graham Nash. The two are scheduled to perform a concert at New York's Zuccotti Park, where anti-greed protesters have been camped since mid-September.
Indignés aux Bastions : Yes, we camp! : Le blog de solidaritéS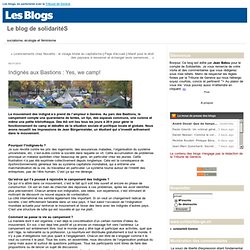 Le mouvement des indigné·e·s prend de l'ampleur à Genève. Au parc des Bastions, le campement compte une quarantaine de tentes, un tipi, des espaces communs, une cuisine et même une petite bibliothèque.
Les indignés occupent la Défense sans grand succès
Les indignés montréalais commencent à se préparer pour l'hiver.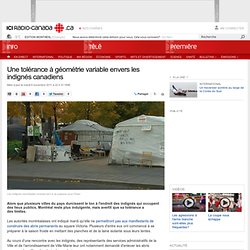 Les indignés montréalais se préparent pour l'hiver | Grands Titres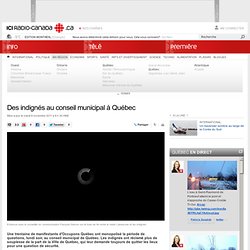 Les indignés ont monopolisé la période de questions au conseil municipal, lundi soir.
Des indignés au conseil municipal à Québec | Québec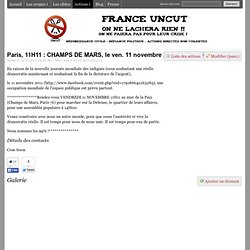 Paris, 18h, le ven. 11 novembre 2011
En raison de la nouvelle journée mondiale des indignés (ceux souhaitant une réelle démocratie maintenant et souhaitant la fin de la dictature de l'argent),
Lettre d'ATTAC Nîmes - Du Sud au Nord : dette et austérité Quelles alternatives ? Conférence-débat avec Eric Toussaint -Jeudi 10 novembre 2011 19h30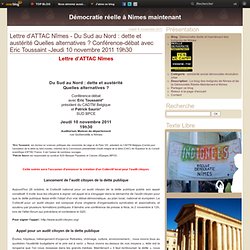 *Éric Toussaint , est docteur en sciences politiques des universités de Liège et de Paris VIII, président du CADTM Belgique (Comité pour l'annulation de la dette du tiers-monde), membre de la Commission présidentielle d'audit intégral de la dette (CAIC) de l'Équateur et du Conseil scientifique d'ATTAC France.
Ce vendredi 11 novembre, les indignés de Grenoble vous invitent au recueillement. Chers compatriotes, le constat est clair, malgré les illusions et les belles paroles, la France n'est pas une démocratie, mais bien plutôt une oligarchie (ce sont les puissants qui gouvernent) ou ploutocratie (l'argent qui gouverne).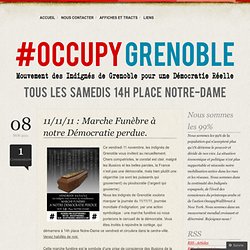 11/11/11 : Marche Funèbre à notre Démocratie perdue. «