01/ 01/2012 - 07/01/2012
#F29 Shut Down the Corporations  #F29 - Occupy Portland National Call To Action To Shut Down the Corporations. Posted 2 years ago on Jan. 6, 2012, 6:12 a.m.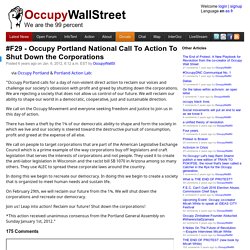 EST by OccupyWallSt via Occupy Portland & Portland Action Lab: 2011 In Pictures: The Year of the Protester. 2011 will be remembered most of all as the year of people power, with unprecedented numbers of ordinary citizens taking to the streets throughout the world to protest against old systems of power.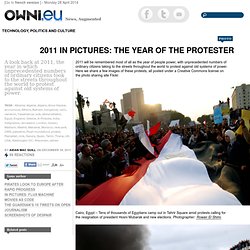 Here we share a few images of these protests, all posted under a Creative Commons license on the photo sharing site Flickr. Cairo, Egypt – Tens of thousands of Egyptians camp out in Tahrir Square amid protests calling for the resignation of president Hosni Mubarak and new elections. Photographer: Rowan El Shimi. Tirana, Albania – A protester stands in front of government buildings during anti-government protests sparked by the surfacing of a video which implicated the Deputy Prime Minister and Economic Minister in corruption allegations. Three protesters died in the demonstrations, which led to the resignation of the Deputy Prime Minister. # Occupy Hongrie ? BUDAPEST (AP) — Plusieurs partis politiques et organisations citoyennes organisaient une manifestation à Budapest lundi soir, pour protester contre la nouvelle Constitution rédigée par le gouvernement du Premier ministre Viktor Orban et entrée en vigueur le 1er janvier.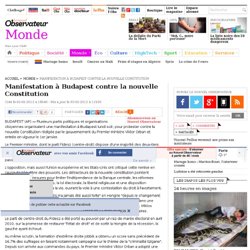 Le Premier ministre, dont le parti Fidesz (centre-droit) dispose d'une majorité des deux-tiers au Parlement monocaméral, a élaboré une série de textes accordant aux députés et au gouvernement un contrôle sans précédent sur les institutions, de la justice aux médias en passant par la Banque centrale et la Cour des comptes. L'opposition, mais aussi l'Union européenne et les Etats-Unis ont critiqué cette remise en cause de l'équilibre des pouvoirs.
In English. Call Calendar. Couple Pics and Scenes from #OccupyBoston First Night Festivities. 2011: A Year in Revolt. 2011 will be remembered as a year of revolution, the beginning of the end for an unsustainable global system based on poverty, oppression, and violence.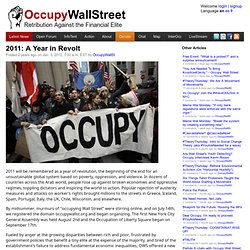 In dozens of countries across the Arab world, people rose up against broken economies and oppressive regimes, toppling dictators and inspiring the world to action. Popular rejection of austerity measures and attacks on worker's rights brought millions to the streets in Greece, Iceland, Spain, Portugal, Italy, the UK, Chile, Wisconsin, and elsewhere.
---