Database
Database Revolution; Future of Information Publishing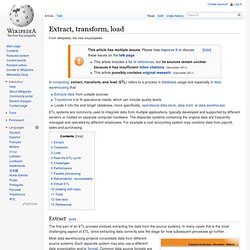 In computing , Extract, Transform and Load ( ETL ) refers to a process in database usage and especially in data warehousing that involves: Extracting data from outside sources Transforming it to fit operational needs, which can include quality levels Loading it into the end target (database, more specifically, operational data store , data mart or data warehouse ) [ edit ] Extract The first part of an ETL process involves extracting the data from the source systems. In many cases this is the most challenging aspect of ETL, since extracting data correctly sets the stage for how subsequent processes go further.
Extract, transform, load
0830 - Cypher and Neo4j on Vimeo
NOTE : This post is quite outdated, stuff has changed since i wrote this. While you can somewhat safely ignore the alterations for increased address space of entities, the Property store has changed in a fundamental way.
Neo4j Internals: File Storage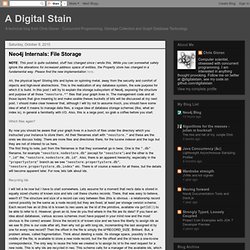 InfiniteGraph
Atomic Wiki
Higher-order functions are probably the most notable addition to the XQuery language in version 3.0 of the specification .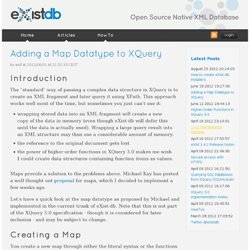 Using A Graph Database To Power The "Web of Things"
Catherine & Raj have been working in Enterprise Agile transitions in large hardware manufacturers, they share their experiences and advice on leadership and bringing Scrum to hardware teams.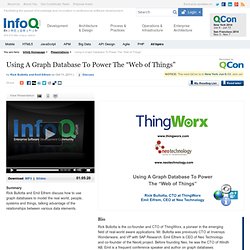 PyTables is a package for managing hierarchical datasets and designed to efficiently and easily cope with extremely large amounts of data. You can download PyTables and use it for free . You can access documentation , some examples of use and presentations in the HowToUse section. PyTables is built on top of the HDF5 library , using the Python language and the NumPy package.
Getting the most *out* of your data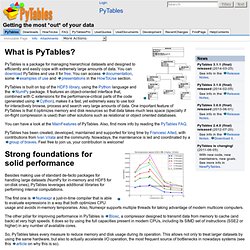 www.iacis.org/iis/2009_iis/pdf/p2009_1301.pdf
Franz periodically distributes newsletters to its Semantic Technologies, and Common Lisp based Enterprise Development Tools mailing lists, providing information on related upcoming events and new software product developments.
AllegroGraph News August 2011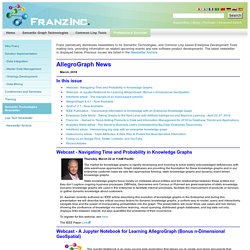 Orient Technologies - Open source solutions built around the Orient DB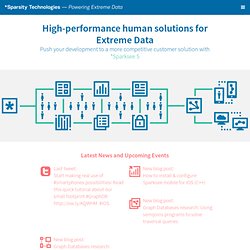 high-performance graph database, data deduplication and bibliographic exploration
Take some time to play with DEX and develop your applications to manage the network-like data-structures that represent your network of friends, or your network of information. The version you will use with the personal evaluation license we provide here is restricted in the amount of information it deals with (up to 1 Million objects).
orient - NoSQL document database light, portable and fast. Supports ACID Tx, Indexes, asynch queries, SQL layer, clustering, etc
Objectivity
A Graph Database
Implementations « graph-database.org
virtuoso.openlinksw.com
Each Column Has a Unique Name Certain fields may be designated as keys, which means that searches for specific values of that field will use indexing to speed them up. Where fields in two different tables take values from the same set, a join operation can be performed to select related records in the two tables by matching values in those fields. Often, but not always, the fields will have the same name in both tables. For example, an "orders" table might contain (customer-ID, product-code) pairs and a "products" table might contain (product-code, price) pairs so to calculate a given customer's bill you would sum the prices of all products ordered by that customer by joining on the product-code fields of the two tables. This can be extended to joining multiple tables on multiple fields.
Database Models: Hierarcical, Network, Relational, Object-Oriented, Semistructured, Associative and Context.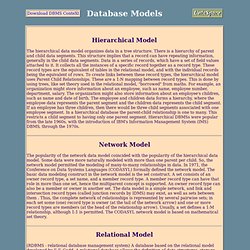 ERROL
UML logo Unified Modeling Language ( UML ) is a standardized general-purpose modeling language in the field of object-oriented software engineering . The Unified Modeling Language includes a set of graphic notation techniques to create visual models of object-oriented software-intensive systems. The Unified Modeling Language was developed by Grady Booch , Ivar Jacobson and James Rumbaugh at Rational Software in the 1990s. [ 1 ] It was adopted by the Object Management Group (OMG) in 1997, and has been managed by this organisation ever since. In 2000 the Unified Modeling Language was accepted by the International Organization for Standardization (ISO) as industry standard for modeling software-intensive systems.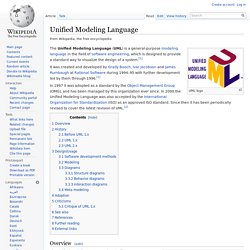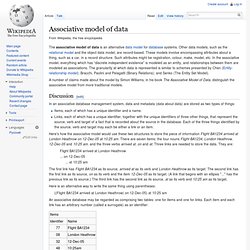 Associative model of data
The associative model of data is an alternative data model for database systems. Other data models, such as the relational model and the object data model, are record-based. These models involve encompassing attributes about a thing, such as a car, in a record structure.
Entity-relationship model
A sample Entity – Relationship diagram using Chen's notation Entity–relationship model ( ER model ) in software engineering is an abstract way to describe a database .
I found myself reading NoSQL is a Premature Optimization a few minutes ago and threw up in my mouth a little.
NoSQL is What? | Jeremy Zawodny's blog
Overview YAGO2s is a huge semantic knowledge base, derived from Wikipedia WordNet and GeoNames . Currently, YAGO2s has knowledge of more than 10 million entities (like persons, organizations, cities, etc.) and contains more than 120 million facts about these entities. YAGO is special in several ways: The accuracy of YAGO has been manually evaluated, proving a confirmed accuracy of 95%. Every relation is annotated with its confidence value.
Thomas Neumann: D5: Databases and Information Systems (Max-Planck-Institut für Informatik)
© 2008 Thomas Neumann Note: A more recent version of the RDF-3X code is available at http://code.google.com/p/rdf3x/ . Overview: RDF-3X is the experimental RDF storage and retrieval system described in Thomas Neumann, Gerhard Weikum. RDF-3X: a RISC-style Engine for RDF .