MongoDB
MongoAdmin | thomasst.ch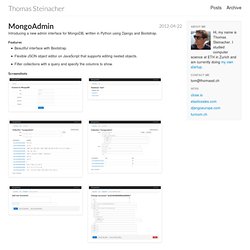 Introducing a new admin interface for MongoDB, written in Python using Django and Bootstrap. Features Beautiful interface with Bootstrap.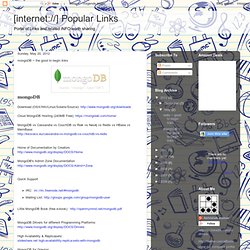 [internet://] Popular Links: mongoDB ~ the good to begin links
Sunday, May 20, 2012
Production Deployments
MongoDB, Morphia and EmbedMongo » The Cubeia Blog
MongoDB = Get Stuff Done Update: Changed blog example to use a normal belongs-to relationship.
You Only Wish MongoDB Wasn't Relational
The MongoDB Collection
MongoDB Interactive Tutorial
MongoDB | node.js - Plugins/Etc