Politics
Visualising the Steps to Foresee the Future and Get Ready for It. The architecture of the Red (team) Analysis website is built following this process.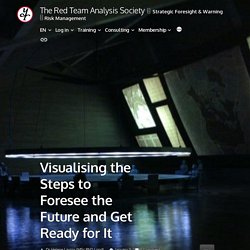 Each section strives progressively to address the various challenges that are met at each step, to explain and apply various possible methodologies and tools, and finally to deliver real-life strategic foresight and warning products. This graphic description of a step by step process to anticipate the future in an actionable way is grounded in six years of work with and about systems of anticipation, from early warning systems to prevent conflicts for aid agencies to strategic warning and strategic foresight with security and intelligence agencies and practitioners, in research for commissioned reports and teaching on the topic, as well as on twenty years experience in the field, in central administration and in research in war, international relations, political science, analysis and policy planning.
A Visualization Of World War II Like You've Never Seen Before. La réserve parlementaire décryptée. Explorez les 668 commissions ministérielles... et leurs budgets. Indice de gouvernance départemental. A Campaign Map, Morphed By Money : It's All Politics. Explore political ad spending through creative cartography.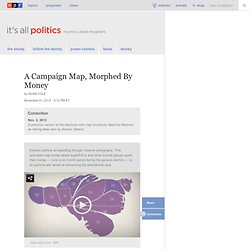 This animated map shows where superPACs and other outside groups spent their money — over a six-month period during the general election — to air political ads aimed at influencing the presidential race. Campaign reporters spend a lot of time pointing at color-coded electoral maps like the one below, showing which states voted for Republican John McCain (in red) and Democrat Barack Obama (in blue) in 2008. Adam Cole/NPR But these maps lie — visually speaking. AllYears.gif (Image GIF, 722x542 pixels) 21 Charts That Explain American Values Today - Bob Cohn.
Americans say they are more tolerant and open-minded than their parents.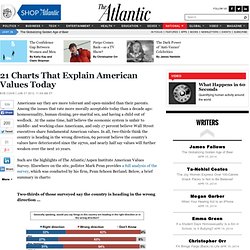 Among the issues that rate more morally acceptable today than a decade ago: homosexuality, human cloning, pre-marital sex, and having a child out of wedlock. At the same time, half believe the economic system is unfair to middle- and working-class Americans, and only 17 percent believe Wall Street executives share fundamental American values. In all, two-thirds think the country is heading in the wrong direction, 69 percent believe the country's values have deteriorated since the 1970s, and nearly half say values will further weaken over the next 10 years.
The e-diplomacy Hub, A real-time window onto digital diplomacy in action. AFP: e-diplomacy The e-diplomacy HUB, A real-time window onto digital diplomacy in action Activate your Twitter account Your Twitter account is activated English | French.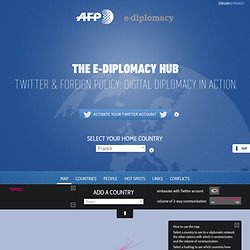 World: Corruption Perceptions Index 2011. 2011 – a crisis in governance: Protests that marked 2011 show anger at corruption in politics and public sector Berlin, 1 December 2011 – Corruption continues to plague too many countries around the world, according to Transparency International's 2011 Corruption Perceptions Index released today.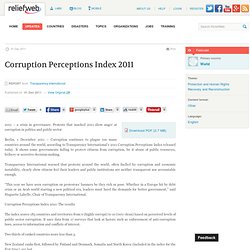 It shows some governments failing to protect citizens from corruption, be it abuse of public resources, bribery or secretive decision-making. Socialbakers-infographic-Dec01-Dec31.jpg (520×2275) Which Politician is Most Popular, Engaging on Social Media Sites? President Barack Obama may be down in the ratings, but he still has a steady hold on social media popularity.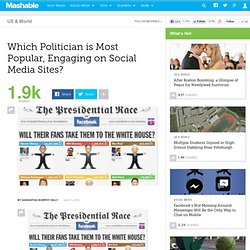 In December, Socialbakers – a social media analytics firm – tracked Facebook-page interactions of the eight key candidates from the Republican and Democratic parties to gauge changes in popularity and monitor fan engagement. Obama led the pack with the most overall interactions on the site, including comments, fan engagement and viral reach. President Barack Obama also has the most Facebook fans – a whopping 24 million, far more than the Republican candidates — but many were collected during the 2008 election period.
The Euro Crisis Is Less Complicated Than It Appears. A few days ago I received an email from Thomas Watkins, who is an avid reader of this blog and a past participant in one of my Visual Business Intelligence Workshops.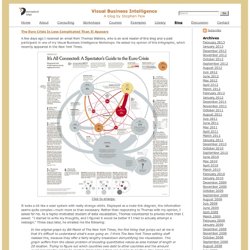 He asked my opinion of this infographic, which recently appeared in the . It looks a bit like a solar system with really strange orbits. Eurozone in crisis in graphics: Deficit. Continue reading the main story EU rules say that countries using the euro are not allowed to have an annual deficit of more than 3% of GDP, but several countries have failed to keep to that rule in recent years.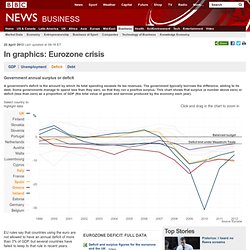 Note that Germany, Italy and France were all among the first countries to break the Maastricht rule during the last decade, while Spain and the Republic of Ireland ran surpluses before the 2008 crisis. Since 2008, peripheral economies such as Spain, Greece and Portugal have run big deficits, because their economies have slumped, generating less tax revenues and requiring more unemployment benefit payments. Ireland experienced an exceptionally enormous deficit of 31% of its GDP in 2010, largely due to the cost of rescuing its banks. What really caused the eurozone crisis? 19 June 2012Last updated at 09:10 ET World leaders probably spend more time worrying about the eurozone crisis than anything else nowadays.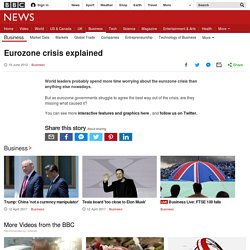 But as eurozone governments struggle to agree the best way out of the crisis, are they missing what caused it? [DATA] Budget 2012 : 366 milliards, mais pour financer quoi ? | Voila le travail. Voici le premier budget du nouveau Président Hollande.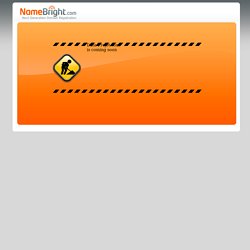 Emploi, travail, économie, mais aussi éducation, défense, sécurité, logement... Ce graphique représente la répartition des grandes politiques publiques 2013, décidée par la gauche. (french) Discours d'investiture de la cinquième : essai de text mining. Les six discours d'investiture des Présidents de la République sont passés à la moulinette: quels présidents étaient les plus bavards? Quels mots revenaient le plus dans leurs discours? Lequel parle le plus souvent de lui? Billet initialement publié sur le datablog d'OWNI Pour ce test, j'ai choisi les discours prononcés par les présidents de la Vème République lors de leur (première) investiture afin de pouvoir comparer des textes énoncés dans un même contexte.
Ils sont tous accessibles et exportables en PDF (faut pas trop en demander non plus…) sur le site de l'Elysée. Outliers in the European Parliament. #read the ggplot2 library library(ggplot2) #read the data. Public spending by UK gov. Boundary changes: Labour and Lib Dems set for losses. The Conservatives could have been within striking distance of an overall majority had the 2010 general election been held under England's new boundaries, early Guardian analysis suggests. The Labour party could have netted 14 fewer seats, the Liberal Democrats 10 fewer, while the Conservatives, who dominate England, might have lost just six seats. The UK's only Green MP, Caroline Lucas, would not have been able to win her seat, according to the preliminary figures.
The initial analysis, carried out by the Guardian data team, is based on figures released by the boundary commission, showing the makeup of each of England's 502 new constituencies – breaking down exactly which previous constituencies voters came from. Using these figures and the results of the 2010 general election, the exercise modelled the effects of a uniform swing from the old boundaries to new. England riots: suspects mapped and poverty mapped | UK news. Hierarchical Data with Bubble Tree.
Sep 29, 2011 If this visualization looks familiar to you it's because you follow the career of David McCandless far too closely. It is, in fact, based on his design for Where Does My Money Go? Ontologies for e-Gov. Apps for America. GovStats.org. Money Chart. Death & Taxes 2012. Voting and Registration. Information on reported voting and registration by various demographic and socioeconomic characteristics is collected for the nation in November of Congressional and Presidential election years in the Current Population Survey (CPS).
The CPS is a monthly survey of about 50,000 households conducted by the Bureau of the Census for the Bureau of Labor Statistics. The CPS is the primary source of information on the labor force characteristics of the U.S. population. The Power of Maps. Lobbyists and Politicians: Connections. Social Media Users on U.S. Politics. So Clever: Ron Paul Campaign Vid Uses Obama's Typeface Against Him | Co.Design. First Street Research Group. Behind SOPA: What It Means for Business and Innovation [INFOGRAPHIC] SOPA+Internet.png (972×5500) OECD Better Life Initiative. Infographie : 4 ans d'action pour la France et les Français. Infographic: Which dictator killed the most people? Clip de campagne de François Hollande - une vidéo Actu et Politique. Les temps de parole des candidats à la présidentielle. Diminishing Voters' Rights. Periscopic (@Periscopic) sur Twitter.
---
wespeaknews Jun 20 2012

Hello, feel free to interact with wespeaknews about Politics on Pearltrees, as on our website. Thank you for your attention.
---