Data mining
Datamining Twitter. On its own, Twitter builds an image for companies; very few are aware of this fact.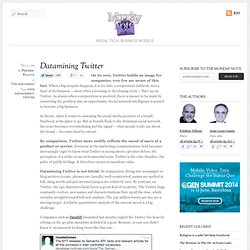 When a big surprise happens, it is too late: a corporation suddenly sees a facet of its business — most often a looming or developing crisis — flare up on Twitter. As always when a corporation is involved, there is money to be made by converting the problem into an opportunity: Social network intelligence is poised to become a big business. How to use LinkedIn for data miners. If you're new here, you may want to subscribe to my RSS feed.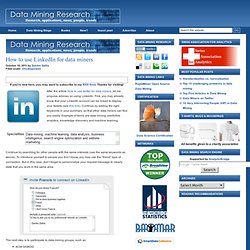 Thanks for visiting! After the article How to use twitter for data miners, let me propose advices on using LinkedIn. First, you may already know that your LinkedIn account can be linked to display your tweets (see this link). Continue by adding the right keywords in your summary, so that other data miners can find you easily. Example of terms are data mining, predictive analytics, knowledge discovery and machine learning. Scraper un site en Ruby pour les nuls (ou presque) # encoding: UTF-8 require 'open-uri' require 'nokogiri'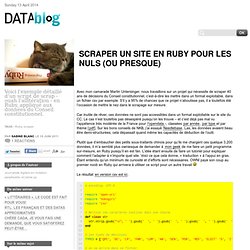 Data Mining Map. Scraping for Journalism: A Guide for Collecting Data. Photo by Dan Nguyen/ProPublica Our Dollars for Docs news application lets readers search pharmaceutical company payments to doctors.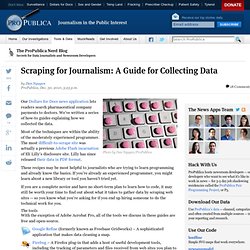 We've written a series of how-to guides explaining how we collected the data. Most of the techniques are within the ability of the moderately experienced programmer. The most difficult-to-scrape site was actually a previous Adobe Flash incarnation of Eli Lilly's disclosure site. Rip and read: 6 OCR tools put to the test. Data Mining Community's Top Resource.
---