Data mining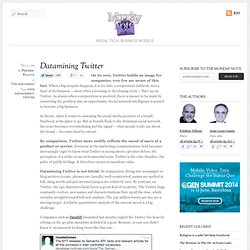 On its own, Twitter builds an image for companies; very few are aware of this fact. When a big surprise happens, it is too late: a corporation suddenly sees a facet of its business — most often a looming or developing crisis — flare up on Twitter. As always when a corporation is involved, there is money to be made by converting the problem into an opportunity: Social network intelligence is poised to become a big business.
Datamining Twitter
How to use LinkedIn for data miners | Data Mining Research - www.dataminingblog.com
If you're new here, you may want to subscribe to my RSS feed . Thanks for visiting!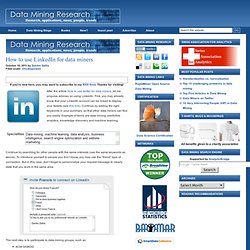 # encoding: UTF-8 require 'open-uri' require 'nokogiri'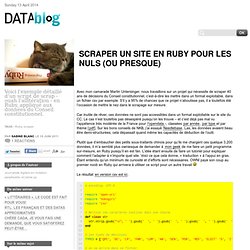 Scraper un site en Ruby pour les nuls (ou presque)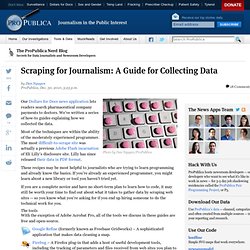 Photo by Dan Nguyen/ProPublica
Rip and read: 6 OCR tools put to the test - 10,000 Words
PayPal X Developer Network: Mining World Bank Data - part 1
November 3, 2010 by Abe Music With the ability to enhance the the way that we do business, transform the way we govern ourselves, and increase the visibility that we have on important aspects of life that often go overlooked such as the environment and poverty levels, it's no wonder that open data has stirred up so much buzz.
Data Mining Community's Top Resource