Data analysis
Data Portals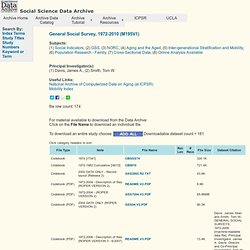 Subjects: (1) Social Indicators, (2) GSS, (3) NORC, (4) Aging and the Aged, (5) Inter-generational Stratification and Mobility, (6) Population Research - Family, (7) Cross Sectional Data, (8) Online Analysis Available
General Social Survey Resources developed at Queens College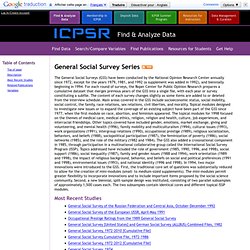 series: General Social Survey Series >
Series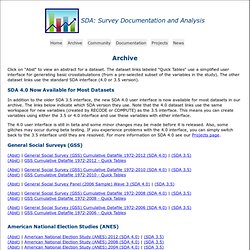 SDA: Archive
Click on "Abst" to view an abstract for a dataset. The dataset links labeled "Quick Tables" use a simplified user interface for generating basic crosstabulations (from a pre-selected subset of the variables in the study). The other dataset links use the standard SDA interface.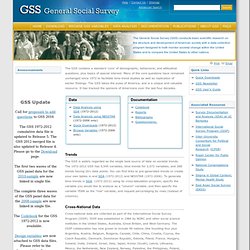 The GSS contains a standard 'core' of demographic, behavioral, and attitudinal questions, plus topics of special interest.
General Social Survey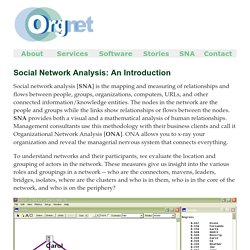 Social network analysis [SNA] is the mapping and measuring of relationships and flows between people, groups, organizations, computers, URLs, and other connected information/knowledge entities. The nodes in the network are the people and groups while the links show relationships or flows between the nodes. SNA provides both a visual and a mathematical analysis of human relationships. Management consultants use this methodology with their business clients and call it Organizational Network Analysis [ONA].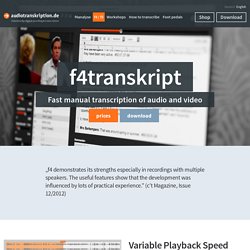 f4 is our free transcription software for audio and video recordings
f4 is making scientific transcription easier and faster. Its core features: Replay speed can be reduced without voice pitch change; the program can be controlled via the keyboard (instead of using the mouse); automated short rewind upon pausing the recording. f4 automatically inserts time stamps and speaker tokens – this saves time. It offers customizable text elements and intuitive navigation via waveform display. f4free plays the first ten minutes of a media file. For an unlimited playtime just buy a 6-month or full-licence in our webshop.
Methodology > Tools Websites
Qualyzer | Welcome
Qualrus - The Intelligent Qualitative Analysis Program
Qualrus is an innovative qualitative data analysis tool that helps you manage unstructured data. Use it to analyze interviews, organize field notes, measure survey responses & more... or download the free demo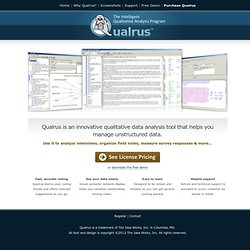 Autocoding by exampleAnalyzing large volumes of text? Try pattern based auto coding and give us feedback. Using SurveyMonkey?Bring SurveyMonkey responses directly into NVivo for analysis. NVivo 10 Student on sale now!Be quick to find out more or buy!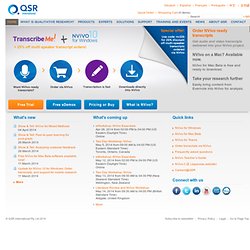 Software for Qualitative Research – From Content Analysis and Ev
Another incredible package, but VERY costly. by kbpc Jan 12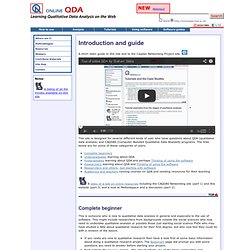 A short video guide to this site and to the Caqdas Networking Project site. This site is designed for several different kinds of user who have questions about QDA (qualitative data analysis) and CAQDAS (Computer Assisted Qualitative Data AnalysiS) programs.
Online QDA - Introduction and guide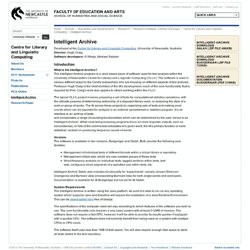 Intelligent Archive / Centre for Literary and Linguistic Computing / Research Institutes, Centres & Groups / Research / Humanities and Social Science / Schools
Developed at the Centre for Literary and Linguistic Computing , University of Newcastle, Australia Hugh Craig
CAQDAS Networking Project Homepage
Content analysis and text analysis resources: bibliographies, research, software, electronic texts
http://eprints.ncrm.ac.uk/791/1/2009ChoosingaCAQDASPackage.pdf
The Consortium on Qualitative Research Methods (CQRM) promotes the teaching and use of qualitative research methods in the social sciences. Our activities include the annual Institute for Qualitative and Multi-Method Research (IQMR), which in 2013 celebrated its 12th anniversary, and a Research Group that encourages the development of qualitative and multi-method research techniques. The American Political Science Association's Organized Section on Qualitative and Multi-Method Research promotes research and training focused on the several branches of methodology associated with the qualitative tradition. The section organizes panels, roundtables, and short courses at APSA's annual meeting, and publishes the semi-annual Qualitative and Multi-Method Research Newsletter. The Qualitative Data Repository (QDR) is currently in development at the Maxwell School of Syracuse University.
http://www1.maxwell.syr.edu/moynihan_cqrm.aspx
Now you can perform essential project tasks wherever you go using ATLAS.ti Mobile for iPad. Record interviews and analyze data with the touch of a finger, and access your QDA work at your convenience.
ATLAS.ti MOBILE for the iPad
Free Statistics Programs and Materials by Bill Miller
This page contains links to free software packages that you can download and install on your computer for stand-alone (offline, non-Internet) computing. They are listed below, under the following general headings: General Packages: support a wide variety of statistical analyses Subset Packages: deal with a specific area of analysis, or a limited set of tests Curve Fitting and Modeling: to handle complex, nonlinear models and systems Biostatistics and Epidemiology: especially useful in the life sciences Surveys, Testing and Measurement: especially useful in the business and social sciences Excel Spreadsheets and Add-ins: you need a recent version of Excel Programming Languages and Subroutine Libraries: customized for statistical calculations; you need to learn the appropriate syntax Scripts and Macros: for scriptable packages, like SAS, SPSS, R, etc. Miscellaneous: don't fit into any of the other categories Other Collections of Links to Free Software