Danse contemporaine
The Knot Collective - People / Ideas / Creativity – Why 5 React Gum TV Spot Works: Customer Identity Recognition. 5 React Gum Campaign: I can't stop thinking about it!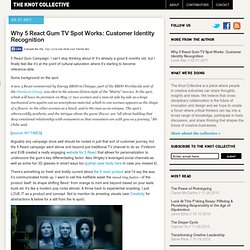 It's already a good 6 months old, but I finally feel like it's at the point of cultural saturation where it's starting to become reference-able. Some background on the spot: A new 5 React commercial by Energy BBDO in Chicago, part of the BBDO Worldwide unit of the Omnicom Group, was shot in the science-fiction style of the "Matrix" movies. In the spot, which will have its premiere on May 17, two women and a man sit side by side as a large mechanical arm squirts out an amorphous material, which to one woman appears as the shape of a flower, to the other woman as a hawk, and to the man as an octopus.
The spot's otherworldly aesthetic, and the intrigue about the gums' flavor, are "all about building that deep emotional relationship with consumers so that consumers are with you on a journey," Mr. Dance 2. Centre national de danse contemporaine - Angers - France. Passo fait rire et ce n'est pas la moindre des qualités de ce quintet malicieux chorégraphié par l'Italienne Ambra Senatore.A la fois vive et teintée d'ironie ludique, la danse crée une complicité réjouissante avec le spectateur.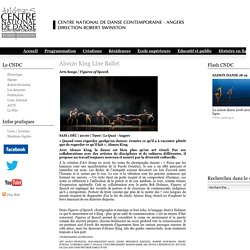 Construisant et déconstruisant les images en mouvement, distribuant des indices dont le sens se dévoile petit à petit, la jeune chorégraphe turinoise Ambra Senatore crée une partition dont émanent la spontanéité et l'éloquence, par de subtiles nuances mêlant raffinement et simplicité, offrant un regard ludique mais amer sur la nature humaine. Avec Passo, on rit sans savoir exactement pourquoi. On est touché par ces corps simplement présents, qui nient la possibilité d'une interprétation unique des événements, en travaillant sur le doute et sur la surprise. Théâtre de la Ville, Théâtre des Abbesses - Paris.
Centre national de danse contemporaine - Angers - France.
---