Cycling
Dulwich Paragon
DPNC
We offer a range of delivery services for our UK and International customers.
Minoura Bike Hanger 4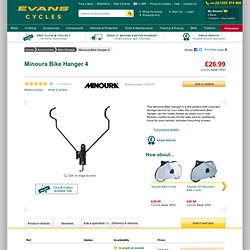 Cycle storage solutions | Bike storage UK and worldwide
BMC swiss cycling
Born in Switzerland, the trailfox is the ultimate bike for challenging trail riding. The target when developing this bike has always been very clear to us – it needs to be like a Swiss Army knife: versatile, easy to use, durable and lightweight. We want to have one bike that fits for long uphills, technical trails and demanding downhills. Consequently, we kept refining the frame design, geometry and suspension performance with each generation of the trailfox.
BMC Trailfox TF01
Dawn Of The Mamil
Oakley Sunglasses
Tour de France
London CycleStreets: UK-wide Cycle Journey Planner and Photomap
quickerbybike.com
Surrey MTB Trails - Leith Hill, North Downs
It's Not A Race