Cyber war USA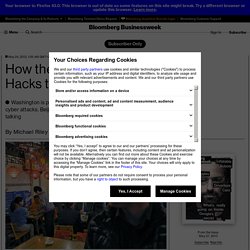 How the U.S. Government Hacks the World
Obscured by trees and grassy berms, the campus of the National Security Agency sits 15 miles north of Washington's traffic-clogged Beltway, its 6 million square feet of blast-resistant buildings punctuated by clusters of satellite dishes. Created in 1952 to intercept radio and other electronic transmissions—known as signals intelligence—the NSA now focuses much of its espionage resources on stealing what spies euphemistically call "electronic data at rest."
Obama signs secret directive to help thwart cyberattacks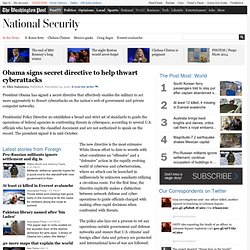 President Obama has signed a secret directive that effectively enables the military to act more aggressively to thwart cyber­attacks on the nation's web of government and private computer networks.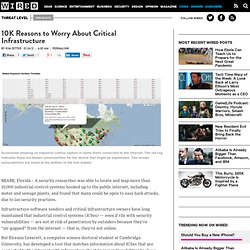 MIAMI, Florida – A security researcher was able to locate and map more than 10,000 industrial control systems hooked up to the public internet, including water and sewage plants, and found that many could be open to easy hack attacks, due to lax security practices. Infrastructure software vendors and critical infrastructure owners have long maintained that industrial control systems (ICSes) — even if rife with security vulnerabilities — are not at risk of penetration by outsiders because they're "air-gapped" from the internet — that is, they're not online. But Eireann Leverett, a computer science doctoral student at Cambridge University, has developed a tool that matches information about ICSes that are connected to the internet with information about known vulnerabilities to show how easy it could be for an attacker to locate and target an industrial control system.
10K Reasons to Worry About Critical Infrastructure | Threat Level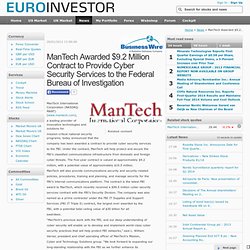 ManTech International Corporation (NASDAQ: MANT) ( www.mantech.com ), a leading provider of innovative technologies and solutions for mission-critical national security programs, today announced that the
ManTech Awarded $9.2 Million Contract to Provide Cyber Security Services to the Federal Bureau of Investigation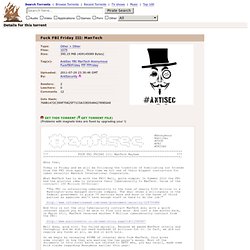 Fuck FBI Friday III: ManTech
Fuck FBI Friday III: ManTech Type: Other > Other
Are cybersecurity firms new Wall Street darling?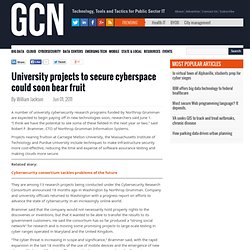 University projects to secure cyberspace could soon bear fruit Five-year program funded by Northrop Grumman researching new technologies A number of university cybersecurity research programs funded by Northrop Grumman are expected to begin paying off in new technologies soon, researchers said June 1.
University projects to secure cyberspace could soon bear fruit
For that reason an alphabet soup of federal agencies — DOD, DHS, NASA, NSA — are descending on Las Vegas this week for Defcon, an annual hacker convention where the $150 entrance fee is cash only — no registration, no credit cards, no names taken.
NSA is looking for a few good hackers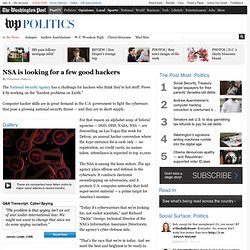 News July 22, 2010 06:00 AM ET Computerworld - Hundreds of people in the information security, military and intelligence fields recently found themselves with egg on their faces after sharing personal information with a fictitious Navy cyberthreat analyst named "Robin Sage," whose profile on prominent social networking sites was created by a security researcher to illustrate the risks of social networking.
Fake femme fatale shows social network risks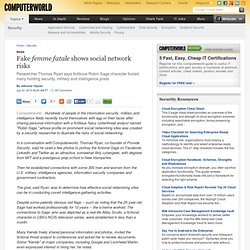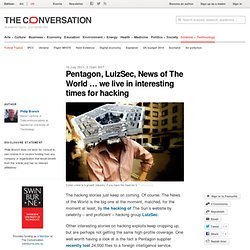 The hacking stories just keep on coming.
Pentagon, LulzSec, News of The World ... we live in interesting times for hacking
Cyber war focus drives attacks on privacy and funding of contractors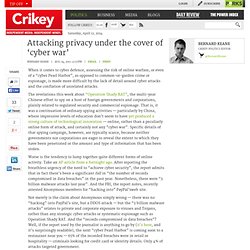 When it comes to cyber defence, assessing the risk of online warfare, or even of a "cyber Pearl Harbor", as opposed to common-or-garden crime or espionage, is made more difficult by the lack of detail around cyber attacks and the conflation of unrelated attacks.
The Pentagon has suspected China and Russia in the past of carrying out internet espionage. Photograph: Getty Images
Pentagon wants to change strategy for dealing with cyber-attacks | Technology
The Comprehensive National Cybersecurity Initiative
download as pdf President Obama has identified cybersecurity as one of the most serious economic and national security challenges we face as a nation, but one that we as a government or as a country are not adequately prepared to counter. Shortly after taking office, the President therefore ordered a thorough review of federal efforts to defend the U.S. information and communications infrastructure and the development of a comprehensive approach to securing America's digital infrastructure.
Pentagon doesn't rule out military force against cyberattacks
The Pentagon's cyber attack policy "All appropriate options would be on the table" Identifying attacker can be hard, take a long time 2008 incident was wake-up call
By SIOBHAN GORMAN And JULIAN E. BARNES
Pentagon: Online Cyber Attacks Can Count as Acts of War
The last line of cyber defense
According to the Wall Street Journal , DoD's first formal cyber strategy is based on the doctrine that a cyber attack on US critical infrastructure can be retaliated by a conventional military strike. The article is decorated with macho statements from unidentified military officials, such as "if you shut down our power grid, maybe we will put a missile down one of your smokestacks."
Cyberwar heats up with Pentagon's virtual firing range | Technology
News from The Associated Press
Commentary: The Patriot Act, cyber-edition - Sacramento Living - Sacramento Food and Wine, Home, Health | Sacramento Bee
Cyberwar Doomsayer Lands $34 Million in Government Cyberwar Contracts | Threat Level
White House Cyber Czar: 'There Is No Cyberwar' | Threat Level
Mike McConnell on how to win the cyber-war we're losing - washingtonpost.com
Pentagon wastes time defining cyberwar rather than trying to fight the one it's already in
U.S. Cyber Command: 404 Error, Mission Not (Yet) Found | Danger Room
Ex-U.S. general urges frank talk on cyber weapons
Cyber ShockWave Shows U.S. Unprepared For Cyber Threats | Bipartisan Policy Center
Kissinger, Huntsman: U.S., China need cyber detente
Special report: Government in cyber fight but can't keep up
Cyber threats to spur defense innovation: Huntsman | Video
Analysis: Could a cyber war turn into a real one for U.S.?
Revealed: Air Force ordered software to manage army of fake virtual people
FinFisher - IT Intrusion lets Government Agents Steal ALL your info - Lawmen
Exclusive: Military's 'persona' software cost millions, used for 'classified social media activities'
Metaphor is the new weapon in the 'war' on terror | Technology | The Observer
So, Why Does the Air Force Want Hundreds of Fake Online Identities on Social Media? [Update] | BNET
Preparing for cyber warfare: US Air Force floats botnet plan
Anonymous: Government contractor has weaponized social media
US Paid Millions For Bogus (Patented) Intelligence Software; Now Trying To Cover It Up Claiming 'National Security'
Pentagon to Help Internet Providers Get Military Cyber Tools
Information Warfare Monitor | Tracking Cyberpower
HBGary E-mails: DuPont, Other Firms Hit In Aurora Attack
Black ops: how HBGary wrote backdoors for the government
US cyber war defences 'very thin', Pentagon warns
Cyberguerre : un général veut un deuxième Internet aux Etats-Unis
Obama needs to address our cyber-warfare gap with China
A Declaration of Cyber-War
Premier test grandeur nature d'une cyber-attaque aux Etats-Unis - Monde
CBS 60 Minutes: Cyber War: Sabotaging the System 1/2
New recovery system restores virus-infected computers, could be used by agencies
Pentagon: Online Cyber Attacks Can Count as Acts of War
Taliban mobile phones and website 'hacked' | World news