VRM
Your personal data is not worth anywhere near what you think it's worth. I see a lot of Root Markets-like businesses.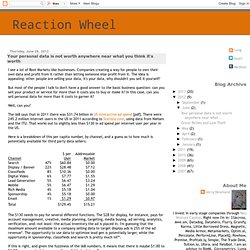 Companies creating a way for people to own their own data and profit from it rather than letting someone else profit from it. The idea is appealing: other people are selling your data, it's your data, why shouldn't you sell it yourself? Your Marital Status Is Worth $0.01 To Data-Buyers, Your Smartphone Is Worth $0.03. What Your Personal Data Is Worth To Advertisers. The personal information of web users is worth a lot to advertisers--but when it comes to calculating just how much, the figures may surprise you.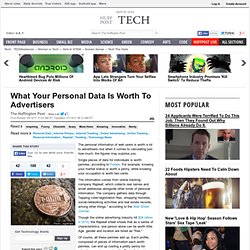 Single pieces of data for individuals is worth pennies, according to Forbes. For example, knowing your marital status is worth a penny, while knowing your occupation is worth two cents. The information comes from online tracking company Rapleaf, which collects real names and email addresses alongside other kinds of personal information. The company gathers data through "tapping voter-registration files, shopping histories, social-networking activities and real estate records, among other things," according to the Wall Street Journal. What's Your Personal Data Worth? By Tim Morey - January 18, 2011 If someone wanted to bid on your personal data, how much would you auction it off for?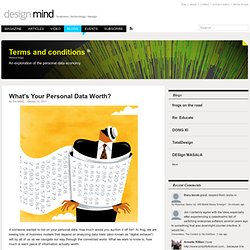 At frog, we are seeing lots of business models that depend on analyzing data trails (also known as "digital exhaust") left by all of us as we navigate our way through the connected world. What we want to know is, how much is each piece of information actually worth. Of course just asking people outright won't offer much insight— after all, if I asked you, "How much money would you want for your Social Security number?" Or, "What can I give you for your Web browsing history?" MesInfos, les données personnelles partagées. Online Tracking Company RapLeaf Profiles Users by Name. Technology - Alexis Madrigal - How Much Is Your Data Worth? Mmm, Somewhere Between Half a Cent and $1,200. How confused are our notions of user data?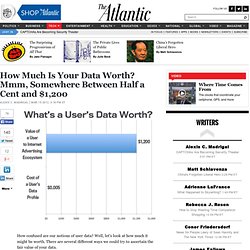 Well, let's look at how much it might be worth. There are several different ways we could try to ascertain the fair value of your data. For buyers, user data is dirt cheap. User profiles -- slices of our digital selves -- are sold in large chunks, i .e. at least 10,000 in a batch. CHART OF THE DAY: Here's How Much A Unique Visitor Is Worth. What is your personal data really worth? | A Personal Stand. Reporter Joshua Brustein provides a great introduction to the model that Personal and companies like us are developing in "Start-ups Aim to Help Users Put a Price on Their Data."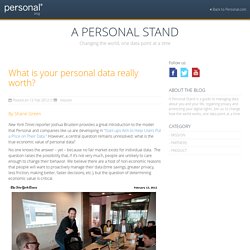 However, a central question remains unresolved: what is the true economic value of personal data? No one knows the answer – yet – because no fair market exists for individual data. The question raises the possibility that, if it's not very much, people are unlikely to care enough to change their behavior. So, What's Your Data Worth? | DataBanker. A recent technology post by Alexis Madrigal, senior editor at , suggests that the value of an individual's data is somewhere between a nickel – 5 lowly cents – and a whopping $1,200.00.
All of which makes for an interesting read, but what does it really mean? The first clue is in understanding how Alexis arrived at his upper and lower bound. As Alexis points out, to a buyer a given individual's information is worth about 5 cents. Add up all the various pieces of demographic information available about the individual, and according to a RapLeaf price list posted by Forbes, your complete profile is worth just under $1. Personal data stores could be worth £1bn a year – report. Posted by Information Age on 30 April 2012 Share article googleplus Short of time?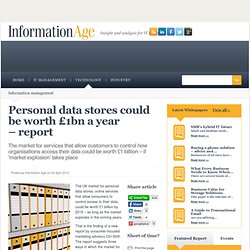 Print this pageEmail article.
---